During the British PM's visit to India last week, New Delhi and London agreed to strengthen defense and security cooperation, providing a significant boost to bilateral relations.
However, one particular move drew everyone's attention: Britain promised to help India in transferring advanced technology for the production of fighter jets. This could also be regarded as the West's first tangible effort to wean India off its reliance on Russian armaments.
"Both sides noted cooperation in key areas of strategic collaboration including modern fighter aircraft and Jet Engine Advanced Core Technology," according to a joint statement issued at the end of bilateral discussions between the Indian Prime Minister and his British counterpart.
The British PM stated that the two countries committed to collaborating to address emerging threats in the land, sea, air space, and cyber domains, and that the UK will collaborate with India on new fighter aircraft technologies as well as maritime threats detection and response.
Despite India's divergent views on the Ukraine crisis, London appears committed to expanding defense ties with New Delhi. To speed up defense acquisition, the United Kingdom also announced that it will provide an open general export license to India.
This is the first time the facility has been provided to a country that is not a member of the European Union and the United States.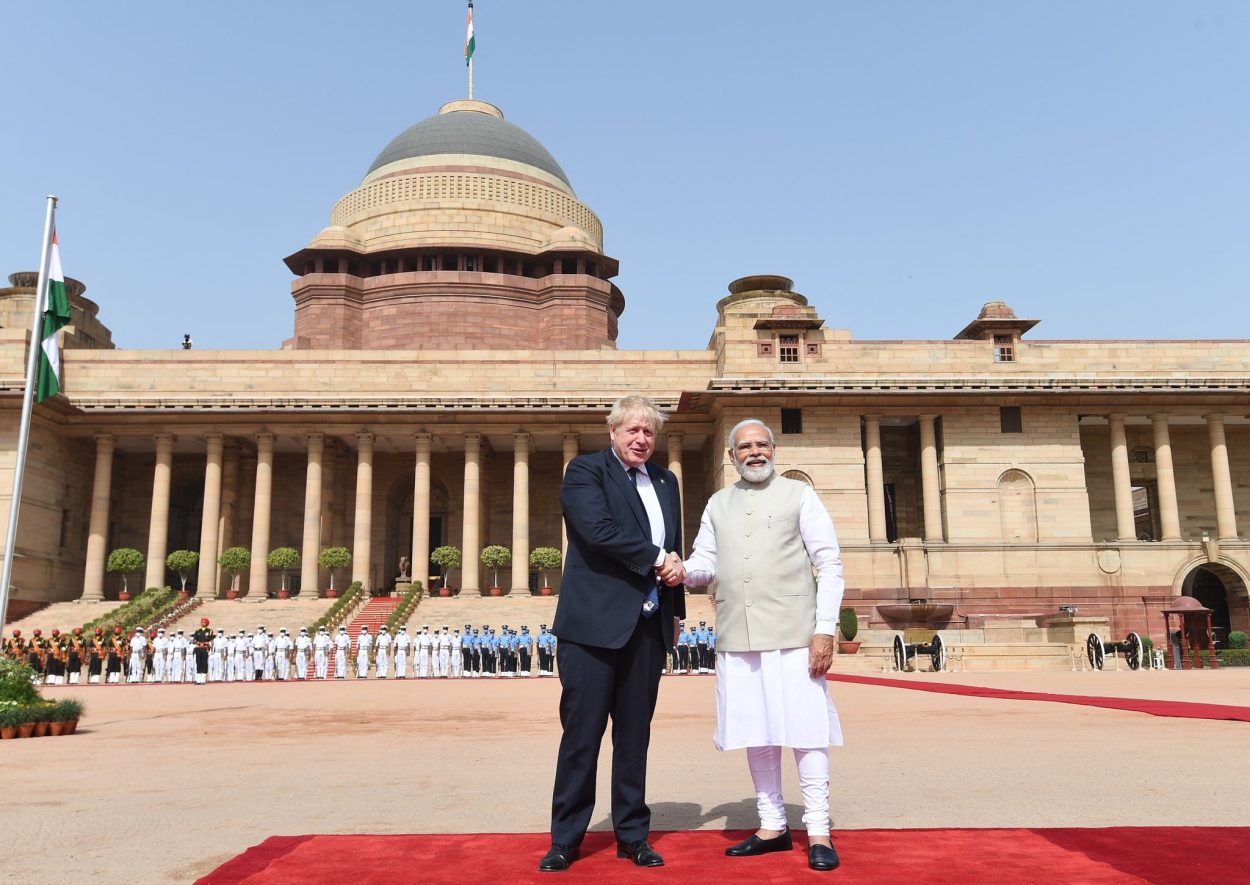 Is UK Offering Its 6th Gen Fighter Tech?
The project's details have not been revealed, but experts believe the offer is related to the United Kingdom's sixth-generation Tempest Future Combat Air System program. This appears to be possible given that the British side has been lobbying hard to bring New Delhi on board with this project. 
The Tempest will be a sixth-generation jet fighter with deep learning AI, the potential to operate unmanned, swarming drones, directed-energy weaponry, a virtual cockpit in the helmet, and hypersonic missiles, among other features.
Britain has already partnered with Sweden and Italy for technology development. This program is led by defense manufacturer BAE Systems along with Leonardo UK, Rolls Royce, and MBDA. 
Meanwhile, London has also collaborated with Japan on several fronts including the development of engines for the stealth fighters, joint new air-to-air missiles, and sensors. Tokyo is developing its stealth aircraft, with a timeline that is nearly identical to the tempests. 
The United Kingdom now appears to wish to cooperate with India. In 2019, a group from the United Kingdom, including top executives from BAE Systems and senior officials from the Ministry of Defense, visited New Delhi to persuade the Indian Air Force (IAF) to collaborate on the Tempest, a sixth-generation aircraft.
At the time, BAE Systems India head Nik Khanna stated that the group was seeking foreign partners. He further said that the team was particularly interested in discovering software developers in India because the country has large expertise in that domain. 
However, there is no indication that India will join the program; instead, the government is promoting the "Make in India" initiative and is eager to create a strong defense and aerospace infrastructure within the country.
New Delhi is also working on developing its own indigenous stealth fighter plane, the AMCA. Experts feel there is a likelihood of India getting engaged in the software development for the tempest. 
Why Is UK Keen To Partner India?
The United States sanctions against Russia, as has been well reported, are likely to have serious consequences for India's defense supplies. Russian-made military platforms account for at least half of India's total military assets and are deployed across all three services.
Over the last 15 years, India has attempted to diversify its defense imports, as evidenced by the acquisition of Rafale fighter jets from France.
However, Russian platforms remained the favored choice because of price competitiveness, and relatively generous technology transfers. As a result, replacing Russia is not an easy task. 
According to SIPRI, a Swedish institution that studies global arms exports and imports, India imported 46 percent of its arms from Russia between 2017 and 2021.
According to the institute, France came in second with 27% while the United States came in third with 12%. Israel's imports landed in fourth place. During this time, India accounted for 37% of all Israeli weaponry shipments.
Experts believe that India wants the United States to play a critical role in developing the country's domestic defense sector, but Washington's unwillingness to transfer defense technology is a major roadblock.
There was no mention of sharing military technology when the US and Indian foreign and defense ministers met in Washington earlier this month.  London, on the other hand, is eager to acquire a share in India's rapidly expanding defense industry.
Nitin J Ticku, a defense analyst and EurAsian Times' managing editor believes that the west is aggressively trying to pull India away from Russia. However, New Delhi is unlikely to cut ties with Moscow as Russia has not only been a dependent ally but has also been providing cutting-edge weaponry to India that the western partners are not willing to share.
Yes, UK's move will help India's strategic collaboration with the West advance more quickly and no doubt India would be looking to collaborate to develop a next-gen fighter jet.
UK-led Tempest should be an exciting opportunity for India but it depends on what role will India be offered. And as of now, there is no official word on India negotiating with the UK on the Tempest program and appears to be mere speculations, Ticku said.
British PM Boris Johnson also called the Indo-Pacific the "geopolitical center of the world" and claimed Britain was pursuing an "Indo-Pacific tilt." Not to mention, India is at the forefront of the West's Indo-Pacific policy, which aims to curb China's belligerence in the region.
Nevertheless, strong defense ties with India will eventually assist the United Kingdom in maintaining its position in the Indo-Pacific, either directly or indirectly.