False flag operation and surgical strikes have been hogging the limelight in both Pakistan and India. Pakistan PM Imran Khan once again warned the "world community" against India undertaking a false flag operation against his country to divert attention from its "internal problems". 
Who Is Zhao Zongqi & Why Is India Celebrating The Exit Of Chinese PLA Commander?
In complete violation of int law, India's delib firing at LoC on UNMOGIP vehicle, despite clear UN markings & flying blue UN flag, shows India's total disregard for all int norms of acceptable state behaviour & respect for int law & UN. Pak strongly condemns this rogue behaviour.

— Imran Khan (@ImranKhanPTI) December 20, 2020
Apart from PM Khan, Foreign Minister Shah Mehmood Qureshi, National Security Advisor Moeed Yousaf, and Pakistan Army spokesman Major General Babar Iftikhar have spoken along similar lines in the past.
A false flag operation is when a country or an agency carries out a covert operation and pins blame on a second party or an enemy country.
Khan's latest allegation comes following an alleged attack on a UN vehicle in Pakistan-administered Kashmir last week. Pakistan blamed India for the attack while India has dismissed the allegations. The UN has said an investigation is underway.
Khan has claimed that India's Modi government may carry out such false flag operations in Kashmir to divert attention from mounting problems like economic recession, farmers' protests, and alleged mishandling of COVID-19.
Khan had issued the first such warning in August 2019 when New Delhi had revoked Jammu and Kashmir's special status. He had then alleged that the Modi government revoked Article 370 to divert attention from alleged human rights violations in Kashmir.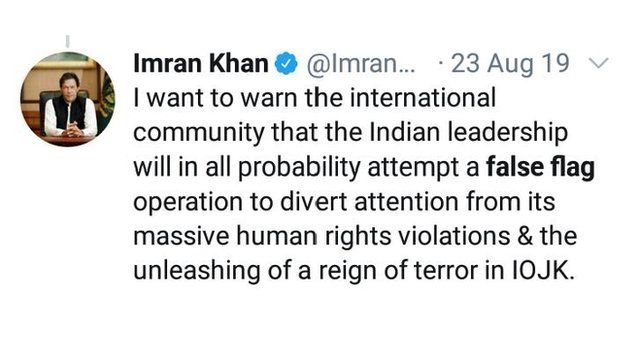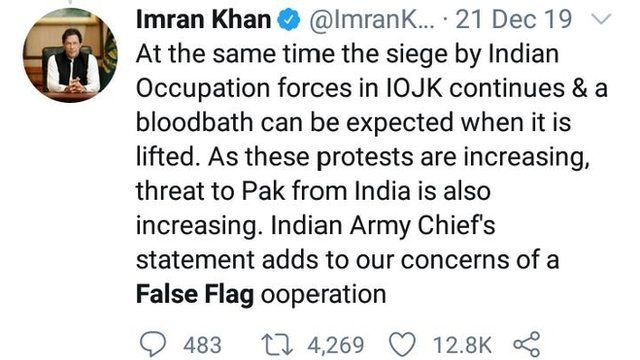 In May and June 2020, when tensions between India and China were at their peak following the Galwan Valley incident in which 20 Indian soldiers were killed, Khan had again warned that India can launch a false flag operation against Pakistan.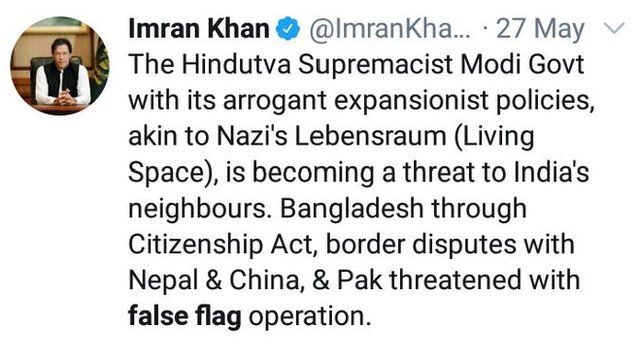 However, Indian experts have reasoned that surgical strikes undertaken by India in 2016 and 2019 were due to the terror attacks against the Indian army by Pakistan-based terror groups and not because of its "internal problems".
Since then Pakistan has kept its guards high. Last week, Foreign Minister Shah Mehmood Qureshi during his visit to Abu Dhabi had warned that India was preparing a "surgical [military] strike" on Pakistani soil.
Qureshi had said: "I have learned through our intelligence sources and they have picked up this information that India is planning a surgical strike against Pakistan."
Pakistan's National Security Advisor Moeed Yousaf has claimed that they have received inputs from other countries, with whom India has discussed such plans. Pakistan authorities have maintained that they would retaliate with full force in case of any action from India.
Yousaf has said if Pakistan's warnings keep India from undertaking any such actions, then the world can see. However, Pakistan Prime Minister Imran Khan has launched a scathing attack on India by calling it a "Hindu Rashtra" (a Hindu nation) and terming the Modi government as "a Nazi-like regime".
Both India and Pakistan have been in a conflict over Kashmir ever since independence in 1947. While both the nuclear powers claim full authority over the Kashmir region, they only control parts of it with the Line of Control dividing Kashmir between India and Pakistan. The region governed by India is Jammu and Kashmir while the other side is loosely termed as Pakistan-administered Kashmir.
The bilateral relations had received a massive blow in 2019 when a Pakistan-based terror group had attacked a Central Reserve Police Force (CRPF) convoy killing 40 Indian security personnel. The same was followed by surgical strikes and dogfight between the fighter jets.
---
Follow EurAsian Times on Google