Outgoing US President Donald Trump has awarded Legion of Merit to Indian Prime Minister Narendra Modi, former Japanese PM Shinzo Abe, and Australian Prime Minister Scott Morrison, a move seen as an effort to further strengthen QUAD to thwart China's aggressive posture in the Indo-Pacific region.
Afghanistan, Turkmenistan Sign Deal On TAPI Pipeline Which Includes India & Pakistan
"On behalf of President @realDonaldTrump, I presented the Legion of Merit to @ScottMorrisonMP, @narendramodi, and @AbeShinzo, through Ambassadors @A_Sinodinos, Sugiyama @JapanEmbDC, and @SandhuTaranjitS, who accepted the decorations." –NSA Robert C. O'Brien pic.twitter.com/hmgiQrY5RP

— NSC (@WHNSC) December 21, 2020
Earlier, Indian PM Narendra Modi was honored with the 'Order of Zayed', the UAE's highest civilian award, as a mark of recognition for his endeavors to boost bilateral relations between the two nations. The award has earlier been bestowed on several world leaders, including Russian President Vladimir Putin, Queen Elizabeth II and Chinese President Xi Jinping.
The decorations were presented by National Security Advisor Robert C. O'Brien on behalf of the President to ambassadors of the three countries. The prestigious military honor is given for "exceptionally meritorious conduct in the performance of outstanding services and achievements".
The move has also been seen as Trump's attempt to reiterate how he strengthened the Indo-Pacific strategy and QUAD partnership among the US, India, Australia, and Japan.
Those eligible for the military honor usually include members of the uniformed services of the United States and members of allied armed forces. According to the US Army Regulation 672-7, it is presented to the degrees of Chief Commander, Commander, Officer, and Legionnaire of armed forces of foreign nations and is based on the relative rank or position.
Indian Prime Minister Modi has been presented the honor for "elevating the US-India strategic partnership". It was accepted by ambassador Taranjit Singh Sandhu on behalf of the Prime Minister.
Similarly, former Japanese PM Abe has been awarded for "for his leadership and vision for a free and open Indo-Pacific" and Australian PM Scott Morrison "for his leadership in addressing global challenges and promoting collective security".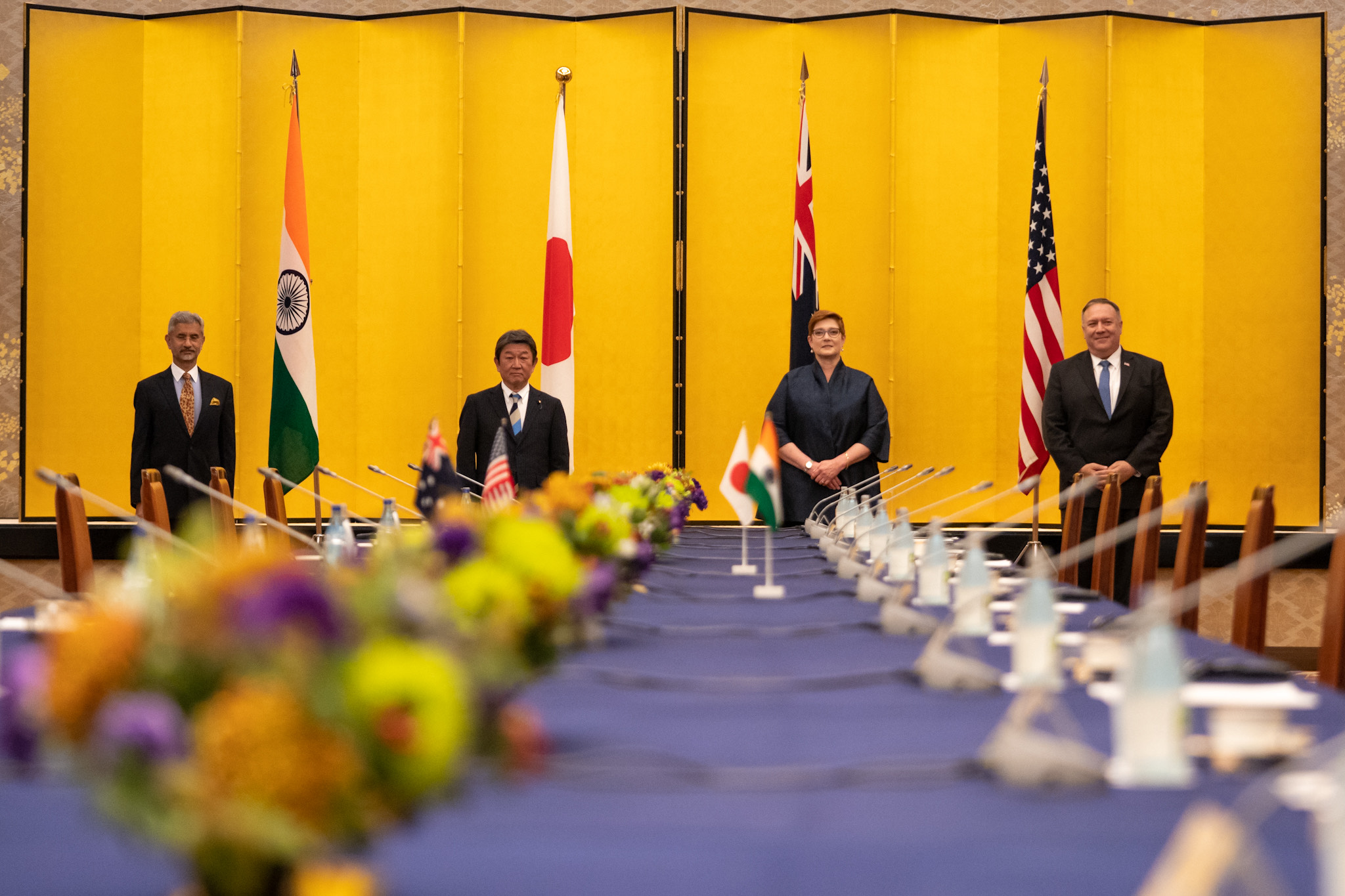 A senior Indian official has told Hindustan Times that the Legion of Merit basically mainstreams the QUAD dialogue from an experimental stage and towards institutionalization of the security architecture.
Stressing upon a shared vision of democracy and values among QUAD countries, the official said that a stronger QUAD is the outcome of China's aggressive behavior in the South China Sea, East Ladakh, and against Taiwan.
QUAD that denotes quadrilateral security dialogue first emerged in 2007 while vouching for a free and open Indo-Pacific. It has been revived recently amid worsening relations between China and all four QUAD countries.
While QUAD is a strategic coalition, recent naval drills between the four countries as part of the Malabar exercise in India have indicated the formation of a full-fledged military alliance. China has expressed serious concerns over any such alliance led by the US while terming it as a deliberate provocation and a "Cold War mentality".
---
Follow EurAsian Times on Google