Speculation is rife about North Korean leader Kim Jong-un's possible dialogue with the Biden administration following his recent remark. But what did Kim say actually?
Communist North Korea has for long been designated as a hostile nation by Washington because of the former's brazen display of nuclear capabilities. Meetings between Kim and former US President Donald Trump ended without any concrete outcome.
Recently, the Biden administration irked Pyongyang, when it engaged South Korea in talks in an attempt to denuclearize the Korean peninsula. Though reportedly mired in economic distress and a Covid-19 outbreak, it seems Kim may still find his way to talks with the US.
Recent reports suggest that the US is hopeful that it will be able to have a dialogue with North Korea soon.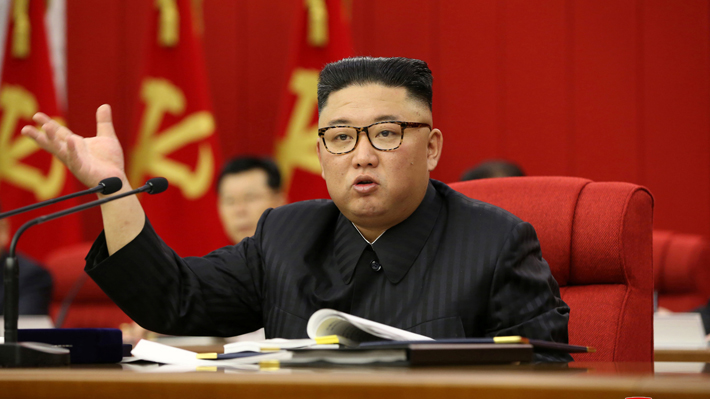 In a meeting with his South Korean and Japanese counterparts, Sung Yong Kim, the US special representative for North Korea, expressed his hope that Pyongyang will respond to Washington's offer to meet "anywhere, anytime without preconditions", Nikkei Asia reported.
Sung Kim's statement came in the wake of comments made by the North Korean leader in Pyongyang. Responding to US President Biden's North Korean policy, Kim Jong-un stated in a party meeting that "the country should be prepared for both dialogue and confrontation".
The Biden administration advised North Korea to resume talks and abandon its nuclear program.
What Did Kim Say?
In a plenary meeting of the ruling Workers' Party's Central Committee, the North Korean leader reportedly discussed the US policies under President Biden and the possible steps that can be taken with regards to the relations with the US. In the meeting, Kim put forth "appropriate strategic and tactical counteraction" with the US.
▪ U.S. ENVOY IN S. KOREA

U.S. Special Rep. for N. Korea arrives in S. Korea for talks on denuclearization of Korean peninsula#US #NorthKorea #Sung_Kim pic.twitter.com/tUAp1PPApV

— Arirang News (@arirangtvnews) June 19, 2021
"The General Secretary stressed the need to get prepared for both dialogue and confrontation, especially to get fully prepared for confrontation in order to protect the dignity of our state and its interests for independent development," according to North Korean state media KCNA, as quoted by Asia One.
Many experts believe that Kim's statements follow his "wait and watch" policy and not outrightly provoke the Biden administration. A reason for this, experts believe, is the troubled economic conditions and reported food shortages in the country, and unconfirmed reports of a major outbreak of the Covid-19 pandemic in the country.
A major food shortage has been reported in North Korea after devastating typhoons hit the country last year, destroying crops.
Pyongyang may be thinking that "the ball is in the US court at the moment, and it is waiting to see how the Biden Administration outreach goes", Vipin Narang, a nuclear affairs expert at the Massachusetts Institute of Technology in the US, was quoted by AsiaOne as saying.
Two years after Trump's Singapore meeting with North Korean dictator Kim Jong Un, the U.S. and our allies are less safe and Kim's arsenal of nuclear weapons and ballistic missiles keeps growing. Photo-ops and love letters are no substitute for deterrence and principled diplomacy. https://t.co/YfaCdlwJ8S

— Joe Biden (@JoeBiden) June 12, 2020
He is of the view that Kim perhaps wants to avoid a "near-term confrontation" given reports of North Korea's food and Covid-19 situation.  
Some analysts also believe that it will be sometime before North Korea may return for talks. Leif-Eric Easley, who teaches international studies at a Seoul-based university, told Nikkei Asia that Pyongyang may return to negotiations only after demonstrating strength with post-pandemic economic recovery and provocative military tests.
Easley further stated that North Korea may go ahead with its next missile test during the summers, coinciding with the combined defense exercises of the US and South Korea.
A report by 38 North, a program under US-based Stimson Center, said, "There are signs that Washington and Pyongyang are in the early, cautious stages of a diplomatic dance", and that North Korea is withholding any decision on the talks at the present time.
Days before the new administration under President Biden took charge, Kim had described the US as "our biggest enemy" and called for more advanced nuclear weapons. According to Rachel Minyoung Lee, a former open-source North Korea analyst for the US government, "it is notable North Korea has consistently not published its official statements on the Biden administration in domestic media. It indicates Pyongyang is keeping its policy options open".
The US-North Korea Tussle
Last month, US Secretary of State Antony Blinken stated that Washington is "waiting to see if North Korea wants to engage in diplomacy over the denuclearization of the Korean peninsula".
This statement followed a meeting between the South Korean President Moon Jae-in and his US counterpart Biden with the latter indicating that the US may make fresh attempts to engage North Korea in a dialogue, especially regarding its nuclear weapons arsenal.
"The best chance we have to achieve the objective of total denuclearization of the Korean Peninsula is to engage diplomatically with North Korea", US Secretary of State Blinken reportedly said on a television program.
While North Korea has mostly denounced the possibilities of talks with the US, some analysts believe, Pyongyang can still make its way to a dialogue with the US.
Earlier, Kim had met Trump in a bid to reach a negotiation regarding the nuclear arsenal of North Korea. Trump became the first US President to hold a summit with Kim when the two leaders met in Singapore in June 2018.
The summit saw the two leaders making promises to pursue the denuclearization of North Korea, but no roadmap was drawn, achieving no long-term success. The second meeting between the two took place in Vietnam in February 2019, but that too proved futile, as Kim reportedly insisted that sanctions be removed before dismantling key nuclear programs, to which Trump said, "we couldn't do that".
In June 2019, Trump visited North Korea and after meeting Kim, and said that the two countries would engage to revive the much-delayed nuclear talks. But there has been no progress on that front since then.