Pakistani Foreign Minister Shah Mahmood Qureshi seemed irritated when an Afghan journalist asked him, "How many Indian consulates are there in Afghanistan?" 
"Officially there are four but unofficially how many are there, you will tell," Qureshi told Lotfullah Najafizada during an interview with Afghan news channel Tolo News.
When asked, if India's presence in Afghanistan is a matter of worry for Pakistan, Qureshi said if the Afghan soil is used for disturbing peace and stability in Pakistan, then it's a matter of trouble.
With Pakistan being a 'buffer' between the two nations, India and Afghanistan do not share a common border, according to Qureshi. "But I think India's presence in Afghanistan is more than it should be because there is no border between the two countries," said Qureshi told Tolo News.
Pakistani FM Shah Mahmood Qureshi says the Indian presence in Afghanistan is larger than it ought to be as it does not share borders with Afghanistan. Watch the interview on TOLOnews, TOLO TV and https://t.co/fXhOuWrZv9 at 9pm (Kabul time) on Saturday. pic.twitter.com/Mf6GTGZF84

— TOLOnews (@TOLOnews) June 17, 2021
Apart from its embassy in Kabul, India has four consulates in Afghanistan — Mazar-e-Sharif, Kandahar, Herat, and Jalalabad
On being asked if India had used Afghanistan against Pakistan, Qureshi laughed away the matter.
The head of Tolo News went ahead with his instinct to ask tough questions that prompted discomfort; Qureshi appeared to be getting trapped in answering those questions.
Of the questions, Qureshi felt uneasy at answering, "Whether Taliban leaders Hibatullah Akhundzada, Mullah Yaqoob, or Sirajuddin Haqqani are in Pakistan?" He responded, "You ask your government. You keep on accusing."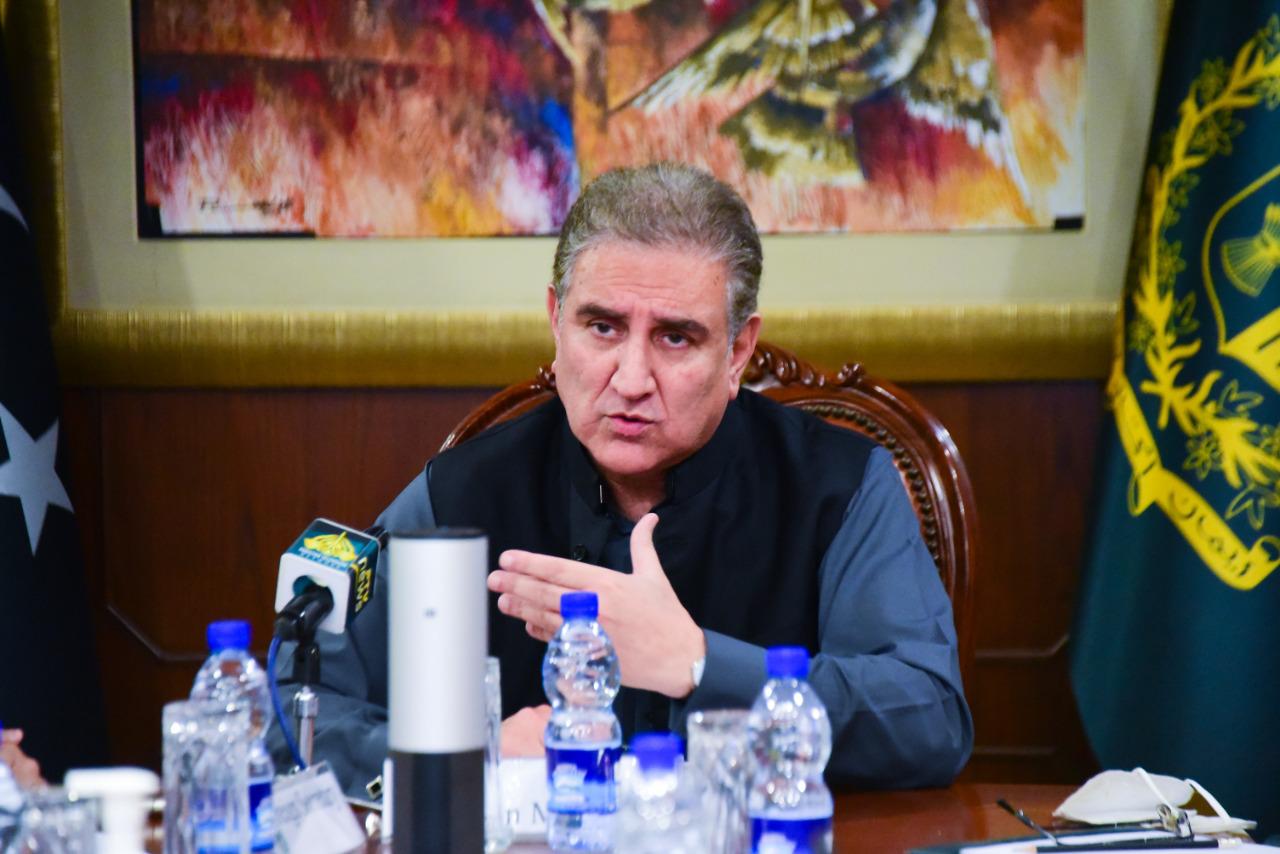 Qureshi did not give a clear answer to the question of Afghan-Taliban peace talks. He dismissed it by saying, "I cannot participate in talks between the Taliban and the Afghan government."
Lotfullah refuted Qureshi's claims and said, "No such talks have taken place".
Meanwhile, Qureshi continued that Afghanistan is not ready for another civil war.
Pakistani FM Qureshi says that if Afghanistan and Pakistan want to move ahead as good neighbors and coexist, then the Durand Line should be recognized as an international border. Watch the interview on TOLOnews, TOLO TV, & https://t.co/fXhOuWrZv9 at 9pm (Kabul time) on Saturday. pic.twitter.com/BC3KRXxkwS

— TOLOnews (@TOLOnews) June 17, 2021
"If you want to move forward and have a sense of coexistence like a good neighbor, then the Durand Line (the border separating Pakistan and Afghanistan) should be accepted as an international border," Qureshi further upheld, dismissing further discussions on the above.
The full interview will be broadcast on Saturday night at 9 pm, according to the BBC Hindi. For the moment, Tolo News has shared many video clips of this on Twitter.
Earlier in June this year, Pakistan Prime Minister Imran Khan demanded political settlement in Afghanistan before the US withdrawal from Afghanistan. It was intended to reduce the risk of civil war.
"There is a lot of fear right now in Pakistan and I assure you that we are trying our level best that there is some sort of political settlement before the Americans leave," Khan said in an interview with Reuters.
Outraged over the remarks of Afghanistan National Security Chief, Hamdullah Mohib in May this year, Islamabad decided to withhold bilateral engagements with the Afghan government, according to a senior Pakistani official privy to the matter.
In April, the US announced its intent to withdraw all its troops from the war-torn country by September 11, which will mark the 20th anniversary of the 9/11 attacks.
Written by Kanika Sachdeva
READ MORE