Lockheed Martin's F-22 Raptors have established their supremacy as one of the best fifth-generation fighters the aviation world has ever seen. One of the oldest air force bases in the United States, the Langley Field in Virginia is now the home to F-22A Raptors. 
Last year, after Hurricane Michael devastated Tyndall Air Force Base, Florida, the previous site of the formal training unit, the fighters jets were moved to Langley airbase.
"The permanent solution must address readiness and pilot production by ensuring the F-22 FTU is set up at a location that optimizes readiness and supports the secretary of defence's requirement to improve mission capable rates to 80 per cent," US Air Force spokesman Robert Leese said in a statement last year. The airbase may host the newest F-35 by 2023 as well. 
The Vertical Tank Storage System (VTSS) at the airbase looks nothing short of equipment out of a sci-fi movie. The storage tanks hold fuel for the 600-gallon wing tanks of the F-22 Raptor.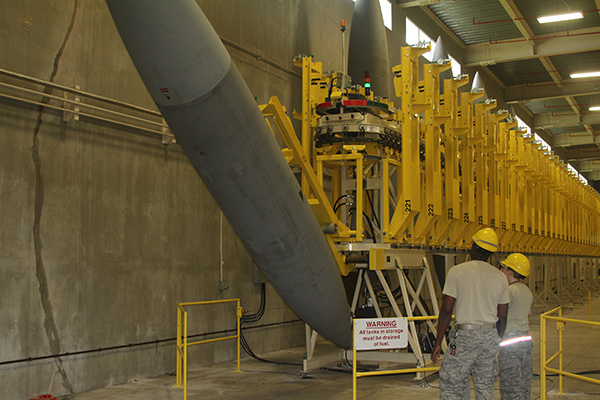 According to International Automated Systems (IAS), the company who makes the External Aircraft Fuel Tank Storage System, the vertical system provides cost savings in the maintenance of tanks in storage, a supply of ready-to-fly tanks available for immediate deployment, and a reduction in land use for storing tanks.
It has been field-tested for over 25 years worldwide and can be installed in an existing shelter or a pre-engineered metal frame structure.
The fifth-generation F-22 Raptor is capable of precision attacks, defeating both air- and ground-based threats with unparalleled lethality and survivability.
It is 180.9 meters in length with a wingspan of 13.56 meters providing advance stealth. Its supercruise speed is greater than Mach 1.5 without afterburners which allows outmanoeuvring through acceleration and razor-sharp turns. 
According to Tyler Rogoway of The Drive, the F-22 uses massive 600-gallon wing tanks to extend its range for missions where low-observability (stealth) is not a primary necessity. 
"For instance, Raptors that sit alert in Alaska fly with the wing tanks as their intercept missions can cross vast distances over long periods. This is in addition to having a support tanker launched during scambles. They are also used when F-22s are ferried to overseas operating locations," he explained. 
He further said that the tanks on the F-22 are actually made to be jettisoned with their pylons attached which allows F-22 pilots to 'buy-back' some stealthiness, as well as higher performance, on-demand.
The VTSS is where these big wing tanks are stored. The system allows it to be stored indoors, rather than outdoors where they are exposed to environmental elements.
This also increases the level of safety. It further helps to keep the Air Force personnel indoors, safe from harsh weather conditions including wind and snow. More importantly, it also saves times. What took hours to transfer tanks can now be done within minutes with the new system.
"When it comes to Langley's Raptor force, which could be called to deploy at a moment's notice, this is clearly beneficial, but other fighter bases have also received this system, as well," stated Rogoway.
Describing the VTSS, Rogoway said that the indoor installation is like one of those dry cleaning conveyor racks, but it holds massive external fuel tanks, not shirts and sport coats.