Russian troops have reportedly seized a valuable war trophy from Ukrainian forces — a complete set of the PD-100 Black Hornet Nano Unmanned Aerial Vehicle (UAV), renowned globally as one of the smallest military-grade drones. 
The news was widely reported by several Russian telegram channels, including the Rybar Telegram channel, which has known ties to the Kremlin.
According to the claims, in the vicinity of Novaya Tavolzhanka, a Russian special forces unit successfully launched an ambush on a detachment unit of Ukraine's Kraken battalion. 
The intense battle between the two forces resulted in eliminating the Ukrainian troops, while Russian soldiers secured a full set of PD-100 Black Hornet Nano UAVs, Rybar claimed on June 7. 
Ukraine received the 'Black Hornet' micro-drones through a collaborative effort between Norway and the UK. This significant acquisition was made possible by the announcement in August 2022, wherein the UK and Norway pledged to provide Ukraine with 850 of these small drones as part of a generous $64 million aid package.
Russian Telegram channels are reporting the capture of miniature Black Hornet ISR UAVs. pic.twitter.com/QFwZ7gbAok

— Samuel Bendett (@sambendett) June 7, 2023
If the claims by the Russian telegram channels on June 7 are true, this would mark the first recorded instance of Russian forces capturing the 'Black Hornet' nano drones in the ongoing war. 
Pro-Russian military bloggers also suggest that the captured drone holds immense value, and there is a need to thoroughly dissect and study it to the smallest detail to replicate or develop similar technology potentially
Meanwhile, this is not the first time this palm-sized unmanned aerial vehicle (UAV) has been seized. In 2020, several reports claimed that Syrian forces recovered a Black Hornet drone near Tal Tamr. 
The operator of the captured drone in Syria before its recovery by Syrian troops remains unclear. However, in 2019, the US Army commenced the distribution of Black Hornet 3s to different units. 
US special operations forces, known for their extensive involvement in Syria, have utilized different variants of these drones since at least 2015.
Why Is This Small Drone Valuable For Ukraine?
The small drones, produced by American company Teledyne FLIR in Norway, originally stemmed from the development efforts of Prox Dynamics AS, a Norwegian company that was acquired by FLIR in 2016. 
British ground troops first utilized these UAVs during the invasion of Afghanistan. 
They played a crucial role in enhancing situational awareness by enabling the scouting of areas beyond sight, such as around corners or over walls, thus identifying concealed threats during routine patrols in villages and target locations.
The Black Hornet drone is designed with a durable, plastic-molded shell that provides robustness in various conditions, including stormy winds. Its aerodynamic shape enables it to maintain stability during flight. 
Despite its small size, the nano UAV houses three surveillance cameras within its nose, enhancing its reconnaissance capabilities. The PD-100 Black Hornet system comprises two UAVs and a base station, forming a comprehensive setup for operational deployment.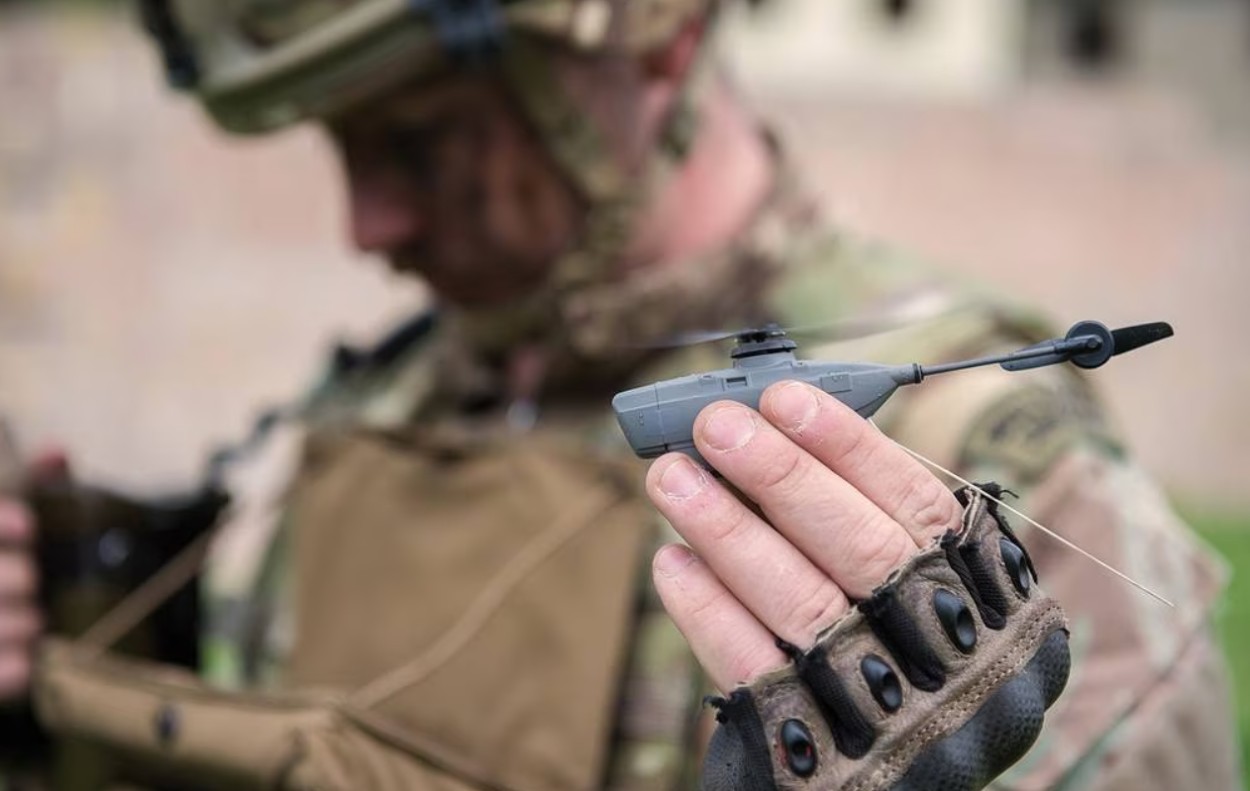 The UAV has compact dimensions, measuring approximately 100mm in length with a rotor span of 120mm. It is lightweight, weighing 32 grams, including the weight of the integrated surveillance camera. 
Due to its design, the Black Hornet drone is considered an ideal asset for Ukrainian troops. Its small size allows for the discreet deployment, enabling Ukrainian forces to survey enclosed areas and safely navigate enemy-held spaces effectively. 
Notably, deploying these small drones provides small units of the Ukrainian armed forces with a substantial advantage in situational awareness, offering a low-risk method to detect ambushes and other potential threats by Russian soldiers.
The Black Hornet's compact size and nearly silent propellers also allow it to covertly infiltrate through windows or breaches in walls, enabling reconnaissance of the interior of buildings. 
This capability proves highly valuable during urban assaults and battles, assisting Ukrainian forces in gaining critical insights and enhancing their operational effectiveness. 
However, the Black Hornet drone is primarily designed for tactical-level operations rather than long-term reconnaissance over extensive distances. 
It has a maximum operating distance of up to two kilometers from the operator, ensuring close-range deployment. Additionally, its battery life allows for approximately 25 minutes of flight time before requiring recharging.