Within a day of a revolt that threatened to have a "new President" and questioned the legitimacy of the war, Private Military Company (PMC) Wagner boss Yevgeny Prigozhin called off the March to Moscow and announced his fighters were leaving the city of Rostov-on-Don. 
Wagner's Telegram channel and subsequent news reports said a call from Belarusian President Alexander Lukashenko diffused the situation. 
Russia has now offered a deal that will drop him from being prosecuted in the Federal Security Service (FSB) investigation for an armed uprising that carries a sentence of 20 years, as per the Russian Criminal Procedural Code. Moreover, his fighters who participated with him in the rebellion will also not face prosecution.
Saying he would not want to "spill Russian blood," he announced his fighters would now "return to the field camps." The swing from angry video speeches suggesting he was ready to fight Russian soldiers for his demands to immediate reconciliation indicates he never meant to overthrow Putin or take on any arm of the state machinery. 
His angst came from something far deeper than allegedly being ignored by the Russian Ministry of Defense (RuMoD) in supplying artillery rounds. The following paragraphs unpack the larger eco-political churnings in Russia triggered by the war, which have threatened space for people like Prigozhin.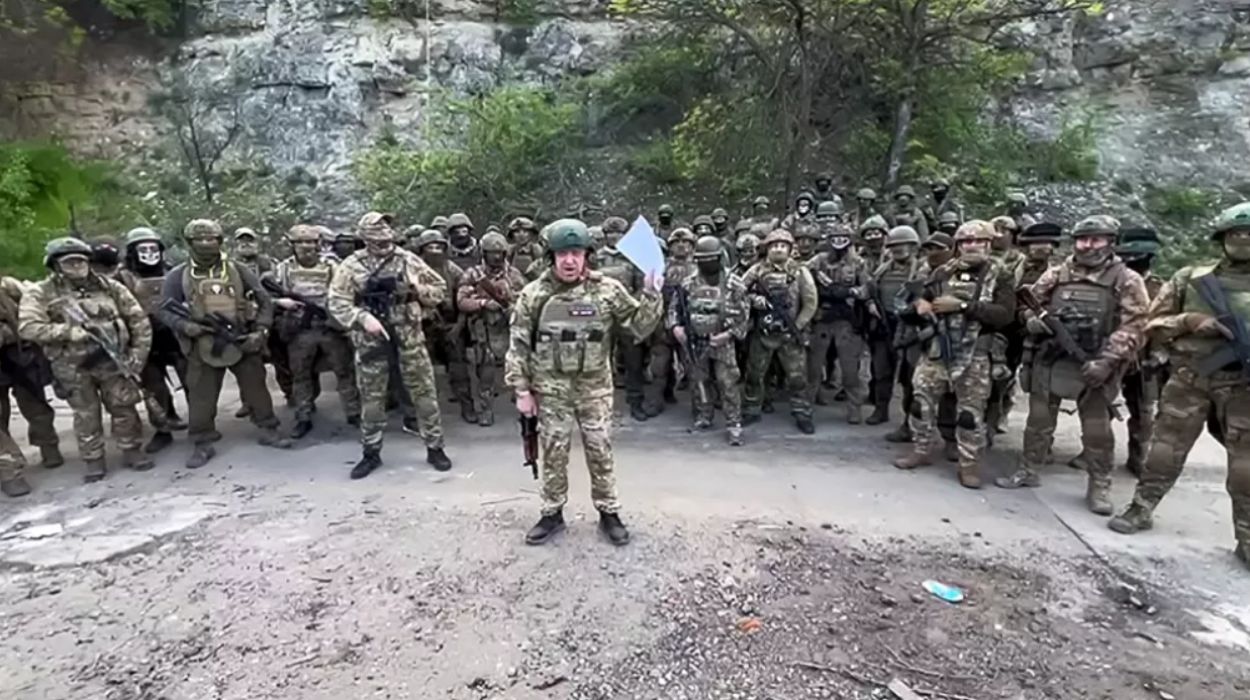 Coup Needs Support, But Russian Government Still With Putin
Velina Tchakarova, a commentator on Russian issues, tweeted that an actual coup is not possible without key political figures inside the Russian government and Putin's closest allies. 
"The real coup will have to take place in Moscow if Prigozhin really seeks to overtake the central command and control in the Kremlin. And he cannot enter Moscow without an inter-circle putsch of Putin's closest circle," Tchakarova said. It would be pertinent to note that Tchakarova has been critical of Putin and the war. 
The "inner circle" includes Prime Minister Mikhail Mishtushin, Deputy Chairperson of Russia's Security Council Dmitry Medvedev, the Security Council's Secretary Nikolai Patrushev, and the head of the semi-autonomous Chechen Republic Ramzan Kadyrov. There have been no reports of any dissent from these figures. 
The episode also has not hurt Russia's clout internationally. For instance, as Wagner's rebellion was playing out, CNBC reported Putin spoke on the phone with the leaders of Belarus, Kazakhstan, and Uzbekistan and "informed his counterparts of the situation." 
Putin also spoke with Turkish President Recep Tayyip Erdogan, who Kremlin spokesperson Dmitry Peskov said offered his "full support" to the Russian President. 
#Wagner leader #Prigozhin arrives at the #Russia military HQ which has been seized by Wagner Units, talks there with high-level officials of Russian army… #Putin #Moscow #WagnerGroup #RussiaIsCollapsing #Titan #russiaisateroriststate pic.twitter.com/NCnk9iJ53o

— Dev (@riteshdevseth) June 24, 2023
This establishes that Prigozhin did not have any support from Russia's elites, who have further cemented their alliance with Putin. It is also unlikely he was unaware he would not succeed, as would be explained subsequently. 
Another Russian Nationalist Strongman Doesn't Agree with Prigozhin
If anything, there has been widespread criticism of Prigozhin's action by Russian officials. Leading pro-Kremlin Russian social media groups carried posts quoting the head of Crimea, Sergey Aksyonov, saying he "fully supported Putin's statement about the attempted armed rebellion." 
The head of North Ossetia was also claimed to have asked Ossetians serving in PMC Wagner not to obey Prigozhin's orders. But the most virulent rejection came from the head of the Chechen Republic, Ramzan Kadyrov.
A controversial figure, Kadyrov practices a unique mix of ultra-orthodox Islamic governance in Chechnya and firebrand Russian nationalism with complete allegiance to Putin. 
On his Telegram channel, Kadyrov called Prigozhin's actions "a knife in the back" and said, "War is not the time to voice personal grievances and resolve disputes in our rear." "The rear must always be calm and reliable." He subsequently promised to "take harsh measures…if necessary…(as) the rebellion must be crushed." 
Kadyrov had also publicly differed with Prigozhin in his May 6 feud with Shoigu and Gerasimov. He addressed Prigozhin's running complaint about being deprived of ammunition by the RuMoD.
"(During war) there is always a shortage of ammunition," he said on his Telegram channel while giving the example of his own top military aide, Apti Alaudinov. Alaudinov is the commander of the Akhmat special forces regiment of the Chechen Republic. 
Kadyrov said Alaudinov had been facing his share of coordination issues with the RuMoD and the regular Russian military but called them "unavoidable." "He (Alaudinov) knows such issues can't be avoided and is silently fighting on the frontline but never considered openly complaining," a post attributed to Kadyrov went around on several Russian Telegram groups. 
The RuMoD later in the day on June 24 rather blamed Prigozhin's provocation for allowing the "Kyiv regime of taking advantage and concentrating units of their 35th Marine Brigade and the 36th Mechanized Brigade for an offensive."
Inconsistencies In Prigozhin's Ultimatums & Claims
By late evening on Saturday, Prigozhin retracted his defining messages that he wanted to change the President and run the country but rather wanted control of the RuMoD.
On his Telegram channel, he said: "(We) DO NOT oppose and DO NOT call for a change of the President of the Russian Federation, central authorities, the constitutional system of the Russian Federation, do not oppose the goals and objectives of the NWO. PMC Wagner is required to give them the leadership of the Russian Ministry of Defense, which is leading Russia to military defeat on the battlefield and deliberately destroyed PMC Wagner." 
This is not surprising as Prigozhin has not followed through with his previous threats. In his last diatribe against Shoigu and Gerasimov in May, when he threatened to pull out of the positions Wagner fighters had captured in Bakhmut (Artemovsk) by May 10, the city was captured a week later. 
In another video where he is seen talking with Russia's military intelligence chief Lt Gen Vladimir Alekseyev, and deputy minister of defense, Col Gen Yunus-bek Yevkurov, he refuses to withdraw his men from the cordon of the Southern Military District headquarters and promises to continue his march on Moscow unless he meets Gerasimov and Shoigu. 
In the event he does reach Moscow, Prigozhin can be assumed to adopt the same maximalist demands but not actually open fire since it is safe to say he is aware of the costs and retribution from the Russian state.
The FSB case for inciting rebellion carried a sentence of 20 years, and trading of fire with the state can be assumed to have the death penalty. Prigozhin has to be fully cognizant of these realities. 
Pictures on the late evening of June 24 from Rostov-on-Don showed a calm city with only Wagner troops in firing positions but no violence, while Krasnodar authorities also said the city was "calm and stable." 
From Supporting the War to Doubting It
Prigozhin himself has made vehement statements in support of the war since the very start; limited his criticism to RuMoD's alleged bias against Wagner while maintaining a patriotic position on the combat operations; and gave his private military business a professional, corporate, and scientific heft. This complimented Putin's own military and defense industrial modernization efforts. 
The setting up of the swanky glass facade PMC Wagner headquarters in Moscow and seeking recruitment of everyone from weapons specialists to engineers, drone pilots, IT professionals, and drone pilots to "improve the combat capability and enhance the security of Russia" was the first step.
Wagner also held hackathons among engineering students to address the common technical problems Russian fighters faced while operating UAVs on the frontlines.
It was part of a larger effort to address Russia's weakness in electronic manufacturing and dependence on Western imports, now under sanctions, that prevented it from becoming a self-reliant drone power. 
Prigozhin would not have undertaken such self-funded enthusiastic initiatives had he harbored any doubts about the war's legitimacy. Thus, a sudden volte-face could only be explained by other motivations. These could possibly have to do with his position being threatened by a new security architecture emerging in Russia. 
What is Prigozhin's Beef?
Questions then abound over what motivated Prigozhin, with speculations ranging from testing the waters to pursue his political ambitions to genuine disgruntlement over the progress and cause behind the war. The latter can be ruled out, as explained above. 
Speaking to EurAsian Times, Moscow-based analyst Andrew Korybko said it was Putin's receptiveness for dialogue with the West (under certain conditions) and the move to absorb Wagner PMC fighters into a formal Russian military structure that possibly threatened Prigozhin. He pointed to Putin's remarks in the June 13 meeting with Russia's influential war correspondents (or 'military bloggers'). 
Putin said, "We have never refused – as I said a thousand times – to participate in any talks that may lead to a peace settlement…Ultimately it is about the United States' interests. We know that they hold the key to solving issues. If they genuinely want to end today's conflict via negotiations, they only need to make one decision, which is to stop supplying weapons and equipment. That's it."
"(But) Prigozhin has repeatedly agitated for escalating his country's special operation, which aligns with some of his compatriots' views," Korybko said. 
Again on June 16, at the Plenary Session of the St Petersburg International Economic Forum, Putin reiterated, "We never closed (the door to diplomacy). They were the ones who decided to close it, yet they keep peeking through the crack at us." 
The attempt to induct Wagner's personnel also irks Prigozhin, as it now turns out. At the war correspondents meeting, Putin had said, "If there is no contract with the state, no contract with the Defence Ministry, there are no legal grounds for receiving social guarantees from the state."
Moreover, the military can also outmatch Wagner's monetary remuneration, given Putin's recent "limitless" defense budget and advertisement campaign offering higher pay, touched upon in an earlier EurAsian Times report. 
These two "trigger events" caused Prigozhin to go "rogue," Korybko writes in another article. He suggests the Wagner boss sensed a threat to his relevance. 
"With the requirement for all PMCs to sign contracts and Putin's recent signals that he's interested in politically resolving the proxy war if Russia's security is ensured."