A video released by the United States Navy under the Freedom of Information Act (FOIA) has shown Unidentified Aerial Systems/Phenomena (UAS/P) swarms flying over and around the warship USS Zumwalt in incidents that took place off Southern California in April 2019.
These are part of a much larger series of incidents around US warships and destroyers recorded in ship logs and other United States Navy (USN) personnel testimonies, reported by The Drive last year.
The EurAsian Times had written about US fighter pilots and military servicemen revealing their radars and communications jammed while detecting or tracking abnormally moving UAPs.
These incidents have become subjects of major Congressional inquiries. Officials from the Department of Defense (DoD) and the Department of the Navy have also appeared before lawmakers and indirectly hinted about their helplessness and the sensationalist implications based on the "inexplicability" and "inconclusiveness" of their probes.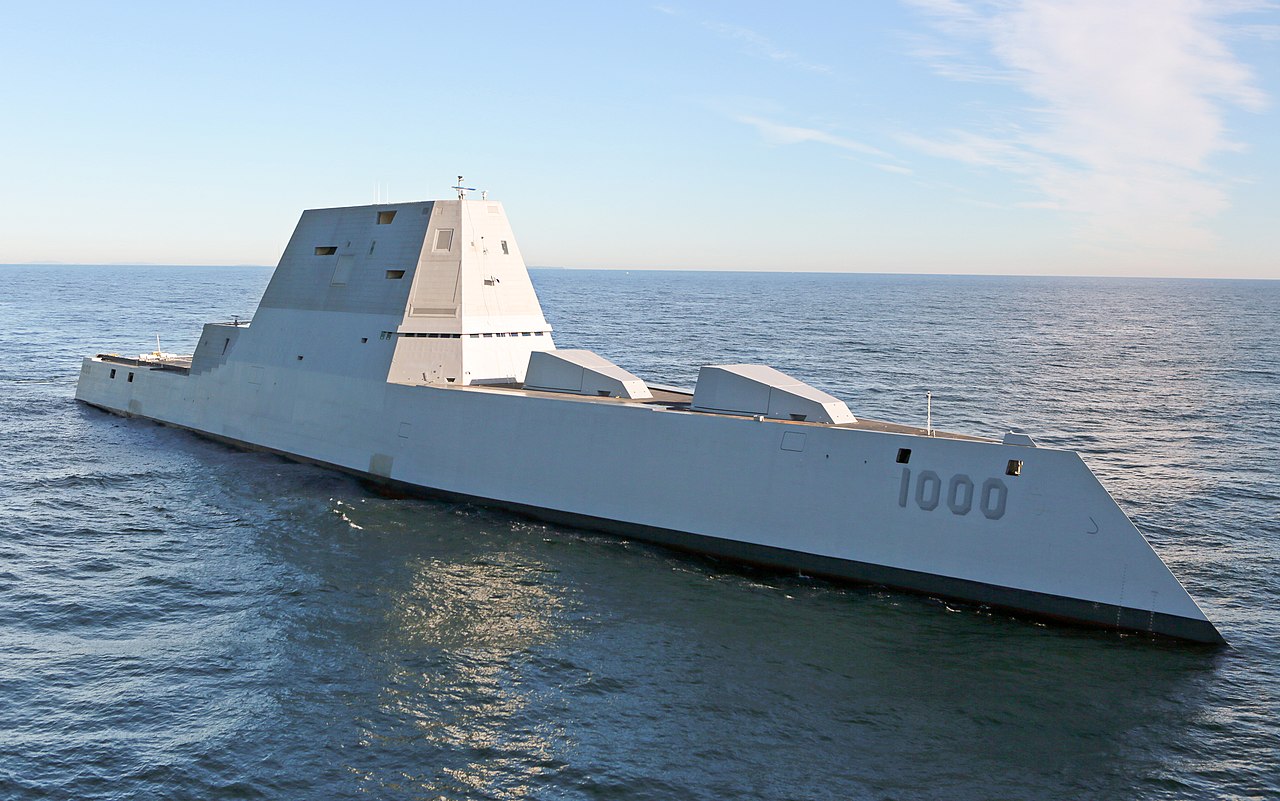 Moreover, any possible Russia or China hand in the incidents would have instantly been officially alleged by the US military or political leadership – or both. It would be hard to imagine the US giving up such an opportunity to show its rivals in a bad light, especially when relations are at their worst.
UAPs 'Harass' Zumwalt – Video
The incident occurred on April 24, 2019, at 8:30 pm Pacific Time, around 17 nautical miles from the US Marine Corps base at Camp Pendleton in international waters.
The Zumwalt had reported as many as six UAS operating at nearby altitudes ranging between 300 and 1000 feet. At one point, the UAS crossed over the Zumwalt's deck. Other incidents with other US warships had been recorded by their own Ship Nautical or Otherwise Photographic Interpretation and Exploitation Team (SNOOPIE) team of sailors.
The video released shows the incident to have occurred at night and is quite hazy and heavily pixelated. It would be far-fetched not to assume the Zumwalt's onboard sensors did not detect anything worthwhile.
However, those findings would mostly be protected from public scrutiny under the FOIA as militarily or strategically sensitive information, much like the Right to Information (RTI) Act.
The clearer part of the video shows a set of several lights, appearing to be white and green, in a rectangular formation. One of the sailors is even heard saying that the UAS does not appear to be armed.
The narration by the sailor describes them as "flying consistent patterns northwest, east, south without alteration, of course, speed and altitude." The video ends with the sailor saying that "no weapons were observed."
What adds more intrigue to the issue is Chief of Naval Operations (CNO) Admiral Mike Gilday telling journalists in April 2021 that they had not yet "positively identified" the UAS/UAP. The Department of Defense (DoD) had, in August 2020, created the Unidentified Aerial Phenomena Task Force (UAPTF).
The UAPTF is led by the Department of the Navy and overseen by the Office of the Under Secretary of Defense for Intelligence and Security.
The drones over Zumwalt, however, don't appear to be otherworldly, based on experts The Drive report quoted. One unnamed drone industry analyst said he couldn't find anything on the drones in the footage that couldn't be purchased off-the-shelf.
He also pointed to the narrator's observation about the fixed flight pattern with no changes in altitude, meaning the drones were pre-programmed to fly a specific route.
This would make sense for an adversary spying on an advanced US defense platform since full and continuous remote human control with an active radio link makes the drone vulnerable to Radio Frequency (RF) jamming.
A reason for the Zumwalt to not react is the fear of falling into a trap where it is forced to reveal its radar and electronic frequencies, disclosing valuable Signals Intelligence (SIGINT).
Documentary Films & Congressional Hearings
Interestingly, Ronald S Moultrie, the current Under Secretary of Defense for Intelligence and Security, requested a closed-door hearing when questioned during a Congressional Committee chaired by Congressman Andre Carlson.
While Gilday, in the April 2021 media interaction, denied the extra-terrestrial possibility saying he "has no indications at all of that," Deputy Director of Naval Intelligence Scott Bray had admitted some sightings that US officials "just can't explain."
Some of the most famous footage shows UAP/UFOs moving seamlessly between the sea and the air. The US submarines reported detecting objects moving at unprecedented speeds and maneuverability beyond human-made craft.
For instance, pilots over the years, having spotted hazy-looking UAVs, say that being incredibly fast-moving and nimble objects should still have essential aerodynamic characteristics like having some form of propulsion/exhaust and latent kinetic energy.
The objects are shown moving without any thrust at speeds nearly at Mach 1.5 and suddenly changing direction, stopping on a dime, or accelerating in a way that looks like it is just shooting ahead.
"There are a small handful of cases in which we have more data than our analysis simply hasn't been able to fully pull together a picture of what happened," adding that the UFO/UAPs had "unexpected flight characteristics," Bray said before Congress.
The videos combine the Navy's radar screens and thermal and infrared recordings from the electro-optical tracking systems (EOTS) aboard US Navy warships, helicopters, reconnaissance aircraft, and fighter jets.
The issue garnered international attention after releasing the 2004 footage captured by Commander Chad Underwood, now known as the "tic-tac" drone event. Underwood reported several strobe lines on his radar screen, which he later said were "jam lines" to Corbell. Underwood also replies in the affirmative when asked if his radar was going awry after detecting the 'tic tac' UFO/UAP as an "indication of an active jamming."
"Once I got the target of interest on my radar, I took a 'lock,' and that's when all the funky things started happening. The erratic nature of the 'tic tac,' the airspeed, was telling to me. Then we started seeing jam 'strobe lines.' Strobe lines are vertical lines that show up on your radar, indicating that you are being jammed," he noted.