The US announced last year that it was planning to replace the aging F-15 fighter jets at the Kadena Air Force base in Japan with more capable and modern warplanes. Now, the US is relocating its fighters from Europe to the Japanese Air Base to fill the deficit left by the withdrawal.
The Pentagon stated it was temporarily relocating its F-16 Fighting Falcon jets from Germany to Okinawa, Japan, to bring more advanced aircraft to the region.
This development comes even as Kadena is still bidding farewell to the F-15 C/D being withdrawn in phases. Once they return home, these fighters will be retired in the United States.
The F-16 Fighting Falcons from the 52nd Fighter Wing at Spangdahlem Air Base, Germany, landed at Kadena on January 16. The decision to remove the fighter jets from Europe and sending to Japan is significant as it comes while Russia's conflict in Ukraine rages on and NATO members have scrambled to secure European airspace.
The Air Force said in a press release, "As the F-16s begin operations, they too will integrate their unique strengths to help Team Kadena deter and, if necessary, prevail over acts of aggression that threaten peace and stability in the Indo-Pacific."
Before the decision to relocate the F-16 from Germany was made, the US sent the fifth-generation F-22 Raptors in November 2022.
The F-22A Raptors from the 3rd Wing at Joint Base Elmendorf-Richardson in Alaska arrived at Kadena on November 4. Dozens of them are now based in Japan.
US Air Force F-16C/D Fighting Falcons from 52nd Fighter Wing, Spangdahlem Air Base, Germany, arrived at Kadena Air Base, Japan, Jan. 16, to support the on-going phased return of Kadena's fleet of F-15C/D Eagles to US.https://t.co/82fyh9w1kU pic.twitter.com/2cddmuTsQl

— Ryan Chan 陳家翹 (@ryankakiuchan) January 17, 2023
When the decision to replace the US F-15 C/Ds was first taken sometime in October 2022, the Pentagon said it did not have a long-term plan for its deployment and would take the 'rotation' route.
Air Force spokeswoman Ann Stefaneko said the Air Force would rotate newer and more advanced fourth- and fifth-generation fighters to take their place.
Stefanek did add that even though the rotation would be temporary, the military would "maintain a steady-state presence at Kadena." This indicates the strategic significance of Okinawa Island in the wider Asia Pacific region, especially given the rising tensions with China and North Korea.
Stefanek added, "Modernizing our capabilities in the Indo-Pacific Theater remains a top priority for the United States. The transition to more capable aircraft at Kadena exemplifies our continued commitment to enhancing our posture and building on the strong foundation of our alliance with Japan."
Stefanek stated that the military would continue to use its global force management procedure to sustain a "backfill" fighter presence at Kadena to "maintain regional deterrence and bolster our ability to uphold our treaty obligations to Japan" until a permanent solution is found.
The US Air Force (USAF) or the Kadena Air Base has not specified how many F-16s were sent from Spangdahlem or how long they would be stationed there. Besides Germany, the USAF also bases fighter jets in Italy and England within Europe.
Relocating the F-16s from Germany to Japan is potentially a step in that direction. The Fighting Falcons will support operations at Kadena Air Base and the western Pacific region along with F-22s.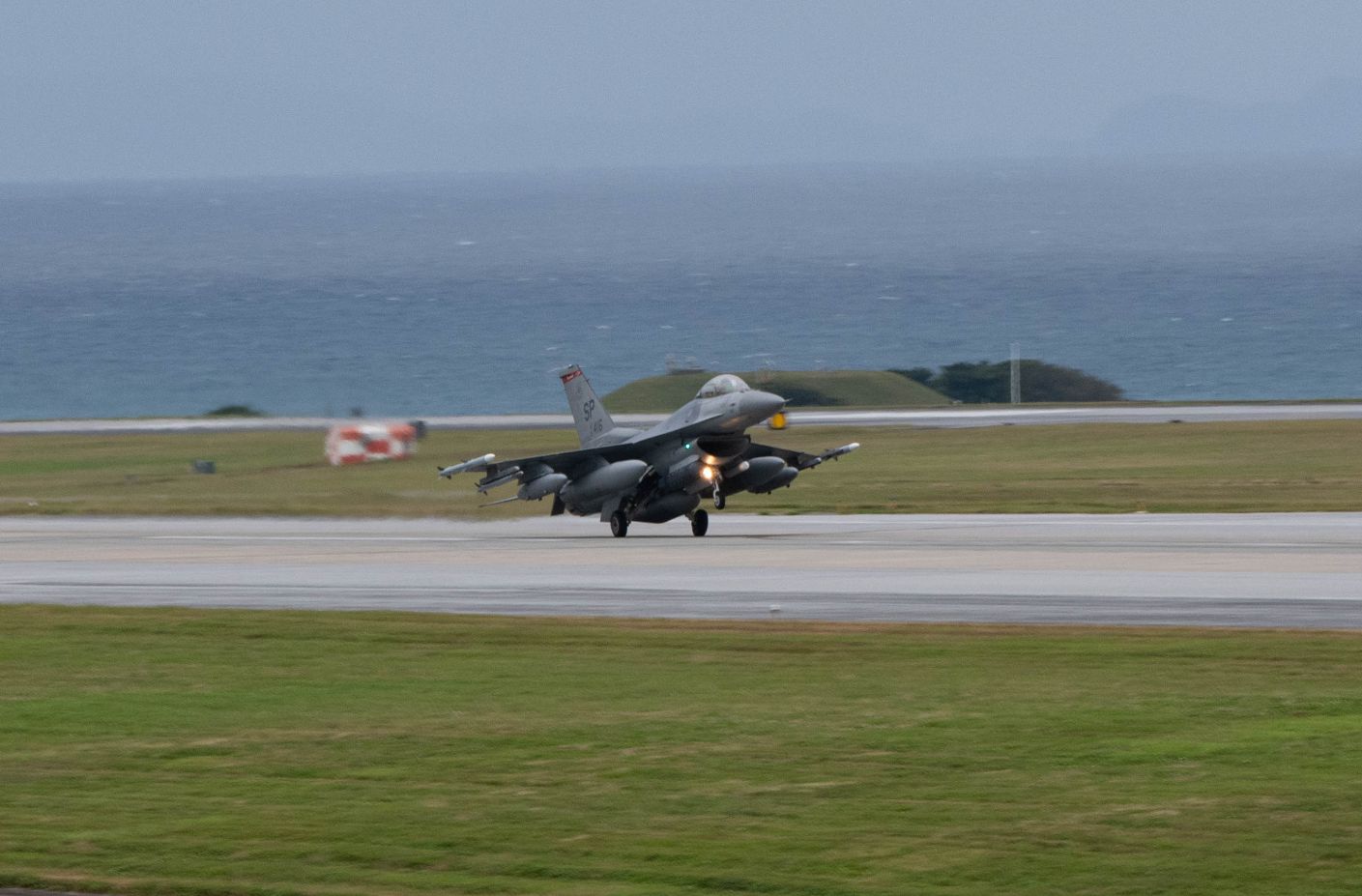 Bolstering Defense Against Chinese Aggression
The Pentagon and State Department announced a renewed partnership with Japan last week during a 2+2 meeting with the country's foreign and defense ministries. One central theme the American and Japanese officials discussed was their common concerns regarding China's military buildup in the Pacific.
Tensions between Beijing and Washington have escalated since US House Speaker Nancy Pelosi visited Taiwan last year in August. China conducted live-fire drills and simulated an invasion of Taiwan days following Pelosi's contentious visit.
The PLA has also practiced how to repel external interference from the US or Japan if it decides to launch a military invasion of the self-ruled island. In contrast, the US President has stated that his country would come to Taiwan's defense if it comes under attack. This has widened the rift between the two bitter rivals.
Further, in December 2022, a USAF RC-135 spy aircraft was dangerously intercepted by a PLA Air Force J-11 fighter jet. According to the USAF, the Chinese aircraft almost collided with its surveillance plane.
Further, the United States plans to reorganize its marine presence on Japan's Okinawa islands as Tokyo embarks on its largest military buildup since World War Two to discourage China from attacking Taiwan or surrounding Japanese islands.
Japan and the United States want to strengthen the islands separating the East China Sea from the Western Pacific because they are close to Taiwan and part of what military planners call the "First Island Chain," which stretches down to Indonesia and encircles China's forces.
"The Ministers concurred that China's foreign policy seeks to reshape the international order to its benefit and to employ China's growing political, economic, military, and technological power to that end," the Pentagon said in a statement after last week's meeting.
Contact the author at sakshi.tiwari9555 (at) gmail.com