As many as three high-level talks between the United States (US) and Russia over the past one week have apparently failed in resolving the standoff over Ukraine, an impasse in which Russia seems to be holding all the aces.
It is said that never after the 1990s when Europe was marked by Balkan wars, the continent had witnessed as many serious security parleys as has been the case over the past few days. 
On January 10, Russians and American diplomats met in Geneva. Two days later, on January 12, NATO-Russia Council (a mechanism for consultation, consensus-building, cooperation, joint decision, and joint action) was convened at Brussels.
And on January 13, Russian, American, and European diplomats met at Vienna under the banner of the Organization for Security and Co-operation in Europe (OSCE), a group of 57 countries. Incidentally, all these confabulations were preceded by a one-to-one talk between Biden and Putin on December 7. 
US Warns Russia With More Sanctions
The US President is threatening his Russian counterpart with "devastating" sanctions if he the latter invades Ukraine. But, in the absence of unity among the Western allies over their implementation and given sanctions' possible adverse impact on the already worsening relations with China, the US threats are unlikely to work, analysts say.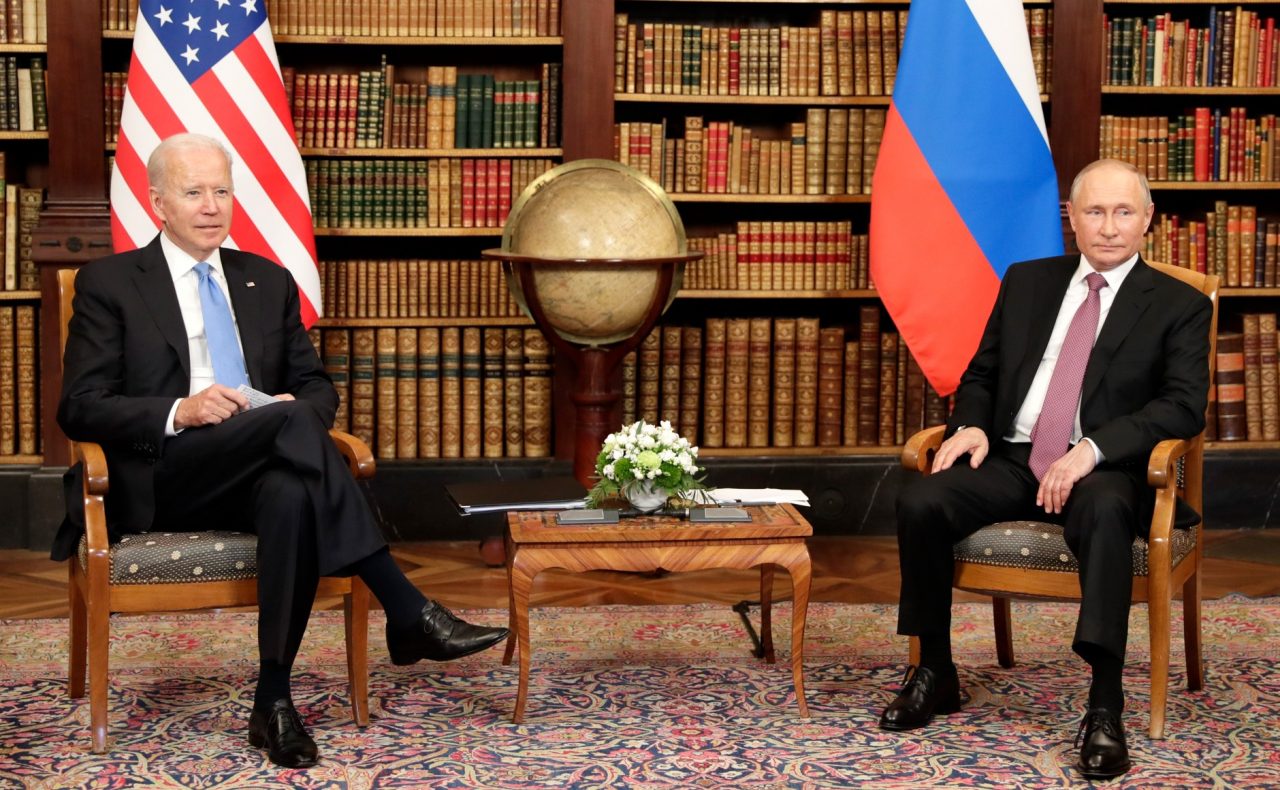 On the other hand, with some 100,000 Russian troops reportedly amassing near the Ukrainian border, there are differences within the West over the idea of making Ukraine a member of NATO, the idea that Moscow is dead against and prepared for armed intervention in its eastern neighbor to thwart it. This makes the outbreak of a war implausible at the moment, contrary to what the Americans apprehend.  
In fact, leading countries in Europe are upset that while Ukraine's ruling elites are keen on the country to join NATO and receive their economic help, Kyiv is reluctant to undertake necessary measures to free the country's economy from the government control and liberalize it in the true spirit of the Western values. 
But what the European powers agree with their US ally is that NATO members cannot accept the Russian veto on Ukrainian admission. They point out that their military alliance has had an open-door policy towards the idea of Ukraine joining them as the goal of joining NATO is part of Ukraine's constitution. 
Russia-NATO Tussle
Russians do have a point when they say the NATO powers have not given them the respect they deserve as a great power and have gone back on their promises when the then-Soviet Union allowed Germany to be reunified in 1990 to end the Cold War. The assurance was that NATO would not expand eastward. 
US diplomats like Jack Matlock (the last US ambassador to the former Soviet Union), former US Secretary of Defense Robert Gates and late veteran Geroge Kenan (the father of "the policy of containment" that the US initiated to resist the then Soviet expansion, marking the onset of the Cold War after the end of the World War II) have admitted that such an assurance, agreed to by allies like Germany, France, and the UK, was indeed given to Moscow.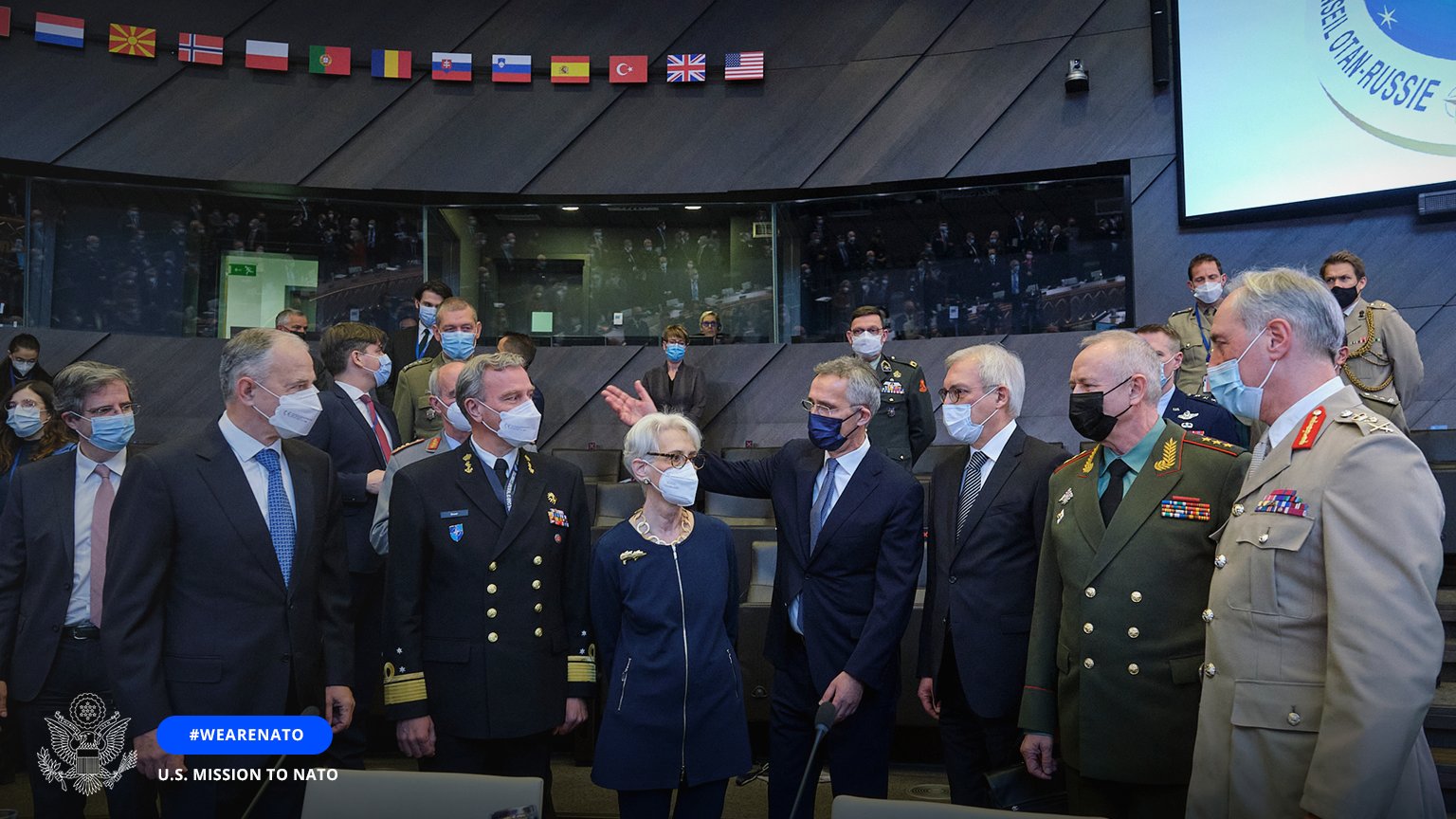 Kennan had written in 1997 that "Expanding NATO would be the most fateful error of American policy in the Cold War era. Such a decision may be expected to impel Russian foreign policy in directions not to our liking." 
Washington's Policy Faux Pas
Obviously, this assurance to Moscow has not been kept. In 1999, Poland, Czechoslovakia, and Hungary – all members of the Moscow-led Warsaw Pact – were allowed to join the NATO, despite about 50 military, political, and academic leaders, including Paul Nitze and Jack Matlock, writing to the then-President Bill Clinton that this would be "a policy error of historic proportions". 
Clinton's successor George Bush allowed then in 2004 seven more — including the three Baltic states of Estonia, Latvia, and Lithuania, which had been part of the former Soviet Union — to join as well. President Bush was all set to bring Georgia and Ukraine, both former constituents of the USSR, in 2008. But the plan was not realized when Russia invaded Georgia.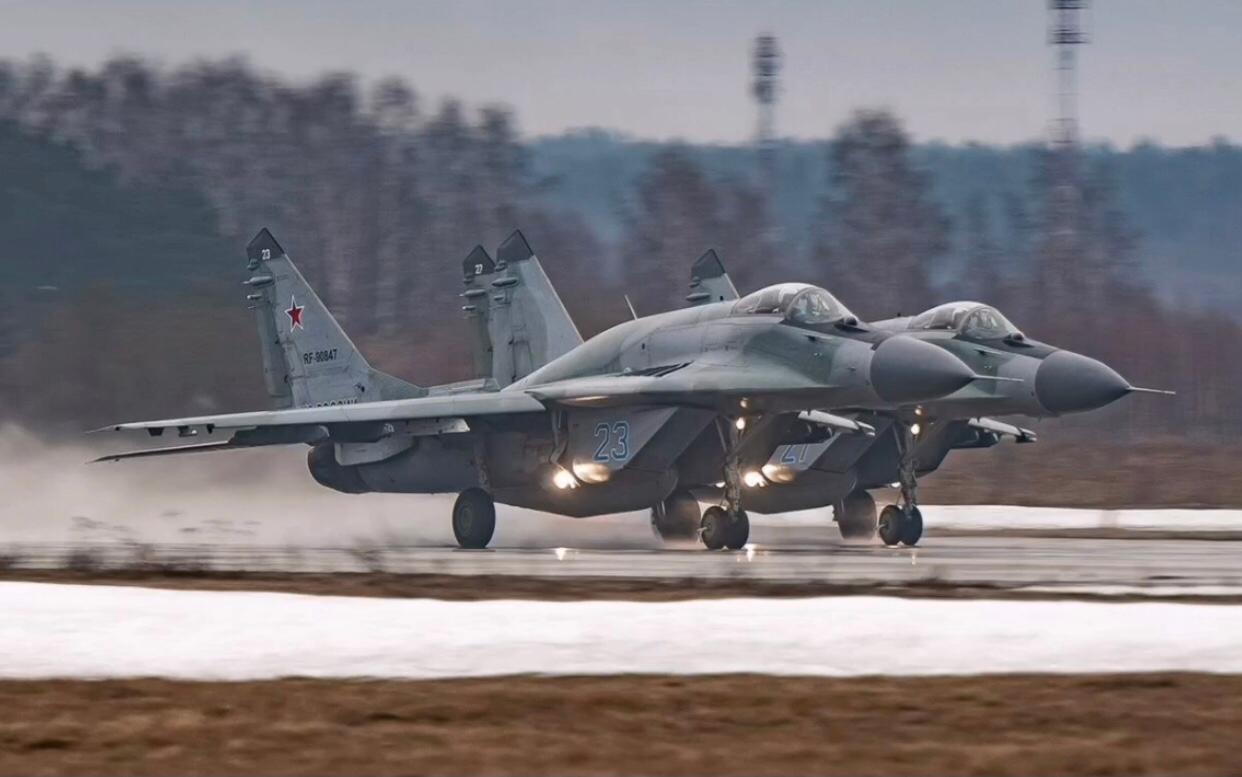 In other words, the NATO membership to Ukraine (as well as Georgia) has remained a bone of contention between Washington and Moscow for the past 13 years. Russia under Putin has made it clear that under no circumstances will he allow this to happen.
All told, these are the countries that not only were under the Russian sphere of influence for centuries, they also shared a common language and culture. From 1922 until the end of the Cold War, Ukraine was part of the Soviet Union and Ukraine derived its name from the old Russian word, "Okraina," which means periphery. 
Russia Unfazed By US' Warning
And Biden, on his part, says that if Putin invades Ukraine, like he did to Georgia in 2008, he would impose "devastating" economic sanctions on Russia, which, incidentally, he or any of his officials, has not elaborated on. Americans are believed to be talking of the possibility of cutting Russia off from the Brussels-based Society for Worldwide Interbank Financial Telecommunication (SWIFT), but this would require European support. 
On Monday, the #NATO–#Ukraine Commission gathered @NATO HQ.

Ukraine is one of NATO's closest partners. Since 2014 – following Russia's aggressive actions against ??, cooperation has intensified in critical areas.

Read more about NATO-Ukraine relations: https://t.co/9HuKIMIIaC pic.twitter.com/nDzLOifQRh

— Oana Lungescu (@NATOpress) January 12, 2022
As it is, Russia is already under US sanctions after it reclaimed Crimea from Ukraine by force in 2014. But that has not dented the Russian power. Washington, of course, is talking to its European allies on further sanctions to stop another Russian invasion of Ukraine.
It is asking Germany to stop the Nord Stream 2 pipeline (which transports gas from Russia to Germany), but not getting a positive response. Bonn seems wary of restricting gas supplies when Europe faces a looming energy crisis. In fact, the new German chancellor, Olaf Scholz, is all for dialogue with Moscow.
Mixed Signals From Europe
Meanwhile, France is also supporting Germany in resisting a European Union effort to specify which sanctions they would impose if Putin, in fact, invades Ukraine. After all, any curb on Russian exports to Europe will also be costly to Europe itself. 
If America's European allies, particularly the major ones, are sending contradictory messages about their willingness to impose anything beyond a financial slap on the wrist of Russia, there seems to be another reason.
And that is their dissatisfaction over Ukraine's lack of progress in liberalizing its polity and economy despite getting huge economic assistance from them. They think that the Ukrainian elites are only interested in being free from the erstwhile control of Moscow, but not sincere in absorbing the Western values of transparency, free economy, and rule of law.  
Today's meeting of the #NATO–#Russia Council is underway. It is a timely opportunity for dialogue at a critical moment for European security. When tensions are high, it is even more important that we sit down around the same table and address our concerns. pic.twitter.com/Ek8ey05aGL

— Jens Stoltenberg (@jensstoltenberg) January 12, 2022
Henrik Larsen, a former Political Adviser to the EU Delegation to Ukraine, argues that while Kyiv has benefitted from increased trade with the EU, it is not bothered to strengthen the rule of law to boost investments.
Ukrainian elites remain unwilling or unable to break vested interests. They are unaccountable in their governance, sticking to their self-serving and entangled business interests. They have not carried out "much needed" banking and gas sector reforms.
They have not brought about the privatization of state-owned enterprises, which perpetuate market monopolization. There is blatant corruption and a lack of trust in a fair and independent judiciary in the country. In short, Ukraine remains unable to reform its political-economic system that would benefit its population at large. 
As if the European ambivalence is not bad enough for President Biden to put real pressure on Putin, there is also the factor of China whose acquiescence is required for any tough sanctions to work against Moscow. 
China, which is Russia's largest trading partner, is unlikely to stop dealing with major Russian companies that the US chooses to blacklist. Doing that strengthens US financial power vis-a-vis that of China. Even otherwise, Russia and China are collaborating to establish alternative payments mechanisms.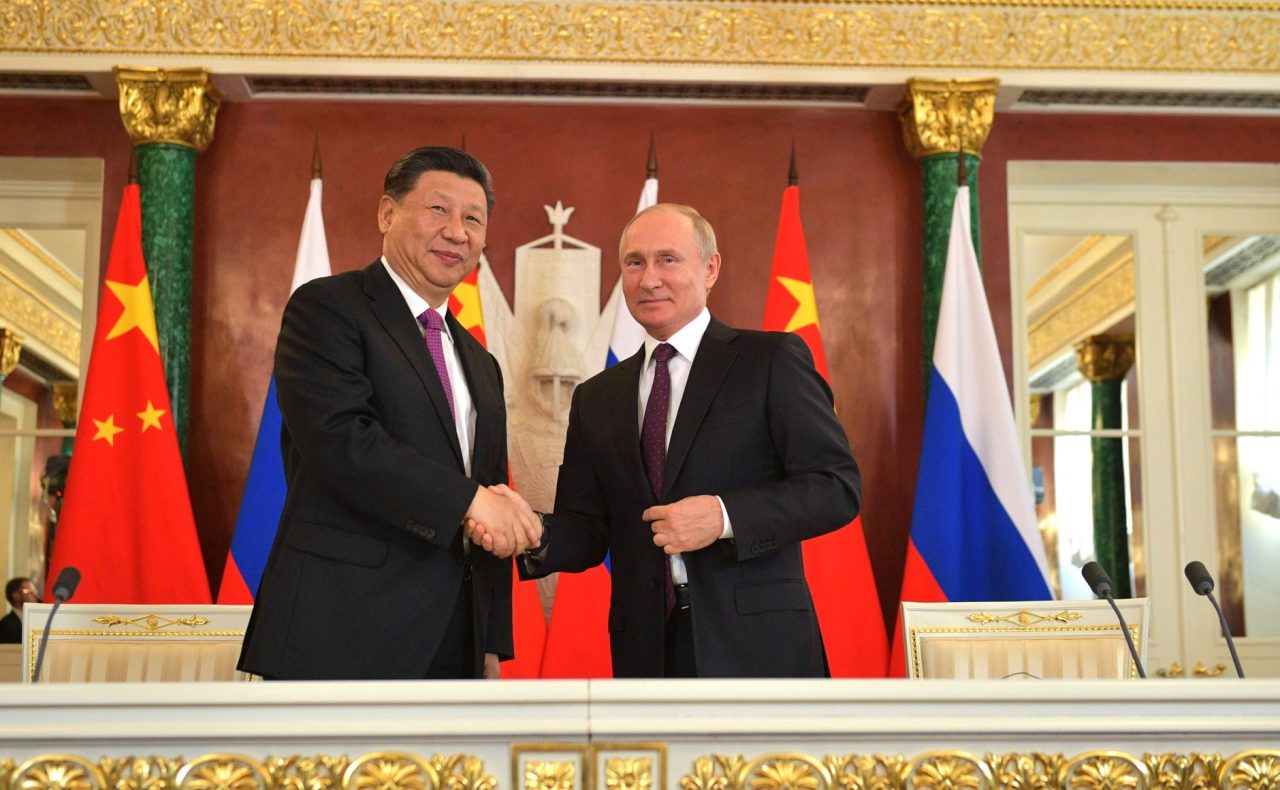 Thus, if China, the world's second-largest economy, rejects American sanctions on Russia, Putin will not be weakened in any real sense, argues Chris Miller, who teaches at the Boston-based Fletcher School of Law and Diplomacy. 
Author and veteran journalist Prakash Nanda is Chairman of Editorial Board – EurAsian Times and has been commenting on politics, foreign policy on strategic affairs for nearly three decades. A former National Fellow of the Indian Council for Historical Research and recipient of the Seoul Peace Prize Scholarship, he is also a Distinguished Fellow at the Institute of Peace and Conflict Studies. CONTACT: prakash.nanda@hotmail.com