The US is exploring possibilities to speed up the delivery of F-16V (Viper) fighter jets to Taiwan, which faces the threat of a Chinese invasion, according to reports.
Officials familiar with the matter told Reuters that they are yet to find a solution to how to expedite the delivery of 66 Block 70 F-16s. Lockheed Martin is manufacturing the new variant of the fighter jets, which are scheduled to arrive in Taiwan by the end of 2026. 
A senior Taiwanese official told the news agency that Taipei had urged the Biden administration to expedite the delivery of the fighter fighters. The request came as frequent airspace violations by PLA Air Force (PLAAF) aircraft force Taiwan to scramble jets on a regular basis, thus putting stress on its aging fighter fleet.
US seeks to speed up delivery of new F-16 fighter jets to Taiwan https://t.co/7ypBOgMsMf pic.twitter.com/0yeEgTSn9s

— Al Jazeera English (@AJEnglish) January 21, 2022
The United States approved an $8-billion arms deal for Taiwan in 2019, which included 66 F-16V Block 70 fighter fighters. Taiwan will have one of Asia's largest F-16 fleets when it receives these jets by 2026.
Lockheed Martin has also received orders from other countries, including Bahrain, Slovakia, and Bulgaria, and the US government has reportedly not asked the company to expedite jet manufacturing for Taiwan. This shows that the timeline of delivery has not changed.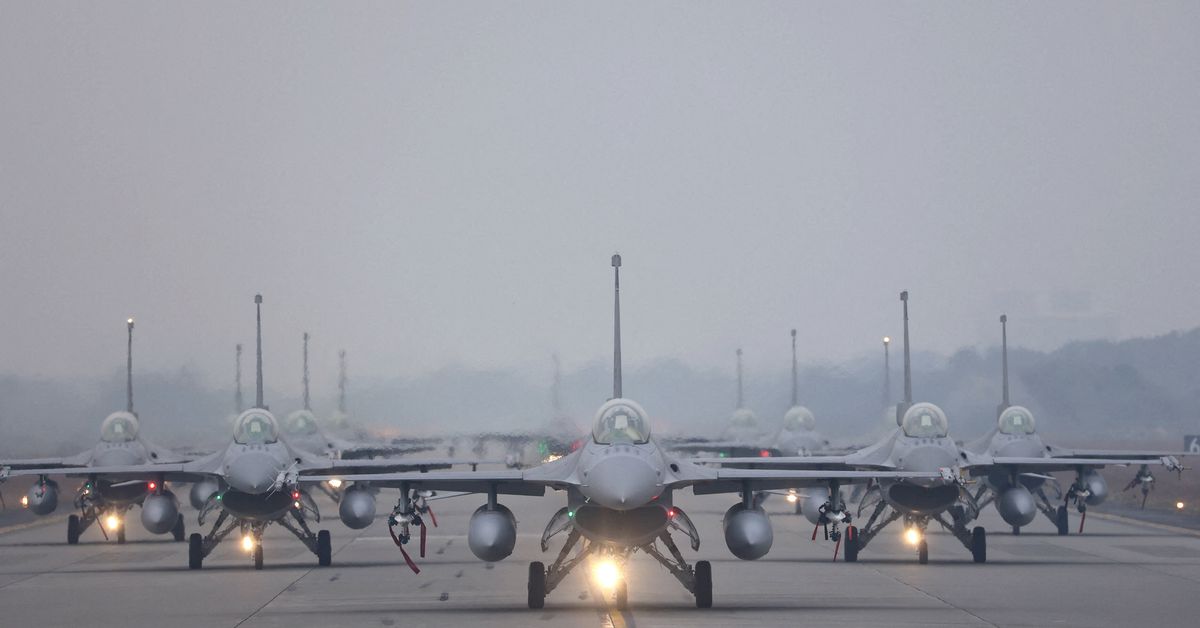 On October 6, 2021, Taiwanese Defense Minister Chiu Kuo-cheng said that China would be able to conduct a "full-scale invasion" of Taiwan by 2025. With 2,800 total aircraft and 2,100 combat aircraft, the PLAAF has a significant numerical advantage over Taiwan's Air Force, which has only 741 aircraft in its inventory. 
Abraham Denmark, a former senior Pentagon official, quoted by Al Jazeera as saying, "A move to accelerate the aircraft delivery would be seen in Beijing in part through a political lens." He went on to say that it's "yet another clear signal" from the US that it's committed to bolstering Taiwan's ability to protect itself.
US, China Lock Horns Over Taiwan 
China considers Taiwan a breakaway province, which it has threatened to annex militarily if necessary. Some experts regard Xi Jinping's declaration of "reunification of Taiwan" as a fundamental goal of his legacy, although the island's present democratically elected government claims it is already a de-facto sovereign nation.
Taiwan receives weapons from the United States although Washington has maintained strategic ambiguity over the self-governing island for decades. However, US officials had made statements in the past implying that in the event of a conflict, Washington will likely come to Taipei's aid militarily.
China is enraged by the US' defense relationship with Taiwan and has increased military and diplomatic pressure on the island. 
Taiwan is also preparing its armed forces for any possible invasion by China. Taiwan's Air Force told Reuters in a statement that the country's major weapon purchases are "rigorously planned in accordance with actual combat needs and planning schedules".
A Pentagon spokesperson said that the sale of F-16s to Taiwan was guided by US law and "based on an assessment of Taiwan's defense needs and the threat [posed by China], as has been the case for more than 40 years."
Experts believe that the attempts to intercept Chinese planes are taxing Taiwan's air force, which had faced a number of incidents last year, including three fatal crashes. Fuel expenses, pilot fatigue, and wear and tear on Taiwanese aircraft will disrupt the air force's preparedness if China continues its intimidatory aerial exercises. 
The EurAsian Times had recently reported that Taiwan's air force halted combat training for its entire F-16 fleet following the crash of a newly upgraded fighter jet. 
Derek Grossman, a senior defense analyst at the RAND Corporation, also suggests that the Chinese are wearing out their opponent without firing a shot. The report mentioned that Taiwan's air force scrambled jets at least 2,972 times against Chinese aircraft in 2020, which cost the island $905 million. 
Taiwan's F-16V Jets
In November 2021, Taiwan's Air Force received 64 advanced F-16V "Viper" aircraft. These planes are expected to strengthen the country's defensive capabilities. Taiwan wants to modernize its entire fleet of 141 F-16 A/B fighter planes by the end of 2023.
The F-16 Viper features more weaponry, greater electronic warfare systems, precise GPS navigation, and the capacity to avoid collisions on its own. The F-16V's landing gear is more powerful, allowing it to carry more fuel and weapons. The AGM-84 Harpoon, AGM-88 HARM, AGM-154 JSOW, and SLAM-ER missiles are also included in the package.
The SLAM-ER missiles are powerful precision-strike weapons with a range of roughly 170 miles. This is the first weapon of its kind to have an operational 'Automatic Target Acquisition' capability, allowing it to automatically fly to its target using only GPS inputs.