OPED By Amit Cowshish
The virtual summit between Indian Prime Minister Narendra Modi and US President Joe Biden on April 11, ahead of the putative 2+2 dialogue among the foreign and defense ministers of the two countries, didn't bring about a radical change in their respective positions on the horrific ongoing invasion of Ukraine by Russia.
This wasn't the main theme of the meeting, as speculated by some in India, though understandably the issue did come up. 
Building on India's neutral stand on the conflict, Prime Minister Modi told President Biden that the 'killings of innocent civilians' in Ukraine's Bucha city were 'very worrying', and underlined India's strong condemnation of the incident as well as the call for an independent probe.
He also mentioned that during his conversations with Russian President Vladimir Putin and Ukraine's President Volodymyr Zelenskyy, he had suggested that they hold 'direct talks' between themselves.
President Biden would have undoubtedly wanted Prime Minister Modi to go beyond this and indicate that India was ready to abide by the sanctions imposed by the US, its NATO allies and some other countries on Russia, but it would have been surprising had he pressed for it during the meeting.
India has made it clear on more than one occasion since the sanctions were slapped by the US on Russia in early March that India was in no position to join hands. 
According to the White House, President Biden confined himself to saying that it was not in India's interest to increase energy imports from Russia, in a clear reference to India's decision to buy cheap crude oil from Russia.
It is unlikely to deter India for, as India's External Affairs Minister Subrahmanyam Jaishankar said at a news conference later, the focus should be on Europe, not India, whose 'total purchases (of crude) for the month would be less than what Europe does in an afternoon'.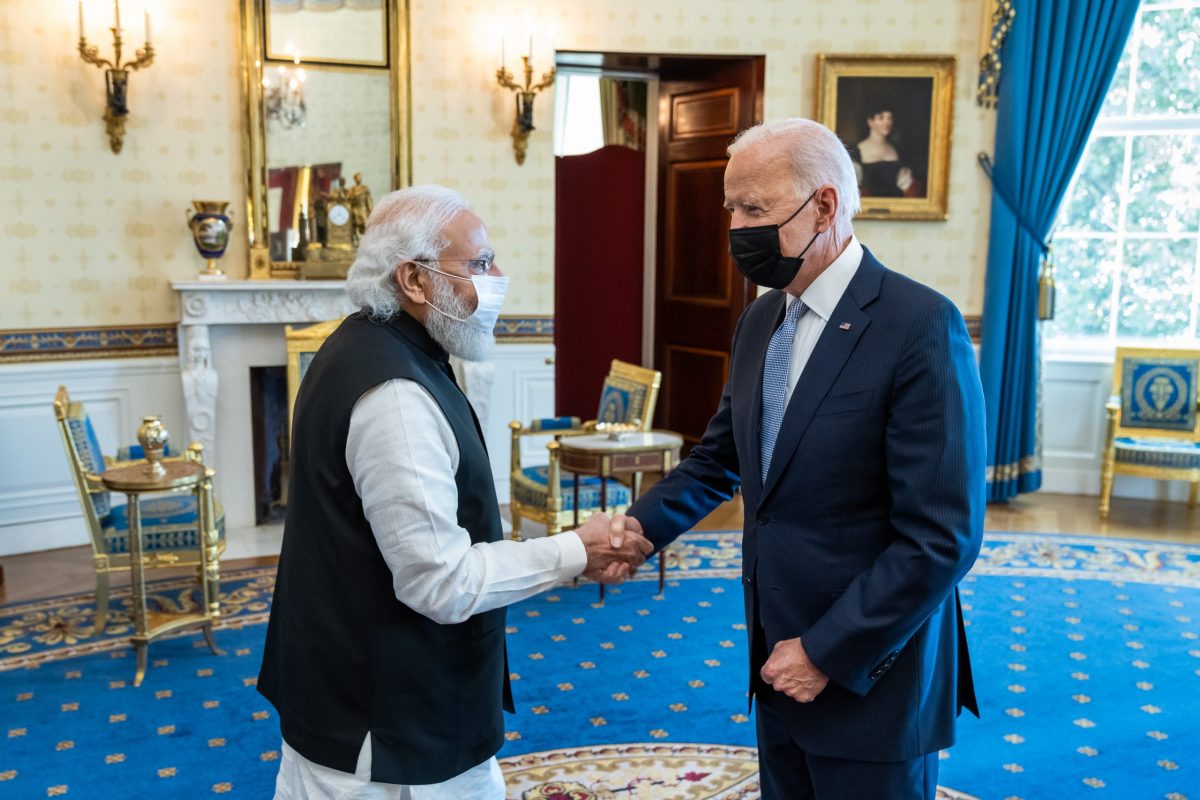 In the end, it turned out as 'a warm and candid conversation' lasting an hour in which the two leaders talked of 'shared values and commitments' and went on to cover a wide range of subjects that included China's expansionism, respect for the sovereignty and territorial integrity of all nations in the Indo-Pacific and beyond, India's energy and defense needs, and humanitarian aid to the war-ravaged Ukraine.
The 2+2 dialogue, reports of whose proceedings were yet to come in at the time of writing this piece, is unlikely to go beyond the tone set by the Modi-Biden summit.
It may, therefore, not be premature to talk about the take-aways from the summit and the likely flow of the dialogue between the two Indian ministers with their counterparts. At least three ideas appear to emerge from the India-US engagement against the backdrop of the Ukrainian crisis.
One, while there is no question that both Washington and Delhi need to continue the efforts to strengthen the multifarious ties between the two major democracies of the world, strong differences, arising from differing perceptions of national interest and how a crisis should be dealt with, are bound to spring up from time to time.
It does not help when someone like the US deputy national security adviser Daleep Singh says that there will be consequences for countries that attempt to circumvent the embargoes imposed following the invasion of Ukraine.  
It is presumptuous to assume that India does not know what is in its best interest. How can it be in India's interest to snap ties with Russia and push it closer to not only China, but also Pakistan?
With India's relations with Iran already going through a lukewarm phase, which has already led to scaling down of the Chabahar project, an alienated Russia would only multiply India's security concerns. This cannot also be in the US's interests in South Asia and Indo-Pacific.  
Consequently, even in future, the US may find India to be less pliant on many issues than it would want it to be. As for India, it is likely to face greater pressures in the future to align with the 'western' worldview on international issues. India has already come to terms with it, but more complex situations could arise in the future. 
Two, one of the most important reasons why India is unable to sever its ties with Russia is that more than 60 percent of the equipment, weapon systems, and platforms Indian armed forces use are of Russian origin.
Indian Army's (IA) inventory of 3,000-odd T72M and T90S Main Battle Tanks (MBTs) and 2,000-odd BMPs (Boyevaya Mashina Pekhoty) Infantry Combat Vehicles are manufactured in India with the help of Russian technology and technical support, and so is the case with several missile systems and specialized ammunition.  
The Indian Navy's (IN) flagship INS Vikramaditya is a modified Kiev-class Russian aircraft carrier that operates Russian Mikoyan MiG-29K multi-role fighters. Several frigates, destroyers, helicopters, missiles, and armaments in IN's inventory are of Russian origin.  
The Indian Air Force (IAF) has several Russian-origin squadrons of fighter squadrons, transport fleet, and rotary-wing platforms, not to forget the supersonic cruise missile BrahMos, manufactured in India by a joint venture between Russia's NPO Mashinostroyeniya and India's Defence Research and Development Organisation (DRDO).
India is heavily dependent on Russia for the licensed production of some of these platforms and their operational serviceability which requires regular technical support and supply of spares, components, sub-systems, and ammunition by Russia.  
It is not that the US and other countries that have imposed sanctions do not understand India's dilemma so far. In fact, they also note or should appreciate, that this Indian dilemma may not last long.  
As a direct consequence of the war in Ukraine and economic sanctions, the Russian industry's ability to sustain the supply to India, which was already erratic and marred by issues concerning price and quality, is suspect.
In the circumstances, India must prioritize the efforts to find alternative ways of sustaining the existing military inventory, whether it is through cannibalization of spares from beyond-economic-repair equipment, local 'jugaad' (innovation), or other means.  
The Indian industry can play a significant role in this, either on its own or with the help of foreign companies. India must also scout for engineers from the war-affected zone who may be looking for opportunities elsewhere. A similar opportunity had presented itself in 1991 when the USSR disintegrated, though India could not exploit it then.  
Three, while it would be virtually impossible to discontinue dependence on Russia to sustain the existing military capabilities of the armed forces in the near future and cancel the ongoing contracts -be it for five Almaz-Antey S-400 Triumf air defense missile systems, four Admiral Grigorovich Project 1135.6M frigates, licensed-production of 601,427 Kalashnikov AK-203 assault rifles in India, and a 10-year lease of 'Akula' (Schuka-B)-class nuclear-powered submarine (SSN) for the IN – India will need to rethink if Russia can continue to be the main source of supply of defense equipment in the long run.  
Among several other factors, the impact of the American sanctions, which seem to be here to stay for a long time, has heightened the security needs of Russia itself in view of the EU countries' decision to hike their defense expenditure and its own declining investment in defense R&D to produce state-of-the-art equipment.
This, in turn, would force India to look Westward for achieving self-reliance in the design and development of military equipment, and even outright imports in some emergent situations.  
All this would entail huge costs and take a long time, both of which India can ill-afford unless there is proper and careful planning. India's Defence planning, which has generally been disjoined and financially unviable so far, would need greater attention.  
Above all, reorientation of the Indian armed forces' inventory would require the US and other major exporters of arms to be more willing to share critical technologies with India and allow it to build up indigenous capabilities to sustain the equipment manufactured in India with transferred technology, develop indigenous alternatives to components and sub-systems, and resort to improvisation through 'jugaad'.
This could test the ties between India, the US, and other countries which want India to play a stronger role in the region and the Indo-Pacific. 
Amit Cowshish is a former Financial Advisor (Acquisition), Ministry of Defence. He was associated as a Distinguished Fellow with the Institute for Defence Studies and Analyses, New Delhi, and as a Partner with Dua Associates, Advocates and Solicitors. He writes regularly on matters concerning financial management in defense, procurement policy and procedures, budget, planning, and other related issues.)
Email us at: etdesk@eurasiantimes.com