The International Space Station (ISS), the largest single structure humans ever put into space, will be decommissioned by 2030. The Indian Space Research Organization (ISRO) could play a key role in ferrying crew to the new Starlab Space Station – a first-of-its-kind, continuously manned, free-flying space station.
Along with this, the Indian Government is leaving no stone unturned to build its own SpaceX company by giving tax exemptions to private players launching satellites in the country.
The US Voyager Space, one of the holding companies of NASA, has entered a contract with ISRO to use its upcoming Gaganyaan (Space Mission) Crew Space module for sending their Astronaut and service the Lockheed Martin's first-of-a-kind rubber balloon space station that is expected to be ready by 2027.
An uncrewed flight test of the Gaganyaan spacecraft is anticipated in late 2023 or early 2024. Gaganyaan is India's maiden human spaceflight.
Voyager Space announced the Memorandum of Understanding (MoU) with the ISRO and the Indian National Space Promotion and Authorization Center (IN-SPACe).
"The objective is to jointly study the potential use of ISRO's Gaganyaan spacecraft to provide crewed flights to the Starlab station," Voyager said in a statement.
The groundbreaking technical collaboration between the two countries stems from the visit of Prime Minister Narendra Modi to the US, where India became part of the Artemis Accords. Artemis Accords are a set of principles and guidelines for countries trying to explore the moon, Mars, and beyond. The accords set up the basis for international cooperation in space exploration.
The recent MoU for StarLab is a huge achievement for ISRO, which in June signed a deal with NASA to send an Indian astronaut to the ISS. The joint mission to the ISS is expected in 2024.
The collaboration between Voyager Space, ISRO, and IN-SPACe immensely benefits NASA. It plans a lunar mission with its international partners under the Artemis Accord but doesn't want to leave the Low Earth Orbit.
To this effect, NASA has launched a program called the 'Commercial Low Earth Orbit Destinations' (CLD) program, in which it is collaborating with several private companies to build their own LEO stations for commercial purposes, including scientific missions, space tourism, etc.
Under the CLD project launched in 2021, NASA has awarded up to US$400 million in the fourth quarter of 2021 to four companies for developing free-flying private space stations. NASA is aiding these private players with finances and technological expertise 'to expand the pot' and have more people in the LEO.
The four planned stations are Axiom Space Station, Orbital Reef by Blue Origin and Sierra Space, StarLab by Voyager Space, NanoRacks and Lockheed Martin, and Northrop Grumman. The Starlab project has received the largest funding from NASA – US$160 million from the US$ 400 million allocated under the CLD Project.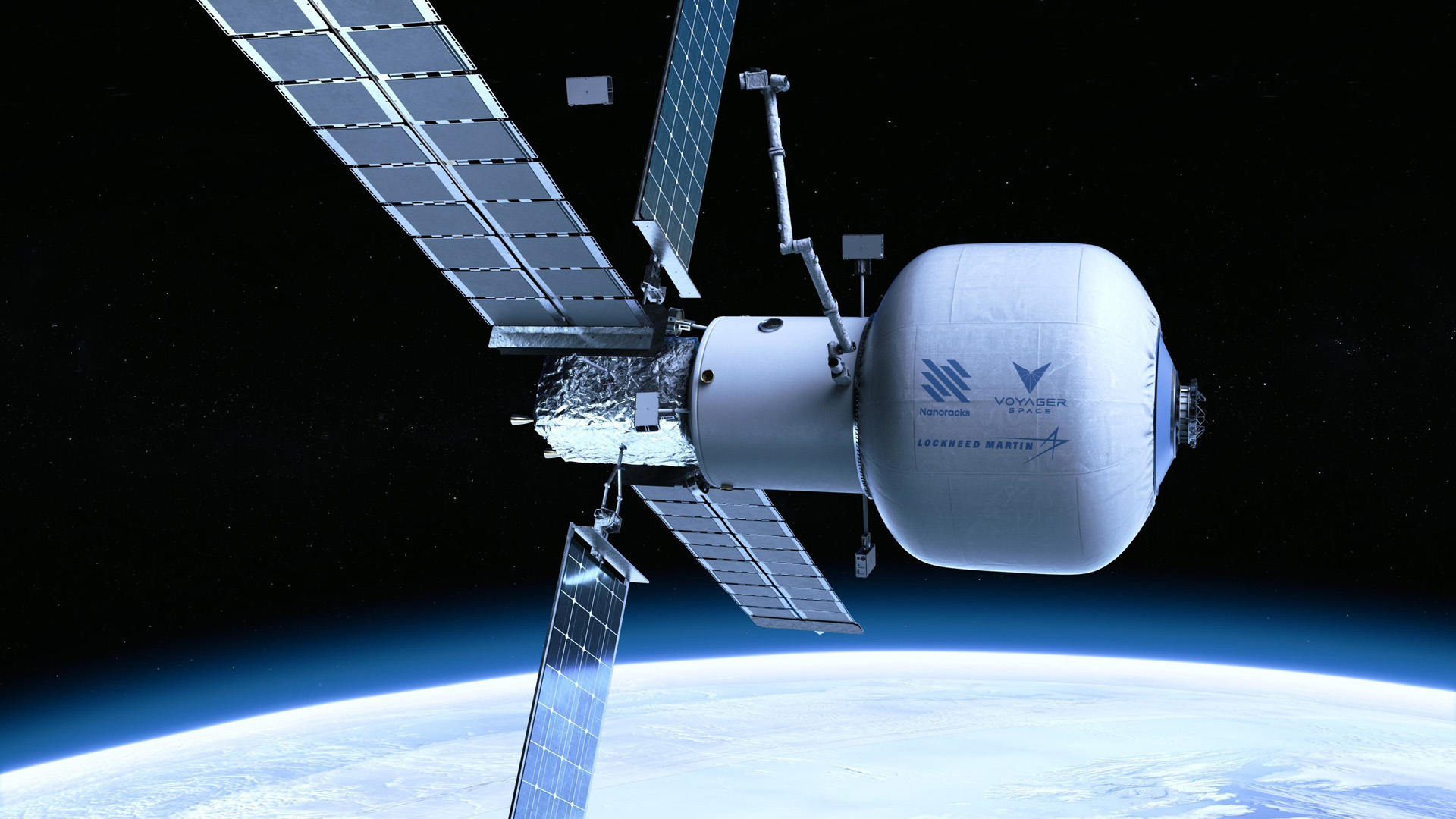 By bringing in private players, NASA aims to open its budget for other space exploratory activities. The agency seeks to replicate the success of its Commercial Cargo and Commercial Crew programs, the latter of which it estimates saved NASA between US$20 billion and US$30 billion.
Space Stations provide a microgravity environment that is impossible to replicate on the Earth and, so far, have been used for several experiments. There is a burgeoning demand for access to space to conduct microgravity experiments, which is the market that Starlab hopes to cater to.
The Starlab consortium has one of the most experienced players, but they don't have crew transport capability. Only three crewed space missions are underway in the world – SpaceX Crew Dragon, Russian Soyuz, and Chinese Shenzhou.
After NASA retired the Space Shuttle in 2011, the space agency had no alternative but to pay for rides on the Russian Soyuz spacecraft. However, NASA still wanted American astronauts to fly to the ISS from America, and it led to the genesis of the Commercial Crew program.
Russian and Chinese companies are hot potatoes for the US companies in the ongoing geopolitical climate. The Boeing Starliner also faces technical delays after its uncrewed orbital test flight in December 2020 prevented the spacecraft from docking with the ISS. The Sierra Space's Dream Chaser is not yet operational.
Options are far and few globally, making NASA ensure that the Indian space program is a success.
Indian SpaceX In Space Race
To give impetus to private space companies, the Indian government announced tax exemption for private organizations offering satellite launch services. This comes as India's first private organization to send a rocket into space Skyroot Aerospace gears up to launch its maiden satellite this year.
"It has been decided that the GST (Goods and Services Tax) exemption on satellite launch services supplied by ISRO, Antrix Corporation Limited, and New Space India Limited (NSIL) may be extended to such services supplied by organizations in the private sector also to encourage startups," said an official press release.
Taking a leaf out of NASA's playbook, India also encourages private players to develop space technologies. In 2022 Skyroot Aerospace, a startup, launched Vikram-S, its single-stage, spin-stabilized solid-propellant rocket with a mass of around 550 kilograms.
It carried three customer payloads, including one from a customer outside India. The startup is building a series of launch vehicles named after Vikram Sarabhai, the founder of India's space program.
Founder of Skyroot Aerospace, Pawan K. Chandana, welcomed the government's decision. "Welcoming yet another landmark decision by the government to exempt GST for satellite launches by private players. Amazing to see the government making best efforts in creating a level playing field for private organizations," Chandana tweeted.
In June 2020, the Indian government passed the space sector reforms and established the Indian National Space Promotion and Authorization Center (IN-SPACe) to allow private companies to use ISRO's infrastructure.
New Delhi also set up NewSpace India Limited (NSIL) as the space agency's commercial arm to work closely with private companies and startups to bolster indigenous space developments. Before this, private companies only act as contractors to the ISRO.
Over 160 companies and startups have applied for the mentorship and handholding that ISRO provides, including access to ISRO's campus and facilities.
Skyroot Aerospace plans to put a satellite into orbit by the end of 2023 and expects that it will be able to do so at half of the cost of the established companies.
Its founders, two ex-ISRO scientists, have learned from the organization, which is known to create engineering marvels at low cost. Its 2014 Mars mission cost only US $74 million, less than the budget of the Hollywood space movie "Gravity."
Along with its ambitious Gaganyaan mission, ISRO is developing several technologies to take humans to Earth orbit, including the crew escape system, a complex sequence of parachutes, a human-rated launch vehicle, life support systems, and the necessary ground stations. The indigenously developed hardware will also be used for a suborbital space tourism program.
Space flights could be available for tourists from 2030, and the tickets will be priced competitively at around INR 6 crore.
Ritu Sharma has written on defense and foreign affairs for over a decade. She holds a Master's Degree in Conflict Studies and Management of Peace from the University of Erfurt, Germany. Her areas of interest include Asia-Pacific, the South China Sea, and Aviation history.
She can be reached at ritu.sharma (at) mail.com