Last week, a US nuclear-powered submarine docked at a harbor in the South Korean city of Busan. It was the first time in nearly six years that a cruise-missile submarine USS Michigan made a port call in South Korea amid rising geopolitical tensions with China and North Korea.
Analysts believe that the recent visit of a US nuclear-powered submarine to South Korea served as a "dress rehearsal" for the impending deployment of a nuclear ballistic missile submarine (SSBN) which has been agreed to by the US and South Korea.
In April this year, an agreement known as the "Washington Declaration" was signed between US President Joe Biden and his counterpart Yoon Suk-yeol for beginning the deployment of nuclear ballistic missile submarines (SSBN) to Seoul after over 40 years.
The Declaration said, "Going forward, the United States will further enhance the regular visibility of strategic assets to the Korean Peninsula, as evidenced by the upcoming visit of a US nuclear ballistic missile submarine to the [Republic of Korea]."
The agreement is particularly significant as the United States withdrew all its nuclear weapons from the Korean Peninsula in 1991. However, with North Korea resuming its missile launches and allegedly advancing its nuclear missile program, the decision has been touted as an initiative aimed at deterrence.
For instance, North Korea fired two short-range missiles off its east coast and made a failed attempt at launching a spy satellite quite recently, further emboldening the military cooperation undertaken by Washington and Seoul.
However, before an actual nuclear ballistic missile-carrying submarine could be deployed to South Korea, USS Michigan made an appearance at Busan amid much fanfare earlier this month, giving an impression that it was setting the stage for the arrival of an SSBN in the foreseeable future.
Michigan, an SSBN, or "boomer," is an Ohio-class submarine that was put into service in 1982 and was initially used to carry submarine-launched ballistic missiles with nuclear warheads. It served as a key component of the American nuclear deterrent for many years.
However, in 2007, USS Michigan was converted from a ballistic missile submarine (SSBN) to a guided nuclear-powered submarine that carries cruise missiles. The SSGN is equipped with 154 Tomahawk cruise missiles and 66 special operations personnel rather than strategic nuclear weapons.
However, since it is the same size, at 170 meters long and 12.8 meters wide, it can be used as a model for one of the 14 SSBNs that are anticipated to arrive in Busan at an unannounced time.
Despite speculations that the deployment could be made soon, the US has stopped short of giving an exact schedule.
Retired Indian Navy submariner Commander Ashok Bijalwan told the EurAsian Times that "the berthing of USS Michigan at Busan can be called a dress rehearsal for future berthing of an Ohio Class SSBN as their physical dimensions, maneuvering & propulsion characteristics, and systems and machinery are the same."
"There are two aspects to a submarine's port visit. First is the pilotage part, which means how she can be maneuvered in the confined pilotage waters of the harbor and for the local pilots to understand her handling in that port because handling a submarine is markedly different from that for surface ships that they are accustomed to guiding in and out of the port regularly. So, when it or a similar boat visits the port again, the pilots can guide her to her berth relatively easily".
"Secondly, when a submarine is in the harbor, to preserve her machinery running hours, she needs certain shore support or services like power supply, chilled water (to run the air conditioning), freshwater, fire main connections, etc., which must be compatible with the submarine's systems in all respects."
"This visit will enable the port authorities to ascertain the same and build/upgrade their infrastructure to fill up any gaps therein."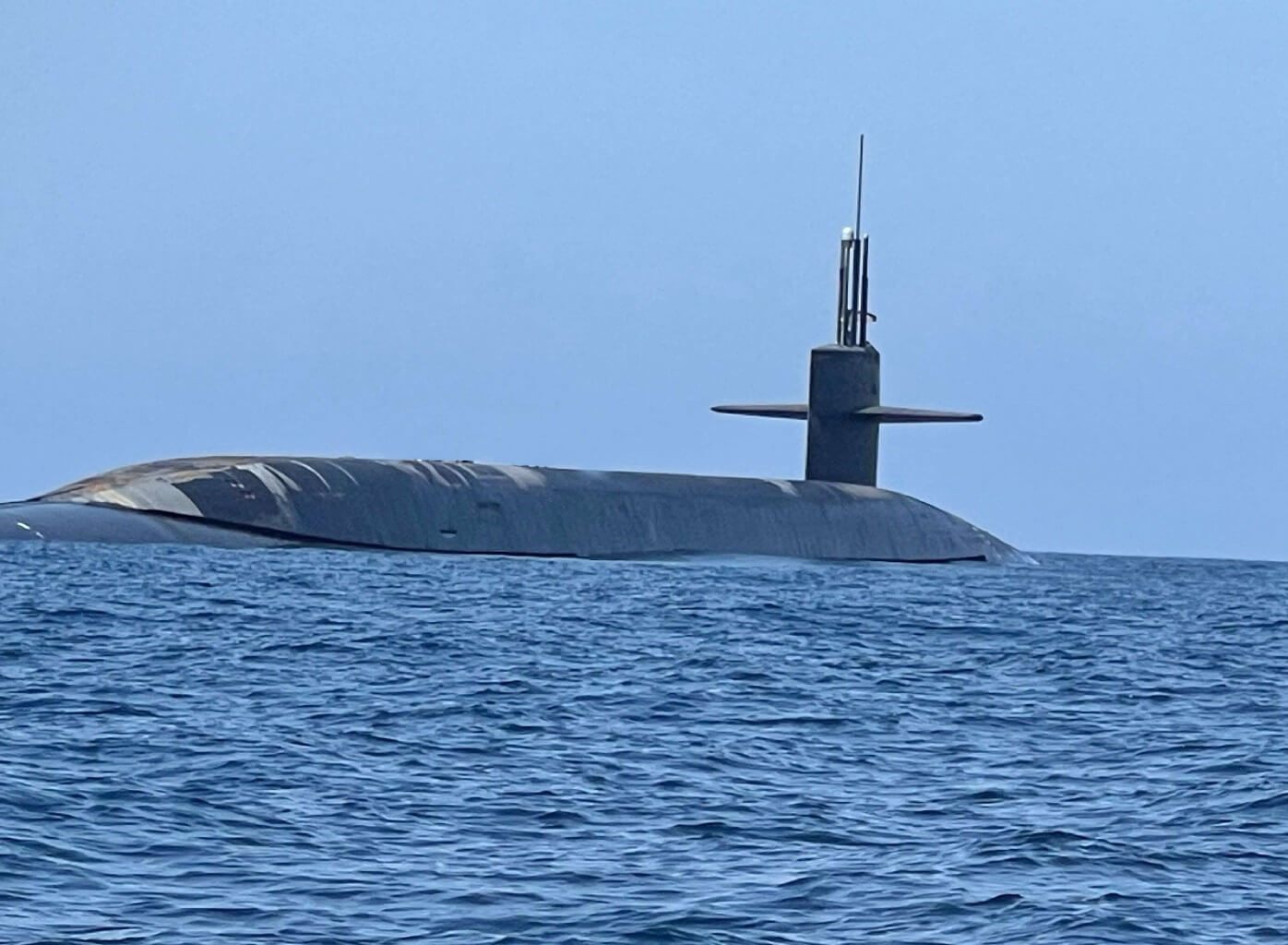 US Nukes In The Region Can Cause Disaster
Since the beginning of 2023, North Korea has carried out about a dozen missile tests. Kim Jong Un, the North Korean dictator, has been categorical in condemning military exercises being carried out jointly by South Korean and US military and has threatened to retaliate.
To dissuade these tests as well, which are often accompanied by several belligerent rhetorics by the leader, Washington is believed to have agreed to the deployment of strategic assets.
However, as previously noted by EurAsian Times, it is believed to placate Seoul rather than deter Pyongyang as it follows a long period of strained relationship under Donald Trump's presidency.
Almost every day it seems there's a potential #flashpoint in East China Sea & points immediately beyond.

The return of USS Michigan (nuclear submarine) to #Busan South Korea undoubtedly adds to tension https://t.co/QBzSAEwvu3

⬇️ see @ianellisjones' maphttps://t.co/DBpgQJ3L2F pic.twitter.com/lBQtb67qWM

— Charterhouse Square (@CharterhouseSq) June 16, 2023
At the time of the signing of the agreement, an official warned that it was crystal clear that the administration had no plans to return tactical or any other kind of nuclear weapon to the Korean Peninsula. Instead, officials said they hope the visit of ballistic missile submarines will follow the US military deploying assets such as bombers and other aircraft.
However, Biden and his administration officials have been particularly explicit about the different measures and setting no stage for permanent nuclear weapons basing. Experts believe this is likely because the administration is aware of the downside of such a deployment, with threats posed by both North Korea and China.
For instance, Biden emphasized in April, "We are not going to station nuclear weapons on the peninsula." Moreover, Biden's threat to "end whatever regime (rules North Korea)" would only be in response to a "nuclear attack by North Korea against the United States or its allies."
Moreover, several military analysts have warned that when the US goes ahead with the deployment of nuclear-armed submarines in proximity to South Korea, it might result in confrontation not only between the US and North Korea but also between the US and China.
Some have gone so far as to say that such a deployment could eventually lead to a repeat of the Cuban Missile Crisis of 1962, except that this time it may take place in the East China Sea.
Contact the author at sakshi.tiwari9555 (at) gmail.com