Written by Kashish Tandon
As China flexes its muscles, the Pentagon is making serious efforts to establish an elaborate, multi-layered missile defense shield around the island of Guam where the US house a large military base.
As part of these efforts, the US Army has recently conducted an experimental deployment of the Israeli-made Iron Dome air defense system in the military base, The EurAsian Times reported in October 2021.
At present, the air and missile-defense equipment deployed in Guam include the Terminal High Altitude Area Defense (THAAD) system. This system is capable of intercepting certain ballistic missiles in the terminal stage of their flight.
Along with this, the island also has the Iron Dome unit which the service refers to as a temporary arrangement. The army says it has no plans to conduct any live-fire exercises with this system in Guam.
The American military has also proposed building a fixed Aegis Ashore missile defense site in Guam in view of air and missile threats from China. This Aegis Ashore system is similar to the one the US Navy operates in Romania.
The United States Military is testing Israel's #IronDome missile defense system in Guam as it eyes possible threats from China. pic.twitter.com/RUslGn1Qlu

— ICC (@IsraelCampus) November 11, 2021
However, Navy Vice Adm. Jon Hill, head of the Missile Defense Agency (MDA), said in March this year that a ground-based system may not be able to counter the various air and missile threats effectively. Instead, he proposed a distributed defense system comprising both subterranean as well as mobile components, The War Zone reported.
"Any recommendations for additional studies, including a requirement for only mobile systems, disregard the immediacy and complexity of the threat and the absolute need to integrate fires across the region from a forward multidomain command and control node west of the international dateline", now-retired Navy Adm. Philip Davidson, then head of U.S. Indo-Pacific Command (INDOPACOM), told members of Congress in March, USNI News previously reported.
Davidson is one of the top military officials who advocated the deployment of the Aegis Ashore system in Guam by 2026 as a deterrent measure against Chinese aggression in the Indo-Pacific.
The New Idea
The US Navy had announced plans to decommission its Ticonderoga class cruisers as part of its budget request for the fiscal year 2022.
At present, 21 of these ships are in the Navy's inventory and it had planned to retire seven of the aging vessels. However, these Ticonderoga class cruisers can be repurposed for helping the US Army in setting up a "missile defense umbrella" around the highly strategic island of Guam.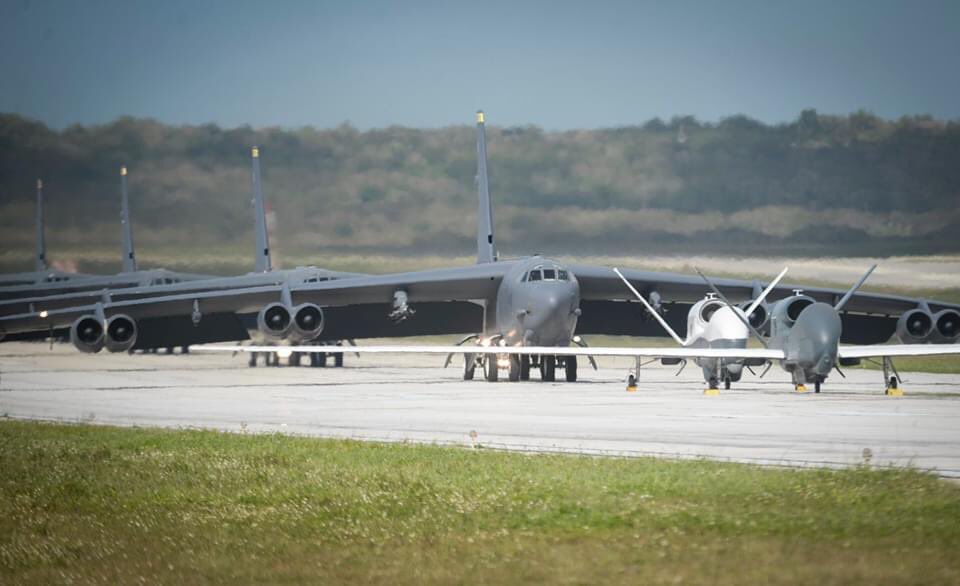 Each cruiser is equipped with an Aegis combat system, a powerful AN/SPY-1A/B multifunction radar, and 122 Mk 41 Vertical Launch System (VLS) cells which can accommodate a number of missiles such as the SM-2 and SM-6 surface-to-air missiles as well as the SM-3 anti-ballistic missile interceptors, according to The War Zone.
The current Aegis Ashore system has the same radar which is found on the Arleigh Burke-class guided-missile destroyers along with a Vertical Launch System (VLS) in a ground-based station, according to USNI News.
This means that a single Ticonderoga class cruiser when moored in place will be capable of providing the same coverage and capacity to a single Aegis Ashore site. This would also come out as a more cost-effective way of providing great defense capacity in the near future.
The Heritage Foundation in Washington DC had published a paper by Brent Sadler, a Senior Fellow for Naval Warfare and Advanced Technology, in August. It highlighted how repurposing these decommissioned warships in Guam would actually work.
In his paper, Sadler noted that three out of the seven Ticonderogas that the Navy plans to retire, the USS Shiloh, Erie, and Port Royal are equipped with the Aegis Ballistic Missile Defense (BMD) system which makes them optimal for this new role.
"The Navy's rationale for retiring the three BMD-capable cruisers was the high cost of continuing to operate them at sea due to overdue maintenance; especially their fuel tanks, which have been known to leak", Sadler explained.
"Guam offers several protected anchorages that a moored BMD-capable cruiser could move between without having to conduct prolonged navigation. This potentially obviates the need for the Navy to man or maintain these ships for independent at-sea operations — potentially escorted or towed between mooring sites.
PLAAF's 'Deadly Combo' Of J-16D EW Aircraft & Stealth J-20 Jets Flexed Muscles During War Drills — Chinese Media
This would enable putting the ship's propulsion system in a state of reduced operational readiness and reducing the crew", he said.
He noted that even though these ships have limited mobility and are required to be towed from one location to another, if necessary, these cruisers can be repositioned elsewhere in the region along with their skeleton crews.
These warships may also be capable of launching weapons at targets in the sea as well as on land. A video showing how a distributed defense architecture can be employed as it shows a hypersonic missile being defeated was also released.
Hurdles Remain
Despite such advantages, there are various cost questions and other potential hurdles in the implementation of this program.
"Some of these cruisers have the SPY-1A radar, which is an analog system", Chief of Naval Operations Adm. Michael Gilday said during a virtual talk in July that the Navy League hosted as part of a lead-in to its annual Sea Air Space conference. "Others are early SPY-1Bs", he said, according to Naval News.
He further explained that "they're approaching obsolescence, number one, and, number two, they have difficulty seeing the threat based on the speed and profiles of the threat missiles we see flying these days".
Gilday pointed out that the cost alone for cruiser modernization is running tens of millions of dollars above what was originally estimated, largely due to the unknowns related to hulls that are over three decades old.
Another major pitfall in this plan is getting approval from Congress. The phasing out of such cruisers has been opposed by various lawmakers for their capabilities as well as the lack of potential replacements.
The Pentagon's budget request for the fiscal year 2022 was $118.3 million that would be spent on the development of new air and missile defenses in Guam.