The US Navy's newest futuristic project has finally taken its first steps to its development. Marking its first operational achievement, the USS Zumwalt, the service's first stealth destroyer, successfully test-fired an SM-2 missile out of its vertical launching system on October 13th.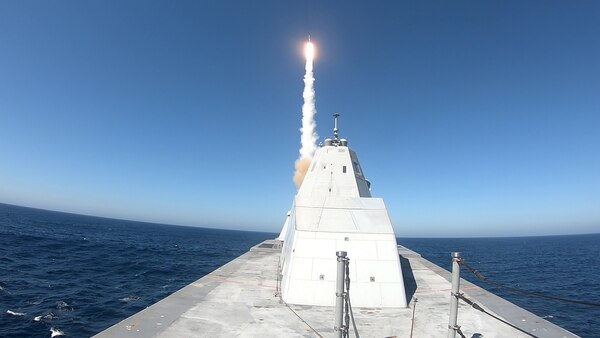 Being the first ship of its class, the USS Zumwalt, just like its sci-fi name, has a non-traditional "futuristic" appearance and the project has faced many hurdles since its inception. A total of three ships are being built of this class, with two already being given Initial Operational Clearance (IOC) and third scheduled for 2021.
"Today's successful test not only demonstrates the ship's capability to fire missiles and conduct self-defence, it is also a significant step toward more advanced combat system testing and operations for our Navy's most technically innovative warship," said Capt. Matt Schroeder, DDG 1000 program manager. "The USS Zumwalt crew and Surface Development Squadron One are working hand-in-hand with the acquisition community to advance this ship's operational capability," reported the Navy's press release.
About a week ago, the ship fired an SM-2 surface to air missile, demonstrating its ability to detect, track, and engage an anti-ship cruise missile. The structural test fire assessed the material readiness of the ship against shock and vibration of the weapon firing, as well as measure any hazards or degradations as a result of firing live ordnance.
"Today's successful firing event is a critical milestone in the maturation of this incredible ship class and represents the culmination of a tremendous amount of hard work and partnership of Zumwalt's talented crew and the engineers, designers, and programmers helping us to bring her capabilities to the Fleet," said Capt. Gary Cave, Zumwalt's commanding officer. "It is a day we've been looking forward to and demonstrates the strides we are taking to add combat capability to our surface force."
According to the Navy, the ship achieved sufficient combat system installation and activation earlier this year, to take final delivery and transition to the next phase of developmental and integrated at-sea testing.
"The ships' stealth and ability to operate in both the open-ocean and near-shore environments creates a new level of battlespace complexity for potential adversaries. The Zumwalt class will also operate as a key enabler in the acceleration of new warfighting capabilities and rapid development and validation of operational tactics, techniques, and procedures," said the press release.
The Zumwalt project has met with a lot of criticism too, with hurdles for its main guns. It was earlier decided to be equipped with 155mm long-range Advanced Gun System, whose project costs shot up to more than 50%, leading to its cancellation and the Navy decided to abandon the ship's role from land attack to surface-to-surface warfare.