As the US military completed the troop drawdown process ending its two decades of war on terror in Afghanistan, it left behind scores of combat aircraft and mounds of weapons and equipment.
At a press conference on August 30, General Frank McKenzie of the US Marine Corps, the head of US Central Command (CENTCOM), listed items that had been "demilitarized" at Hamid Karzai International Airport in Kabul.
These include two counter-rockets, artillery, and Mortars (C-RAM) air defense systems, 73 aircraft, 27 Humvees, other US and Afghan airframes, and 70 Mine Resistant Ambush Protected (MRAP) armored trucks.
#Taliban fighters enter a hangar in #Kabul Airport and examine #chinook helicopters after #US leaves #Afghanistan. pic.twitter.com/flJx0cLf0p

— Nabih (@nabihbulos) August 30, 2021
Grounded Forever
On the airstrip, the military left 73 aircraft. McKenzie didn't specify whether they were helicopters or fixed wings.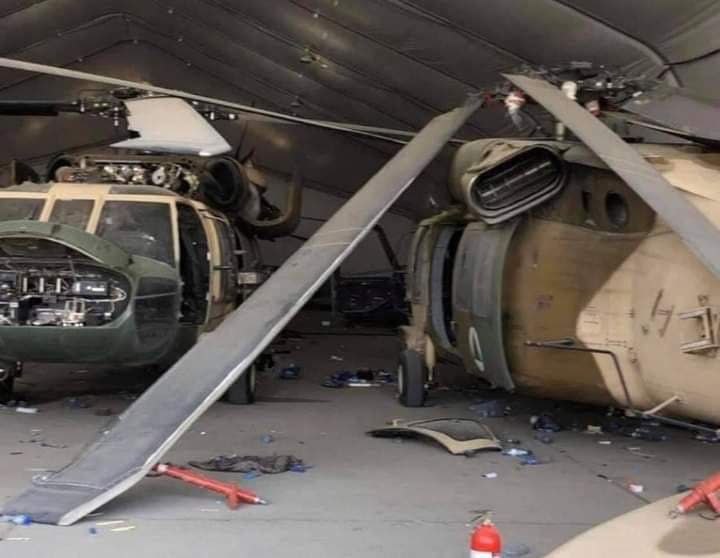 "Those aircraft will never fly again," he said. Photos showed, and Pentagon officials acknowledged, that Apache attack helicopters were operated by the soldiers at the airport. A single such chopper costs more than $30 million.
McKenzie didn't share any specific details about the aircraft that were disabled at the airport, either. However, he did say that some were already in a state of disrepair. This includes dozens of former Afghan Air Force aircraft.
Damaged UH-60 Black Hawk helicopters of the (former) Afghan Air Force at Kabul's airport. pic.twitter.com/LvgWZLq1Ok

— Status-6 (@Archer83Able) August 31, 2021
Several local journalists shared clips on social media showing various new and old Afghan Air Force aircraft at the Hamid Karzai International Airport at the time of the final withdrawal.
These comprised more recent ones, US-supplied C-130H Hercules transport aircraft, A-29 Super Tucano light attack planes, and UH-60 Black Hawk and Mi-17 transport helicopters.
A picture circulating online (see tweet), shows an ex-Afghan Air Force UH-60 Black Hawk with smashed windows and holes cut in its main cabin doors.
Ex Afghan Air Force's UH60 Blackhawk Definitely Down… pic.twitter.com/u0zyGrPs8g

— Harry Boone (@towersight) August 31, 2021
However, several reports confirmed the fact that the Air Wing's CH-46E Sea Knight helicopters have been rendered inoperable and deserted in Afghanistan as part of the ongoing evacuation effort.
C-RAM Air Defense Systems
Each C-RAM system is worth about $10 million; they detect and shoot down incoming rockets, artillery and mortar rounds. Information regarding how many of these were left behind hasn't been disclosed yet.
But McKenzie did inform that they were kept until the end to ensure that the airfield was protected from rocket attacks, such as the one launched on August 30.
"Certainly, our objective was not to leave them with any equipment, but that is not always an option when you are looking to retrograde and move out of a war zone," White House press secretary Jen Psaki said.
McKenzie emphasized that the equipment would be of no use in combat. But they will likely be displayed by the Taliban as trophies of their decades-long fight to retake their country.
Experts are claiming that some of the captured equipment, like helicopters and attack planes, may be more useful for propaganda imagery than for everyday use. US contractors maintain that the Black Hawk helicopters, C-130 transport planes, and other aircraft require expensive and hard-to-find parts.
The Taliban currently lack the technical expertise to keep them airborne, even if they find pilots.
?? An attack helicopters Mi-24 of the (former) Afghan Air Force in the hands of the Taliban.#Afghanistan pic.twitter.com/1HyO1kR8ak

— an.dro.id (@Andrewdrozd) August 30, 2021
While there are questions over the Taliban's ability to use airpower, experts agree that they have the experience to handle sophisticated guns, rifles, and vehicles. And there are plenty of those left in Afghanistan.
Weapons Of A Bygone War
In the years between 2003 and 2016, the US provided a large amount of military hardware to the Afghan forces that it fought in alliance with. These included more than 64,000 machine guns, 358,530 rifles of different types, 25,327 grenade launchers, and 22,174 Humvees or all-terrain vehicles.
After ending their combat role in 2014, the NATO forces tasked the Afghan army with securing the country. As it struggled to fend off the Taliban, the US supplied more weapons and equipment and replaced aging military gear. It provided nearly 20,000 M16 rifles in 2017 alone.
A C-130 used by the Afghan Air Force is parked at Kabul Airport https://t.co/rUVI01mWiO

— Cryptome (@Cryptome_org) August 31, 2021
Experts who observed these developments in Afghanistan claim there is no immediate danger of the Taliban using these aircraft as US Generals have claimed that aircraft were at least partially dismantled before the Afghan forces surrendered.
The Author is a defense and aerospace enthusiast who was associated with leading Indian media organizations such as CNN-News18, The Statesman, Republic TV, NEWSX / The Sunday Guardian in the past. He is a contributor to the Indian Aerospace and Defence (IA&D) magazine.