Afghanistan has turned into a veritable ammunition dump after US troops left the country ending what is seen as the world's longest counter-terror operations.   
While bigger military hardware like helicopters and armored vehicles were rendered useless by the American military before its departure, those seized by the Taliban, including ATGMs, are believed to be in working condition.  
Russian Defence Minister Sergey Shoigu claims the US left behind more than a hundred Javelin portable anti-tank guided missiles (ATGMs) in the war-torn nation. These missiles have added to the weapons inventory of the Taliban.
Large cache of US weapons taken by Taliban in this compound. #Afghanistan pic.twitter.com/F4UYVphh3Q

— FJ (@Natsecjeff) August 13, 2021
RT News quoted Shoigu as saying the militant group is now better equipped than the Ukrainian army. "Javelins are supplied to Ukraine from the United States. I don't remember how many, a few dozen, or so", he said.
Who All Have ATGMs In Neighborhood?
Afghanistan's neighbor China had also tested its homegrown HJ-12 man-portable anti-tank missiles. It was confirmed to be in service with the Chinese People's Liberation Army (PLA) after it made its debut in an exercise organized by the PLA Tibet Military Command.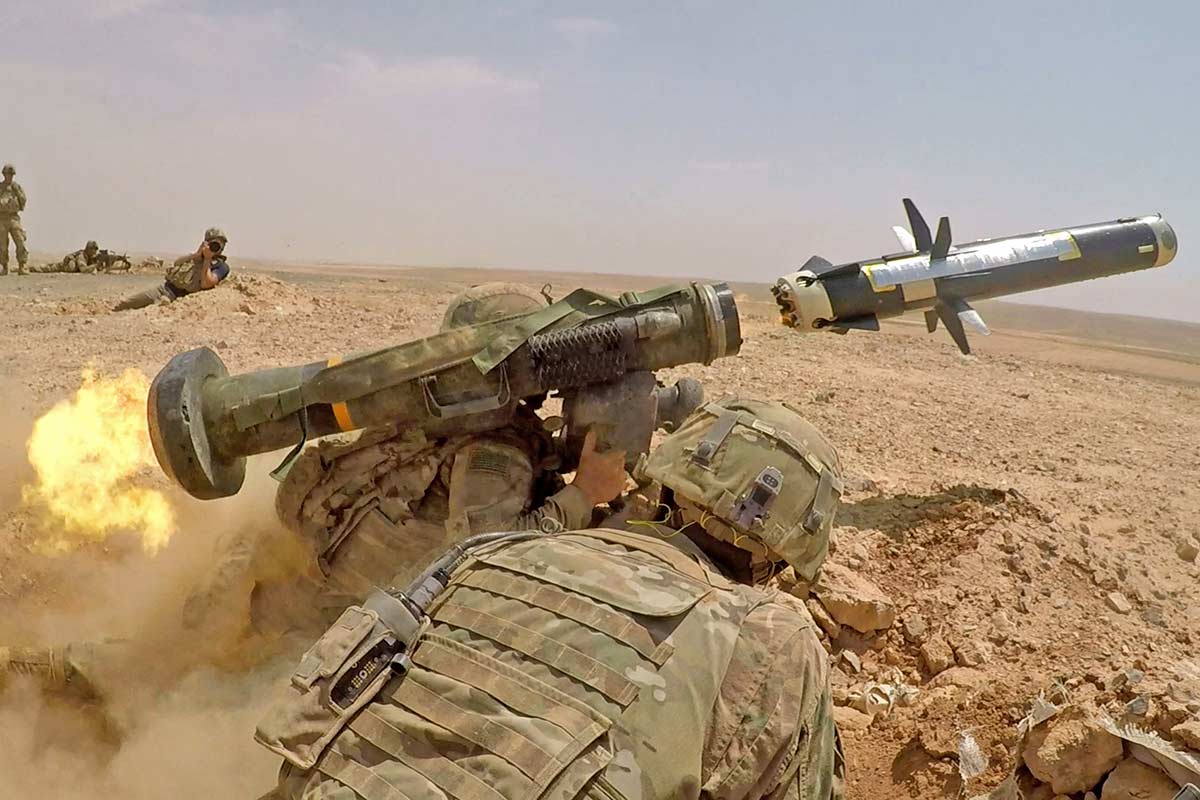 The top-attack, fire-and-forget missile, often compared with the US' Javelin, is capable of destroying any main battle tank in the world, Global Times reported.
Iran, Afghanistan's neighbor in the West, also boasts its indigenous ATGM, the Toophan. It comes in at least 11 variants, many of which are poorly documented, including variants with laser guidance, thermobaric warheads, and tandem-warheads with increased penetration.
US Aircraft Carrier 'Survives' A Massive 40,000-Pound Explosion Near Its Hull — Watch
The Toophan is manufactured jointly by the Aerospace Industries Organization of Iran and Iran Electronics Industries, Army Recognition reported.
According to reports, the Pakistan Army had also procured the Russian Kornet E missile in October 2019. The country received around 52 launchers and an unspecified number of missiles under the $62.46 million contract.
As previously reported by EurAsian Times, the Indian military had reportedly acquired more than 200 Spike ATGMs through the emergency procurement route in December 2020, shortly after the 2019 Balakot airstrike.
These missiles are capable of being fired from vehicles, helicopters, ships, and ground launchers.
The Javelin ATGM
Javelin was developed and produced for the US Army and Marine Corps by the Javelin Joint Venture between US defense giants Lockheed Martin and Raytheon.
It is a munition that can be carried and launched by a single person. Javelin provides the US Army, US Marine Corps, and numerous international customers with medium-range, "fire-and-forget" missiles for use against a wide array of targets, including armored vehicles, bunkers, and caves.
So mighty are the Javelin missiles that when Taiwan decided to acquire more than 100 tanks and Javelin systems from the US, an alarmed China imminently lodged a strong protest against the deadly acquisition.
DECODED: How The US Itself 'Punctured' Afghan Military Capabilities To Hand Easy Victory To The Taliban
The system's command launch unit, or sight, performs surveillance, allowing a gunner to see targets. The weapon can be deployed from multiple platforms and used during the day, at night, and in any kind of weather.
The program has also demonstrated that Javelin can be fired from a remote launcher mounted on an unmanned ground vehicle. It has been used in Afghanistan and Iraq in more than 5,000 engagements. The system is scheduled to be in inventory till 2050.
Experts talking to the EurAsian Times stated that with such a large cache of powerful ATGMs, the Taliban or whoever is controlling the missiles can wreak havoc on the opposition. Neighbors should be worried as the range of Javelin ATGM is around 5000 meters which means it can targets tanks, armored vehicles and helicopters.