As Israeli PM Naftali Bennett prepares to visit Washington DC, the country's media is wondering how he will answer US President Joe Biden on the vexing question of his policy towards  China.
'Absolutely Hilarious' – Chaotic Scenes In Moscow As Hackers Create Massive Traffic Jam In The Russian Capital
Will Israel cut back on its relationship with China, mainly by ceasing to be a source of dual-use technology for China, something other Western countries and even Taiwan are doing to stop Beijing from misusing civilian technology for military purposes?
Now there are increasing global concerns over what the Chinese call the strategy of 'Military-Civil Fusion' (MCF), which is aimed at spurring innovation in key sectors and leveraging dual-use technologies for military end-uses.
The US State Department describes it as an "aggressive, national strategy of the CCP" to help China develop "the most technologically advanced military in the world," partly by "acquiring and diverting" cutting-edge technology from around the globe.
The most sinister aspect of this MCF strategy, so the argument runs, is that China seeks to "exploit the inherent 'dual-use' nature" of many civilian technologies that can also be used for defense purposes. In other words, it aims at using seemingly harmless Western technology to strengthen China's military.
As Manoj Joshi, Distinguished Fellow at the New Delhi-based think-tanks Observer Research Foundation (ORF), points out, "there are five levels of American concerns.
First, China steals foreign technology, demanding technology transfer from companies as a price for their entry into the country, or making strategic acquisitions of foreign companies to access their technology. Second, using technologies acquired for civilian use for military purposes.
"Third, Chinese students in US universities and academic collaborations aiding entities whose goal is to enhance China's military development.
Fourth, Chinese investments in western technology companies and startups enable them to access and control new and emerging technologies. Fifth, the activities of Chinese research laboratories such as those established by Baidu, Huawei, and Tencent in countries like the US, Australia, and India are being used to enhance Chinese technology, which, in turn, can be used for military purposes back home."
The  Biden Administration is very clear that one, along with allies and friends, has to undermine Beijing on multiple fronts, including sanctions and advisories against doing business even in Hong Kong.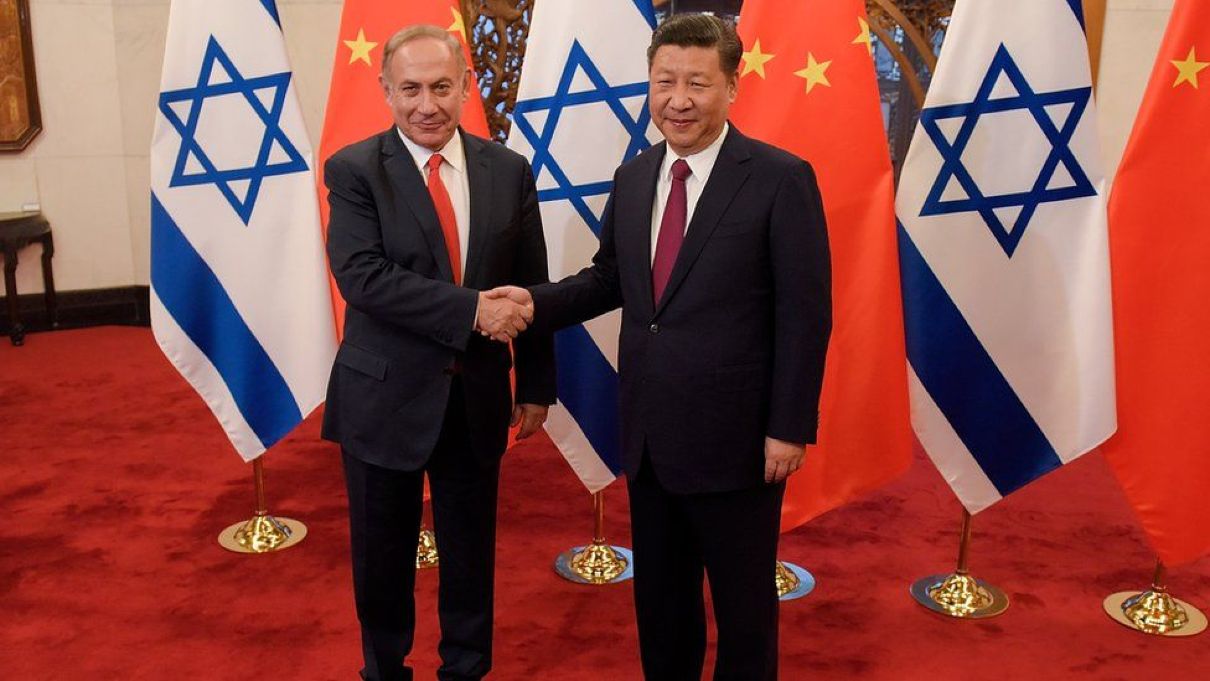 But Israel, the Americans allege, is failing in doing this. However, last week, the international cybersecurity company FireEye announced that China did not even hesitate to hack dozens of public and private Israeli tech and infrastructure companies as part of a plan to steal technology and information.
The US publication "Newsweek" gave a detailed report last month on how "China Targets Israeli Technology in Quest for Global Dominance as US Frets."
China operates, it said, hundreds of recruiting networks targeting intellectual property (IP) around the world, and Israel has a flourishing sector in emerging technologies; it is one of the world's foremost innovation hubs, with around 4,000 active startups, spending 5% of its annual GDP on research and development—the highest in the world.
But then, since Israel and the US share deep defense and innovation ties in areas such as drone technology and artificial intelligence, China focuses on dominating; Washington is distraught that Beijing is acquiring even US technology through backdoors in Israel.
It fears China will manage all this by partnering with or buying an Israeli company. This, in turn, will give China an advantage in the military or other sensitive fields, it is feared.
According to Newsweek, of 507 Chinese deals with Israel between 2002 and May 2022, there were as many as 492 technologies, including IT, communications, clean and agricultural tech, and robotics.
While it is significant that the overall number of deals has dropped in recent years as Israelis have become more sensitive to US concerns, the proportion of tech remains exceptionally high: 43 of 44 investments in 2021 through to May 2022.
As China practices economic statecraft, not a free market, its business deals often serve political ends. Particularly problematic here is the fact that while the US tightens controls on chips and other items it exports to China, Beijing is looking to Israel as an alternative tech source.
As a new global semiconductor R&D center, Israel's multinational and domestic chip companies are also strategically significant to China's semiconductor industry. Israel exports billions of dollars worth of chips to China from local branches of multinational corporations such as Intel, creating possible backdoors into US technology.
However, unlike Israel, other allies and friends of the US are now taking remedial measures against Chinese designs. The Chinese policy of having joint ventures in developed countries, if not an outright purchase of their companies, is a well-known method of acquiring their technology.
That explains why last month there was a lot of concern over the visit of a China North Industries Corporation delegation to Shropshire in the UK. This British city has Grainger and Worrall (G&W), a world leader in the precision casting business.
The firm also makes critical parts for military drones, vehicles, and artillery. The Chinese team was exploring the possibility of a joint venture with G&W – building a "mass production entity" that would use G&W's technology in China. G&W, it is said, has been maintaining links with the Chinese since 2013.
However, given the recent changes in the attitude of the British government, it is doubtful whether such collaboration will be allowed on British soil.
The UK, of late, has been banning Chinese mainland companies from acquiring British companies. It recently blocked, on the grounds of national security, the acquisition of British software design company Pulsic by a Hong Kong company, "Super Orange HK Holding Limited" (SOHK). Several media reports indicated that SOHK has a strong mainland background.
Incidentally, in July, in an unprecedented manner, British Intelligence Agency MI5's Director General Ken McCallum and US Federal Bureau of Investigation (FBI) Director Chris Wray addressed jointly in London to point out that China doesn't even need to resort to "clandestine espionage methodology" to get its hands on the West's technological secrets.
British businesses and academic institutions are giving IP away in plain sight, under the guise of seemingly innocent commercial deals or academic partnerships.
McCallum was very candid in saying that since the West is involved in cutting-edge tech, AI, advanced research, or product development, the Chinese are trying to transfer them to their country in what will be "the biggest wealth transfer in human history." He then listed a few instances :
•    Covert Theft: Late last year, Chinese intelligence officer SHU Yenjoon was convicted in a US court on charges of economic espionage and theft of trade secrets from the US aviation sector. SHU was active in Europe, too: he'd been part of a prolific Ministry of State Security network targeting the aerospace sector. MI5 worked with those targeted in the UK to mitigate the risks until the FBI action could solve the problem for both of us.
•    Tech Transfer: Clandestine espionage methodology isn't always necessary. Take the tale of Smith's Harlow, a UK-based precision engineering firm. In 2017 Smith's Harlow entered into a deal with a Chinese firm, Futures Aerospace. The first three agreed technology transfers saw Futures pay £3 million for quality control procedures and training courses.
"You know how this ends," the British Intelligence Czar asked and answered, "After further sharing valuable IP, Futures abandoned the deal. Smith's Harlow went into administration in 2020. As their Chairman put it: 'They've taken what they wanted, and now they've got it, they didn't need the shell of Smith's."
No wonder why the British Parliament has to consider the "The National Security Bill" that is proposed by the government, which, if passed,  would grant additional powers to the British government to "combat state threats not just to national secrets but to your intellectual property, your commercial edge, your unique research."
Importantly, Taiwan has the closest business links with China and has also brought draft amendments to national security laws to deter and punish Chinese economic espionage efforts directed at stealing tech industry secrets. Because, as Premier Su Tseng-chang has said, Taiwanese authorities have observed Chinese interests infiltrating local operations and "utilizing various methods to lure high-tech talent from Taiwan and steal Taiwanese core technologies."
Perpetrators are said to hide their Chinese origins, sometimes investing in Taiwanese companies using third parties. The result is "considerable harm to the cyber security, economic interests, industry competitiveness and national security of Taiwan."
These amendments have established two new crimes: one of "economic espionage" and another of "extraterritorial use of national core technology trade secrets." The new crimes come with jail sentences of 12 years and ten years, respectively.
The new laws will also require workers involved with national core technology businesses to seek Taiwanese government approval before traveling to mainland China, with substantial fines for non-compliance. Besides, businesses will be required to reveal when Chinese companies use proxies to invest in Taiwanese companies.
The amendments were introduced because Taiwan's leaders feel current laws aren't enough to deter participation in espionage activities and to recognize persistent attempts by Chinese entities to lift information about high-tech intellectual property. Such technologies, Taiwanese leaders feel, are key to the nation's future economic prosperity.
Incidentally, the latest news in Taiwan of China stealing technology through backdoors is the discovery of the head of China's Luxshare Precision Industry Company using a shell company to take over a key Taiwanese company surreptitiously.
The New Taipei District Prosecutor's Office has alleged that a Chinese company hired local employees of the local company Kecheng Technology supplying parts to Apple.
Luxshare offered to staff from Kecheng's R&D team large salaries to defect. Some of those staff agreed and allegedly brought Kecheng's IP with them. With its new Taiwanese workforce in place, and their knowledge secured, Luxshare built a factory that started making iThing parts that the prosecutor's office alleges used Kecheng IP.
Author and veteran journalist Prakash Nanda has been commenting on politics, foreign policy on strategic affairs for nearly three decades. A former National Fellow of the Indian Council for Historical Research and recipient of the Seoul Peace Prize Scholarship, he is also a Distinguished Fellow at the Institute of Peace and Conflict Studies. CONTACT: prakash.nanda@hotmail.com