Hopefully, the dove of peace is hovering over the two trans-Caspian states of Azerbaijan and Armenia, which have been at loggerheads for decades. Several wars they have fought during a century of deep-set animosity have consumed thousands of lives.
In 1936, Armenia and Azerbaijan became separate entities from the Soviet Union. In 1988, the Nagorno-Karabakh Autonomous Oblast (NKAO) voted to secede and join Armenia. This was met by pogroms of Armenians, chiefly in three cities of Azerbaijan.
It led to a military conflict known as the Nagorno-Karabakh War, and in the operations against Armenians, Azerbaijani and Soviet troops jointly uprooted Armenian civilians in part of Nagorno-Karabakh. Following the dissolution of the Soviet Union, the war became an international conflict between two sovereign states.
Conflict
Armenia had occupied NKAO and seven surrounding Azerbaijani territories. The two sides signed a ceasefire in late 1994. In 2008, Azerbaijani President Ilham Aliyev declared that "Nagorno Karabakh will never be independent; the position is also backed by international mediators. Armenia has to accept the reality."
In 2008, the two states clashed over the disputed NKAO. June 2010 saw a brief flare-up of the conflict, resulting in the death of four Armenian soldiers and one Azeri soldier. The clash came a day after peace talks were held between the two countries' presidents in Moscow.
After the failure of negotiations between the two sides in Kazan in June 2011, Azeri President Ilham Aliyev used the June 26 Salvation Day military parade to warn Armenia that he may retake NKAO by force.
Border clashes continued intermittently, and in 2016, an estimated 350 troops and civilians on both sides were killed. Azerbaijan declared a unilateral ceasefire, and the Azeri forces launched an attack to take the disputed territory. In the July 2022 clashes, both sides deployed artillery, tanks, and shock drones. There were many casualties on both sides. On October 9, UN High Commissioner for Human Rights, Michelle Bachelet, appealed for an urgent ceasefire. She also raised the alarm over heavily populated areas being bombarded.
In the war of 2020, Azerbaijan was aided by its ally Turkey which helped it to retake large portions of NKAO. A deal to end the crisis was brokered by Russia, which sent a peace-keeping force to patrol the rest of Nagorno-Karabakh. House Speaker Nancy Pelosi and several other US lawmakers arrived in Armenia to take stock of things. Pelosi blamed Azerbaijan for "illegal attacks" on Armenia – prompting an angry rebuke from Azerbaijan.
Big Power Game
We find that the 2020 war between the two trans-Caspian states has drawn the interests of the US; those of Russia were already known. Besides the two, Turkey is also playing an essential but destructive role in the conflict.
The ceasefires are not holding, tension is escalating, and foreign countries are getting involved. Iran, not having good terms with Azerbaijan, is inclined towards Armenia, and Tehran is also unhappy that Turkey is gradually finding a foothold in an area crucial to northern Iran's security.
There are reports that Turkey would be supplying its lethal drones to Azerbaijan. There are also reports that Iran would be providing military support to Armenia.
This is a sordid situation. The region is gradually sucked in by a regional war which has the potential of growing into a big fight and disrupting peace in the entire Caucasus region. Azerbaijan has oil reserves, and Turkey knows that Azeri oil is a factor that must come closer to Azerbaijan.
Peace Efforts
Writing in BESA Centre Perspectives Paper No 2,199 of May 29, 2023, Prof. Gerald M Steinberg says he heard echoes of Israeli-Egyptian history on a recent visit to Azerbaijan. He was told that talks between officials from Azerbaijan and Armenia were being held in Washington.
The US Secretary of State had hosted the foreign ministers of the two countries to hold talks to put an end to the conflict. More importantly, President Ilham Aliyev of Azerbaijan and Prime Minister Nikol Pashinyan of Armenia met in Brussels on May 14 under the auspices of the European Union. It suggests a readiness on the part of the two leaders to come to serious negotiations.
The current geostrategic status indicates that the two countries are moving towards permanent peace. A rapprochement with Azerbaijan is vital for Armenia in the background of its isolation and economic depression. At the same time, although the threat to Azerbaijan from Armenia has decreased considerably, the threat from Iran to its sovereignty and independence has not faded.
Now it is clear that the US and Russia have almost drawn their lines in this Caucasian region. The two countries should rely on their strength, understanding, and the imperative of peaceful living in the region. Once things slip out of their control, it will be challenging to find a veritable solution.
OC Media of May 5 reported that US Secretary of State Antony Blinken has said a peace agreement between Armenia and Azerbaijan is "within reach" following four days of negotiations in Washington.
Blinken, who mediated talks, said that 'progress' had been made despite 'differences on key issues,' a sentiment echoed by official statements from both Armenia and Azerbaijan.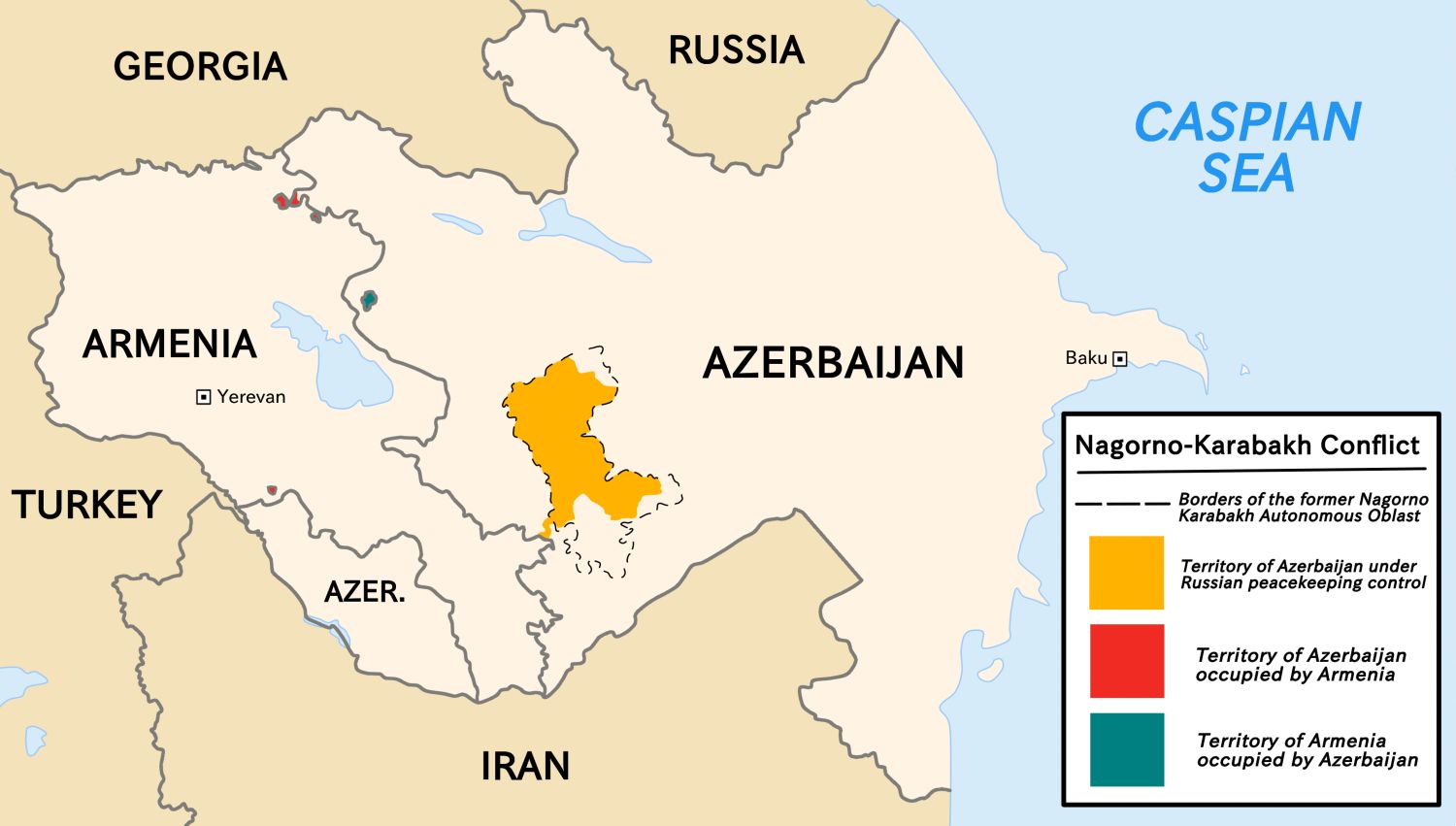 Armenian Prime Minister Nikol Pashinyan stated that they had yet to agree on an international mechanism to guarantee the security of Nagorno-Karabakh's Armenians or the format of dialogue between Stepanakert and Baku.
Armenian Foreign Minister Ararat Mirzoyan and his Azerbaijani counterpart Jeyhun Bayramov kickstarted this round of negotiations with a meeting with Blinken.
The negotiations were the biggest talks aimed at normalizing relations between the two countries since the blockade of the Lachin Corridor began in mid-December. They included meetings with Blinken and Jake Sullivan, US President Joe Biden's National Security Adviser.
In the final analysis, there is hope on both sides that a deal will be made and hurdles will be overcome. Resolving chronic issues is difficult, and the pre-requisite of such negotiations is expressing the will to fix them.
As we are optimistic about American intervention proving a success in defusing the volatile situation in the Caucasian region, we feel inclined to propose to the authorities of India and Pakistan to take a cue from the successful negotiations underway in the Caucasian region and believe in the policy of give and take, find ways and means of peaceful resolution of Kashmir issue.
True, the geostrategy and the ground situation regarding Kashmir differ significantly from what is obtained in Nagorno-Karabakh. The times we live in speak loudly that a deal should be attempted now and here to decide the Kashmir tangle once and for all. Given the will to put an end to the conflict, it should not be difficult to find an acceptable solution.
Pakistan is fighting its terrorists with its back to the wall, and India is facing an unfortunate ideological conflict. A peaceful and acceptable resolution of the Kashmir dispute is bound to bring much ease to both countries.
KN Pandita (Padma Shri) is the former Director of the Center of Central Asian Studies at Kashmir University. Views expressed here are of the author's.
Mail EurAsian Times at etdesk(at)eurasiantimes.com