With China as a common adversary, there are reports that India and the US will develop an air-launched drone that will be executed under the aegis of the Defence Technology and Trade Initiative (DTII).
While the agreement was signed on July 30 this year, India's Ministry of Defence (MoD) disclosed this recently.
Termed as a landmark agreement by the US Air Force, the DTII becomes a part of expanding defense and strategic cooperation between two countries, which includes weapons sales worth around $20 billion and holding a host of naval and military exercises like Malabar, Quad, and Yudh Abhyas. 
"The development is very significant at a time China has been increasingly flexing its muscle in the region. Considering China's aggressive posture, this agreement will pave the way for more cooperation in defense and security.
It will convey an unambiguous message about the growing relationship between India and the US," said an official from the Ministry of Defence (MoD).
The project agreement was signed between India's MoD and the US Department of Defence by the co-chairs of the Joint Working Group on Air Systems under the DTTI – Assistant Chief of Air Staff (Plans) Air Vice Marshal Narmdeshwar Tiwari and Air Force Security Assistance and Cooperation Directorate head, Brig. Gen. Brian R. Bruckbauer.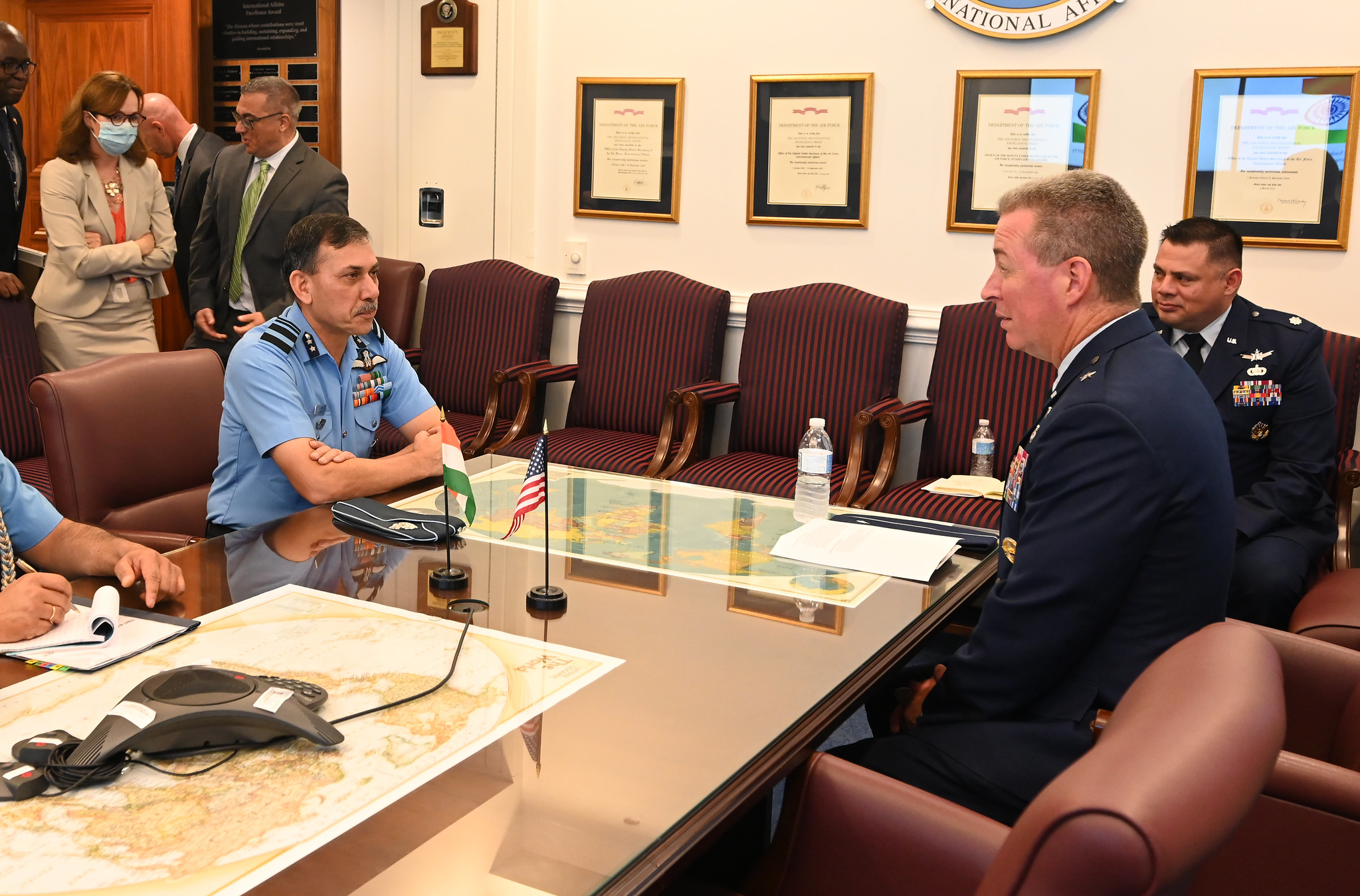 The Aeronautical Development Establishment (ADE) at DRDO and the Aerospace Systems Directorate at the US Air Force Research Laboratory (AFRL), along with the Indian and US air forces, are the principal organizations that would be involved in the project.
"The PA (preliminary agreement) outlines the collaboration between Air Force Research Laboratory, Indian Air Force, and Defence Research and Development Organisation towards design, development, demonstration, testing, and evaluation of systems to co-develop an ALUAV prototype," the MoD0 statement said. 
#AirForce & @IAF_MCC signed a landmark agreement to co-develop Air-Launched UAVs under the U.S.-India Defense Technology & Trade Initiative. The agreement strengthens existing defense cooperation & advances our shared vision of a #FreeAndOpenIndoPacific. https://t.co/Va3239TW0l pic.twitter.com/H54nG2WZ5O

— U.S. Air Force (@usairforce) September 3, 2021
The US Air Force said in a Twitter post, "#AirForce & @IAF_MCC signed a landmark agreement to co-develop Air-Launched UAVs under the U.S.-India Defense Technology & Trade Initiative. The agreement strengthens existing defense cooperation & advances our shared vision of Free and Open Indo-Pacific."
Air-Launched Drone
While there is little clarity on what the air-launched UAV (ALUAV) prototype would be capable of, it is expected to be primarily surveillance and reconnaissance-centric, networked with other assets, enhancing situational awareness.
If successful, it might be mass-produced for swarming enemy air defenses or drawing its fire. It is unclear if it would have a combat role of supporting ground troops or 'loyal wingman' mode of flying alongside strike or air dominance fighters. 
These systems are seen as a way to counter integrated air defense networks deployed by potential rivals such as China and Russia.
The announcement comes amidst the Indian Army, the Navy, and the Air Force, signing multiple contracts worth Rs 500 crore for drone procurement with Indian companies.
The Army has signed three separate deals that include two worth over Rs 200 crore for swarm drones with Bengaluru-based startup NewSpace Research and Tech and Noida-based Raphe.
It has also ordered 100 tactical Israeli-origin kamikaze (suicide) drones – possibly Harop – that were used to devastating effect by Azerbaijan against Armenia in the Nagorno-Karabakh war in September 2020. They will be supplied over a period of 12 months and will be manufactured by a joint-venture by Israel's Elbit Systems and Bengaluru-based Alpha Design Technologies.
The Navy had also placed an order with defense PSU Bharat Electronics Limited (BEL) for the supply of Naval Anti Drone System (NADS), developed by the Defence Research and Development Organisation (DRDO). The Indian Air Force, meanwhile, signed a deal with Indian firm Zen Technologies for counter unmanned aerial systems.
The main aim of the DTTI is to bring sustained leadership focus to promote collaborative technology exchange and create opportunities for the co-development of future technologies for Indian and US military forces.
Under the DTTI, joint working groups on land, naval, air, and aircraft carrier technologies have been established to focus on mutually agreed projects in respective domains.
The PA for ALUAV falls under the research, development, testing, and evaluation (RDT&E) memorandum of agreement between the MoD and US Department of Defence, which was first signed in January 2006 and renewed in January 2015.
"The agreement is a significant step towards deepening defense technology collaboration between the two nations through co-development of defense equipment," the MoD statement added.
Concerns Over Joint Development Projects
There are three other service-led Joint Working Groups, namely Land Systems, Naval Systems, and Aircraft Carrier Technology Cooperation.
However, a major camp in the Indian defense establishment is wary of the project actually taking off under a co-development format, given the history of US arms makers refusing to share technology and many such projects under the DTTI actually being dropped previously. 
The biggest was India and the US suspending collaboration on jet engine development under the DTTI, which was announced by former Under Secretary of Defence Ellen Lord in October 2019. The JWG on Jet Engine Technology was seen by India as a pathway to develop a world-class engine for its under-development fifth-generation Advanced Medium Combat Aircraft (AMCA).
India's own Kaveri had been failing to be able to develop the requisite power, and was missing the 'hot engine' capability, considered a hallmark of a reliable jet engine. This had led to a perception that the DTTI was merely the "venue of fast-tracking sole-source contracts on major defense articles" instead of ToT collaboration. 
Moreover, four other 'pathfinder' projects had failed to take off. They were the next-generation mini-UAVs that were rejected by the Indian Army for being too low-tech; roll-on roll-off kits for C-130; mobile electric hybrid power source and; a protector kit for nuclear biological chemical fallout. The India Rapid Reaction Cell set up by the Pentagon was also downsized.
Parth Satam is a Mumbai-based journalist who has been covering India's defense sector for more than a decade. He maintains a keen interest in defense, aerospace and foreign affairs and can be reached at satamp@gmail.com