Two US Air Force (USAF) B-52 Stratofortress bombers arrived in the archipelago last week amid rising tensions with China in the Western Pacific and Washington's attempts to shore up alliances. 
Undertaken by the Air Force Global Strike Command (AFGSC) and Pacific Air Forces (PAF), the B-52s, originally attached to the 23rd Bomb Squadron at Minot Air Force Base (AFB) in North Dakota, had departed from the Andersen AFB at Guam. 
The two B-52s are part of four bombers that arrived at Guam after leaving Minot AFB on June 12 and June 14, fulfilling a Bomber Task Force (BTF) rotation in the Indo-Pacific. BTF rotations see USAF bombers deployed all over the world and usually last a little over a month. 
Interesting Timing
The eight-engine strategic bombers throw the heaviest punch in USAF firepower, being able to carry a payload of 31,500 kilograms of both guided and unguided munitions, long-range standoff cruise missiles, and after the B-2 Spirit stealth bomber, can carry nuclear weapons.
Informally known as the Big Ugly Fat Fellow (BUFF), it is also used to test the AGM-183 Air-Launched Rapid Response Weapon (ARRW) hypersonic missile. 
Interestingly, the visit comes just before President Joe Biden called Chinese President Xi Jinping a "dictator," a day after his Secretary of State Anthony Blinken visited Beijing. The tense meeting has largely been considered unsuccessful in stabilizing relations between the two competing superpowers.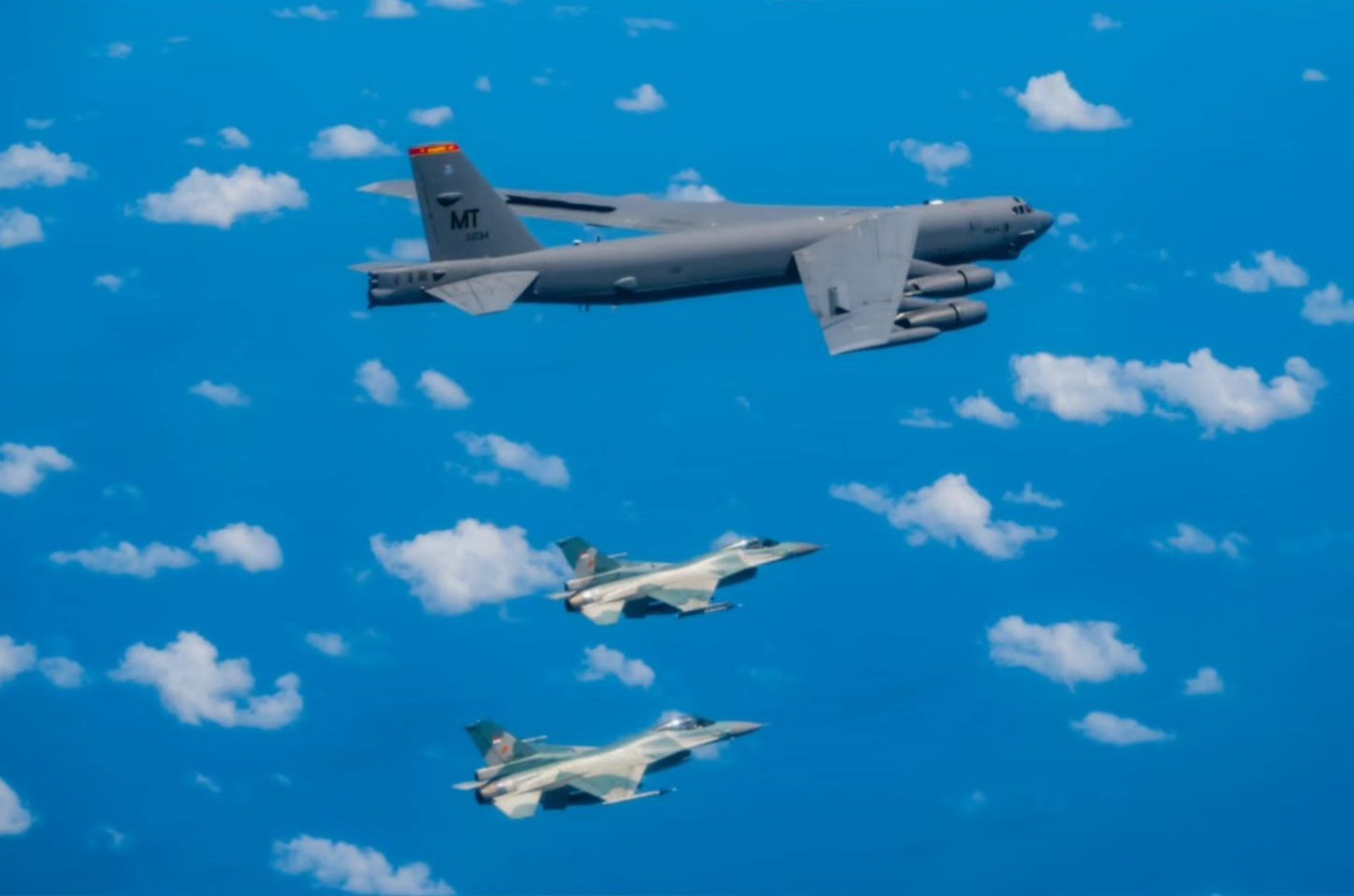 Exercises With Indonesia
According to JATOSINT (@Jatosint), a leading Open-Source Intelligence (OSINT) Twitter handle, the two B-52s landed at the Kualanuamu airport in North Sumatra. It was part of the Interoperability Bomber Exercise between the USAF and the Tentara Nasional Indonesia Angkatan Udara (TNIAU), or the Indonesian Air Force.
While B-52s have exercised with Jakarta's military over Indonesian skies before in September 2021, they have never actually touched down at an airbase there. That was also the first time B-52s exercised with the Indonesian Air Force.
Before touching down, the B-52s were welcomed by two Indonesian F-16s based out of Rosemin Nurjadin AFB at Pekanbaru, photos showed. 
This is expected to be a part of the Cope West 23 exercises, which had originally featured USAF F-16s from the Pacific Air Forces conducting drills with TNIAU F-16s at the Rosemin AFB. The exercises began on June 12 and were scheduled to conclude on June 23. 
The maneuvers were described as "bilateral, tactical training" drills that undertook "tactical fighter capabilities, evaluate proficiency, identify future training, and enhance capabilities integral to a variety of bilateral missions," according to a statement from the US Embassy in Indonesia. 
Photos showed both the air forces' F-16s carrying dummies as well as live Advanced Medium-Range Air-to-Air Missile (AMRAAM) and Sidewinder missiles means Basic Fighter Maneuvers (BFM) like dogfighting, air interdiction, and air superiority will have taken place. 
Bombers on the Fringes of the Enemy
According to a report on The Warzone, the B-52s display the USAF's "high state of readiness and validate its strike capability, in line with the Agile Combat Employment (ACE) concepts of operation." "Above all else, they provide a heavy-hitting forward presence that often sees missions that skirt the borders of potentially adversary countries in the region," the report added. 
Their Indonesian counterparts from @_TNIAU 3rd Squadron arrived yesterday

You can see that F-16s from both sides already carried (dummy/live) AMRAAM and Sidewinder missiles when they arrived

?Roesmin AFB#CopeWest #CopeWest23 pic.twitter.com/0LG1mBBYiv

— JATOSINT (@Jatosint) June 10, 2023
The South China Sea (SCS) is one of the three major flashpoints in the western Pacific, where China has contesting claims to maritime resources with Indonesia, Vietnam, Philippines, and Brunei.
Specifically, Indonesia's exclusive economic zone, which surrounds the Natuna Islands, partially overlaps with an area in the SCS that Beijing claims. In such a situation, B-52s skirting the borders of an adversary nation has both strategic signaling and operational utility. 
The bomber holds deterrent value when its presence and possible employment of devastating nuclear and conventional payload dithers a military from being ambitious in its military aims. This either prevents them from undertaking a military action or slows down the tempo of their attack as it incorporates the B-52's impact in its operational calculus. 
If used in operations, B-52s can fire long-range missiles on enemy ground and sea targets in conjunction with other friendly assets undertaking other anti-shipping and land-attack fires.