The US has been working to bolster its missile defense capability amid North Korea's increasing ballistic missile capability and the threat it poses to America, its allies, and partners in the Indo-Pacific region. 
The US Missile Defense Agency (MDA) has successfully demonstrated the interoperability of two key air defense systems — Patriot and THAAD.
On February 24, MDA launched the Patriot Advanced Capability-3 Missile Segment Enhanced — or PAC-3 MSE — from a Terminal High Altitude Area Defense (THAAD) system at White Sands Missile Range, New Mexico, Lockheed Martin told Defense News.
"The PAC-3 MSE interceptor flew to the intercept point and subsequently self-destructed as planned", Scott Arnold, vice president of integrated air and missile defense at Lockheed Martin Missiles and Fire Control said in a March 9 statement.
"With this successful demonstration, the Patriot M903 Launching Stations and PAC-3 MSE interceptors can be deployed with the THAAD Weapon System using only the THAAD radar and TFCC (Fire Control & Communication) for support," Arnold explained.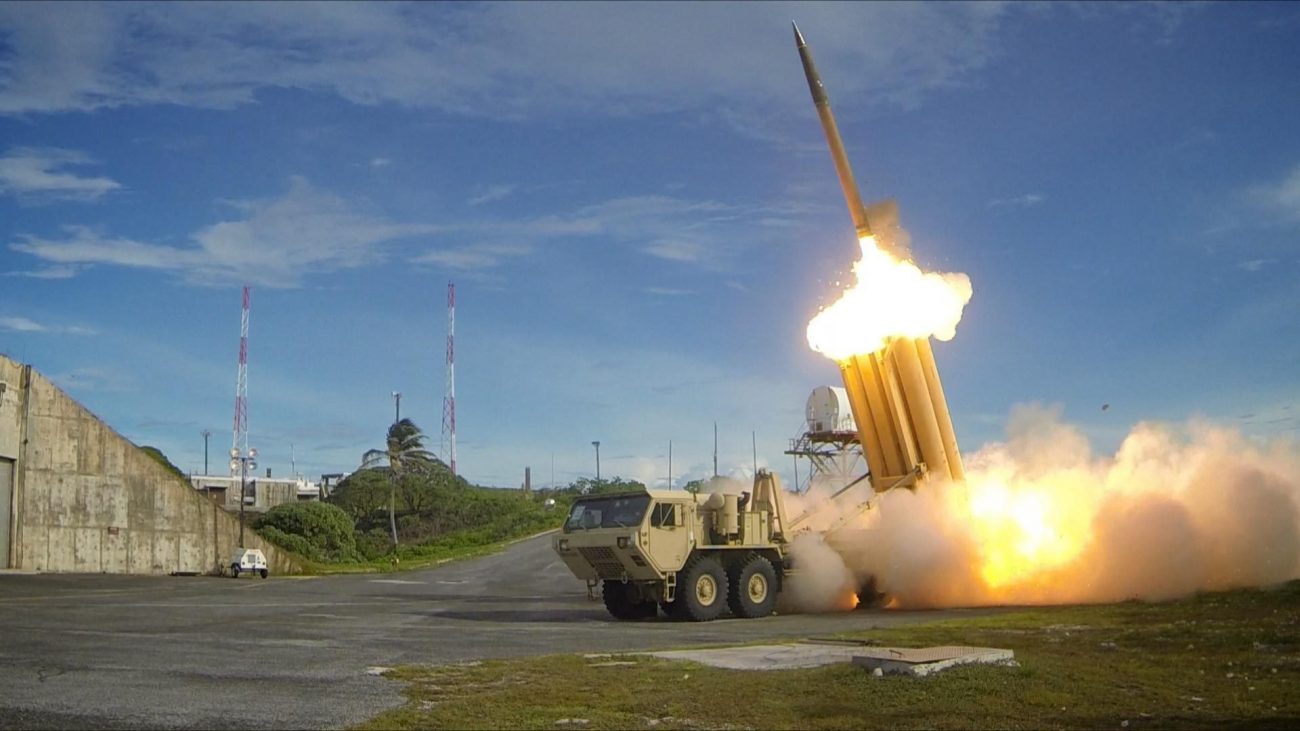 This comes amid the recent test launches in North Korea on February 26 and March 4 which Pyongyang said were focused on developing a reconnaissance satellite but the US has alleged that those tests were experimental launches to evaluate the new Inter-Continental Ballistic Missile (ICBM) system before conducting a full-range ICBM test-launch.
The PAC-3 MSE is the most advanced interceptor of the Patriot missile system, a lower-tier surface-to-air missile (SAM) system produced by Raytheon and Lockheed Martin that can counter tactical ballistic missiles (TBM), cruise missiles, loitering munitions, and advanced aircraft.
Integrating Patriot With THAAD
While, THAAD is an anti-ballistic missile defense system designed to shoot down short-, medium-, and intermediate-range ballistic missiles in their midcourse stage and terminal phase (descent or re-entry) by intercepting with a hit-to-kill approach. It is produced by Lockheed Martin.
The PAC-3 MSE has an operational range of 40 km and can intercept targets at altitudes of up to 24.2 km whereas interceptors from THAAD system have an operational range of more than 200 km and can hit the targets at altitudes of up to 150 km.
"Having upper-tier and lower-tier interceptors within one battery expands the battlespace, increases the area of defensive coverage, and adds flexibility to combatant commanders in how they use the systems," Arnold noted.
Also, THAAD AN/TPY-2 radar can detect targets at much farther distances than the PAC-3 system's AN/MPQ-65 or AN/MPQ-65A radar. So, the general idea is to use the THAAD radar to get more out of the PAC-3 MSE weapon fired from Patriot units.
Multiple tests have been conducted so far to successfully integrate the two systems. For example, in a previous test conducted in October 2020, the THAAD AN/TPY-2 radar detected and tracked a Black Dagger target missile and provided that information to the Patriot system, which then launched a PAC-3 MSE to destroy the target.
The February 24 test was an improvement over the last one as it only required the need for the Patriot launcher and interceptors — and not its fire control system (FCS).
The Army and MDA have been working for over the past several years to integrate THAAD and Patriot in the wake of an urgent operational need from the United States Forces Korea (USFK) – a sub-unified command of US Indo-Pacific Command stationed in the Korean peninsula – for a defensive capability against the rising missile threat from North Korea.
Retd. Brig. Gen. Randy McIntire, the former cross-functional team lead for AMD, told Defense News in a March 14, 2018 interview that THAAD and Patriot are both deployed on the Korean peninsula and the integration effort is to take advantage "of the great radar that is part of THAAD to increase the battlespace of Patriot".
Over the past decade, North Korea has amassed a wide array of offensive missile systems such as KN-23 Short Range Ballistic Missiles (SRBMs) and KN-25 600mm caliber super-large long-range artillery. KN-23s and KN-25s can operate below the effective altitude of THAAD and can hit all areas of South Korea and reach parts of Japan.
Therefore, the best countermeasure for such threats is to integrate THAAD with other weapons systems like Patriot missiles, thereby providing the combatant commanders with the capability to deploy the right missile for the right threat at the right time.
"We're wrapping up that urgent operational need and we'll get that out the door soon," Vice Adm. Jon Hill, MDA director, said on March 9 at the McAleese & Associates defense conference in Washington. "We're pretty stoked about that."
THAAD is also deployed to Guam and Japan, while Patriot systems are spread across the world. Some experts have suggested that if the THAAD systems in Japan and Guam are upgraded in the same way as anticipated for the South Korean THAAD, then they could all be linked automatically via the Alaska Central Command Center known as regional missile defense.