NATO partner nations have made it clear that they will not send troops to fight in Ukraine, which is facing full-blown Russian military strikes. However, that hasn't stopped them from chalking out a contingency plan to tackle a possible spill-over of the crisis into Europe.
Days after the Russian invasion began, the US Air Force revealed that its F-35s flew over Eastern Europe and even carried out refueling flights in the area.
On February 27, an F-35 stealth fighter flew from Germany's Spangdahlem Air Base to Southeastern Poland. The US Air Force flew two F-35s and a KC-Stratotanker in the airspace a day later, Business Insider reported.
"The track of the F-35 shows that the aircraft operated close to the border with Ukraine, possibly pointing its ESM (Electronic Support Measure) sensors at the Russian forces in Ukraine or Belarus, or simply flying an armed patrol as many of the other NATO aircraft are doing these days," the report said.
On March 4, NATO rejected Ukraine's calls for help to protect its skies from Russian warplanes but promised more sanctions to punish Russian President Vladimir Putin. "We are not part of this conflict," NATO Secretary-General Jens Stoltenberg was quoted as saying by Reuters.
"We have a responsibility as NATO allies to prevent this war from escalating beyond Ukraine because that would be even more dangerous, more devastating and would cause even more human suffering," he said following a NATO meeting in Brussels.
I've geolocated one of the images (taken on February 28th) to above the Polish town of Kozienice. A public ADSB track of a KC-135 of the 100th ARW from the same day also matches that location showing the F-35A was ~140 km from Belarus and Ukraine when the image was taken. 2/4 pic.twitter.com/BdxsHJcldk

— IntelWalrus (@IntelWalrus) March 1, 2022
Ever since the possibility of a Russian invasion became imminent, NATO allies have mobilized their resources and stationed them in Eastern Europe. Ukraine shares a border with Poland, a NATO ally.
Previously, at the height of Russian buildup along the Ukrainian border, a dozen F-35A fighter jets and 350 airmen from Hill Air Force Base in Utah had arrived in Germany.
JUST IN: The Pentagon says it is moving "up to eight" F-35 fighter jets "to several operating locations along NATO's eastern flank." It's also sending 20 AH-64 Apache attack helicopters "to the Baltic region" and 12 Apaches to Poland. #Ukraine

— Marcus Weisgerber (@MarcusReports) February 22, 2022
Later, six F-35 fighter jets from Germany's Spangdahlem Air Base were dispatched to NATO's eastern front on February 22 and arrived in the Baltic and Black Sea regions on February 24 to reassure allies as Russian forces advanced into Ukraine.
During a Bomber Task Force operation in the Black Sea region, a B-52 from Minot Air Force Base, North Dakota, also flew with Polish fighters, according to Air Force Magazine.
F-35 Took To Skies In Full Stealth Mode
A day after reports had first emerged about F-35 flying near Ukraine, US Air Force F-35A fighter jets from Hill Air Force Base flew over Poland once more to support NATO's collective defense.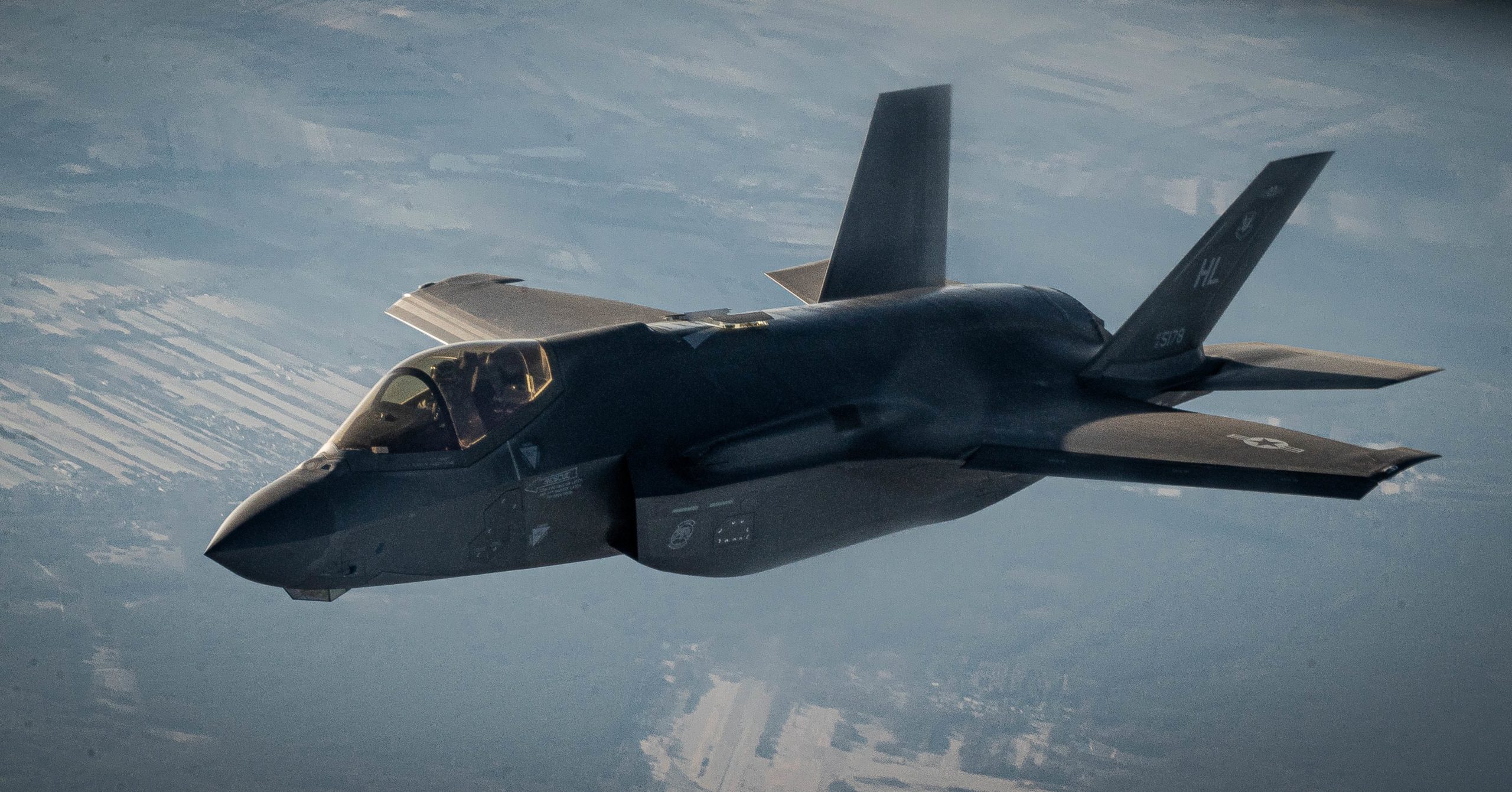 Two Lightning II planes receive AAR (Air-to-Air Refueling) from a KC-135 Stratotanker of the 100th Air Refueling Wing operating out of Ramstein AB, Germany, according to photos published by the 86th Airlift Wing/Public Affairs.
The photographs also reveal that the F-35s were missing the RCS (Radar Cross Section) enhancers and radar reflectors that are routinely deployed during peacetime operations, stated Business Insider.
That would indicate that the F-35 was in its "stealthiest configuration," which could be very notable. The significance of the breakthrough was explained by David Cenciotti of TheAviationist.
"Stealth aircraft, such as the F-22 Raptor or the F-35 Lightning II 5th generation jets are equipped with Luneburg (or Luneberg) lenses: radar reflectors used to make the LO (Low Observable) aircraft (consciously) visible to radars," Cenciotti wrote.
"These devices are installed on the aircraft on the ground and are used whenever the aircraft don't need to evade the radars: during ferry flights when the aircraft also use the transponder in a cooperative way with the ATC (Air Traffic Control) agencies; during training or operative missions that do not require stealthiness; or, more importantly, when the aircraft operate close to the enemy whose ground or flying radars, intelligence gathering sensors."
The Lockheed Martin F-35 was designed to carry a variety of weapons. Its stealth capabilities make it a perfect platform for penetrating protected airspaces and knocking out defenses. It can accommodate 5,000 pounds of weapons and bombs inside even in this mode.
The F-35 can carry 5,700 lbs of internal cargo in stealth mode, and 22,000 pounds of air-to-air and air-to-ground missiles in "beast mode."
This is perhaps the first time US or allied F-35s were seen flying near hostile airspace without radar reflectors, according to National Interest.
F-35 stealth fighters are the US military's prized possession. Besides the US, some NATO members as well as a few of America's allies use this fifth-generation combat jet. Even though NATO has not sent any F-35 fighter jet to Ukraine for assistance or as aid, it is preparing for any contingency.
Military Assistance To Ukraine
While the war in Ukraine rages on, governments from all over the world have given military assistance to the Ukrainian government in its struggle against Russia's invasion.
In an unprecedented decision, European Commission President Ursula von der Leyen stated that the EU would fund a total of €450 million in weaponry purchases and deliveries to Ukraine.
Germany will provide 1,000 anti-tank rocket launchers, 500 Stinger surface-to-air missiles, nine Howitzers, 14 armored vehicles, and 10,000 tons of fuel to Ukraine, breaking its long-standing foreign policy of prohibiting any transfers of lethal weapons to conflict zones.
Sweden also announced that it would provide anti-tank weapons to Kyiv. For its part, France has pledged defense equipment and fuel support.
Yesterday I announced the historic decision that Sweden, in coordination with partners, will send military aid to Ukraine, including anti-tank weapons, helmets and body armour. EU is united in solidarity with Ukraine.

— SwedishPM (@SwedishPM) February 28, 2022
Belgium and the Netherlands will also contribute weapons and protective gear, with Brussels committing 2,000 machine guns, 3,800 tons of gasoline, 3,000 more automatic rifles, and 200 anti-tank weapons, among other things.
Portugal, the Czech Republic, and Romania are sending military equipment to Ukraine's defense as well.
Bulletproof jackets and helmets, as well as night-vision goggles, grenades, and ammunition of various calibers, have been offered by Portugal.
A total of 30,000 handguns, 7,000 assault rifles, 3,000 machine guns, and several dozen sniper rifles, as well as one million rounds of ammunition, are being sent from the Czech Republic. Fuel, body armor, helmets, ammo, and other military equipment are being supplied by Romania.
In an "extraordinary action," US Secretary of State Antony Blinken unveiled a new €350 million military aid package for Ukraine, boosting Washington's total military funding to Ukraine to roughly €1 billion over the past year.
Ukraine has specifically requested Javelin anti-tank missiles, which will be included in the shipment, according to US President Joe Biden.
Finally, Canada announced the delivery of military protection gear, including helmets and bulletproof vests, as well as anti-tank weaponry systems and enhanced ammunition.