To support NATO's "air shielding" operations and to increase deterrence against potential Russian threats, the US Air Force is deploying its top-of-the-line F-22 Raptors to Lask, Poland.
Weeks After F/A-18 Accident, US Navy's MH-60S & MH-53E Helicopters 'Knocked Out' At Norfolk Naval Station
On July 26, six F-22 Raptor stealth fighters from the US Air Force arrived at RAF Lakenheath, UK, on their way to Poland.
The US Air Force confirmed the F-22s' arrival in a press release, announcing that they would be flying from Lakenheath to the 32nd Tactical Air Base in Lask, Poland, to support NATO's air shielding mission. 
The fighters are from the 90th Fighter Squadron of the 3rd Wing at Joint Base Elmendorf-Richardson, Alaska.
In a July 17 interview with Air Force Magazine, the newly appointed USAFE commander Gen. James B. Hecker hinted about the F-22s' appearance in Europe at the Royal International Air Tattoo. 
Hecker stated that the USAF would send over F-22s within a month. The recent NATO summit in Madrid, where leaders outlined a new security strategy that considers the situation caused by Russia's unprovoked invasion of Ukraine, resulted in plans to strengthen European defenses. 
The local media reports also confirmed the arrival of six F-22s at RAF Lakenheath. The fighter jets will be tasked with assisting a new NATO mission once they land in Poland.
Air shielding drills aim to defend NATO countries against air and missile threats using airborne and ground-based air defense resources. The Air Force praised the Raptor's capabilities for the mission, claiming that it can offer lethality and survivability against any new, advanced threats. 
The F-22 Raptor is considered the first fifth-generation fighter. The F-22 is equipped with a 20 mm cannon, six AIM-120 radar-guided air-air missiles, and two AIM-9 infrared air missiles for air-to-air combat. The fighter can also be armed with two 1,000-pound Joint Direct Attack Munitions for air-to-ground combat.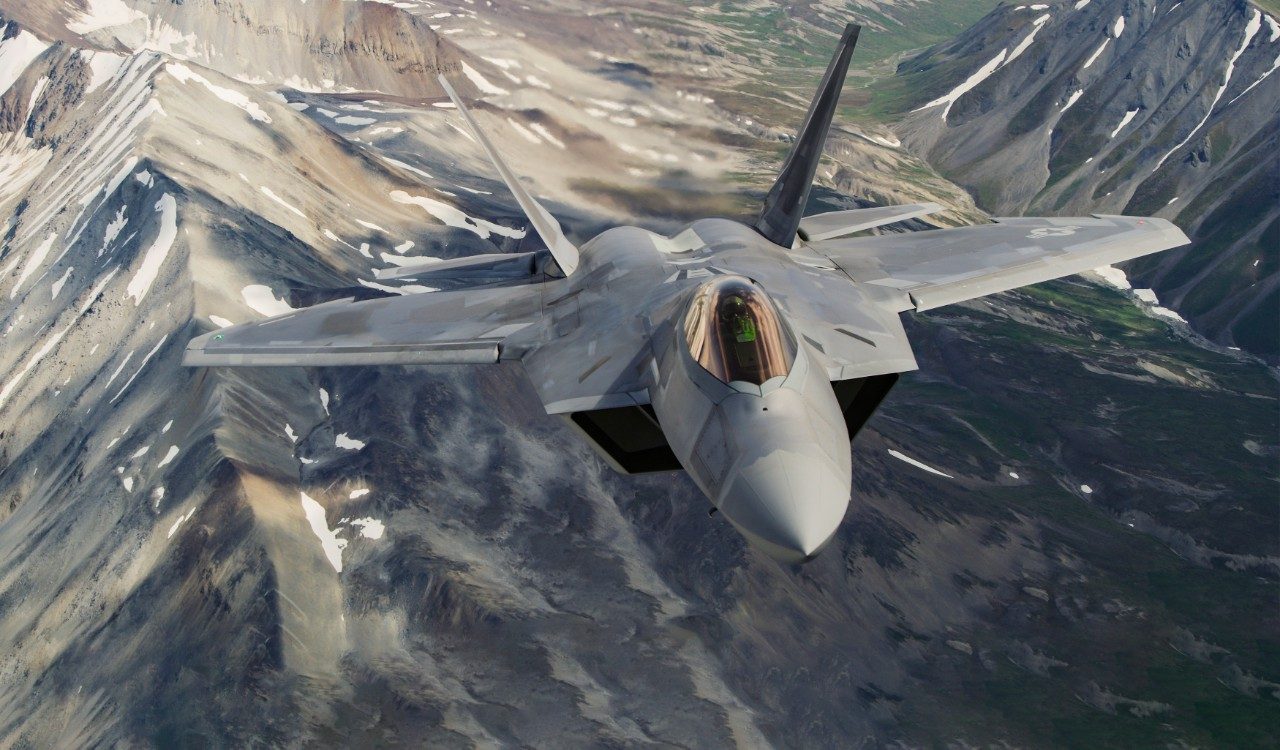 The air shielding mission provides NATO's eastern borders with additional air and missile defense capabilities beyond those already in place before Russia invaded Ukraine in February.
According to the US Air Force, the air shielding acts as a barrier "from the Baltic to the Black seas."
The US Increases Its Presence In Eastern Europe
This is the latest in a series of deployments of US fighters to eastern Europe in an attempt to safeguard NATO allies on the eastern flank. In early July, the air shielding mission was supported by the forward deployment of F-35s from the Vermont Air National Guard to Amari Air Base, Estonia. 
Warning To China? Taiwan Releases Terrifying Images Of Its 'Secret Underground Tunnel' With F-16 Vipers & Harpoon Missiles
Before that, the Air Force deployed F-15s, F-16s, F-35s, and other aircraft to Eastern Europe to participate in NATO's air policing missions.
Furthermore, Marine F/A-18 Hornets from the 2nd Marine Aircraft Wing (MAW) have also been "deployed to enhance NATO's capabilities in Eastern Europe at the invitation" of Poland. 
US Marines carry out maintenance work on F/A-18C Hornet assigned to VMFA-323 at 33rd Air Base, Powidz, Poland, June 22. VMFA-323 is deployed to Poland to provide defensive counter-air support to NATO Allies and partners. pic.twitter.com/DovhEV9tZQ

— Ryan Chan 陳家翹 (@ryankakiuchan) July 6, 2022
The Air Force's strategy to maintain alertness as the Russia-Ukraine war rages on includes continuously rotating new aircraft into the region.
Poland has emerged as a critical location to ship foreign arms and other military supplies into Ukraine. The country has also supplied various weapons like tanks and howitzers to Ukraine.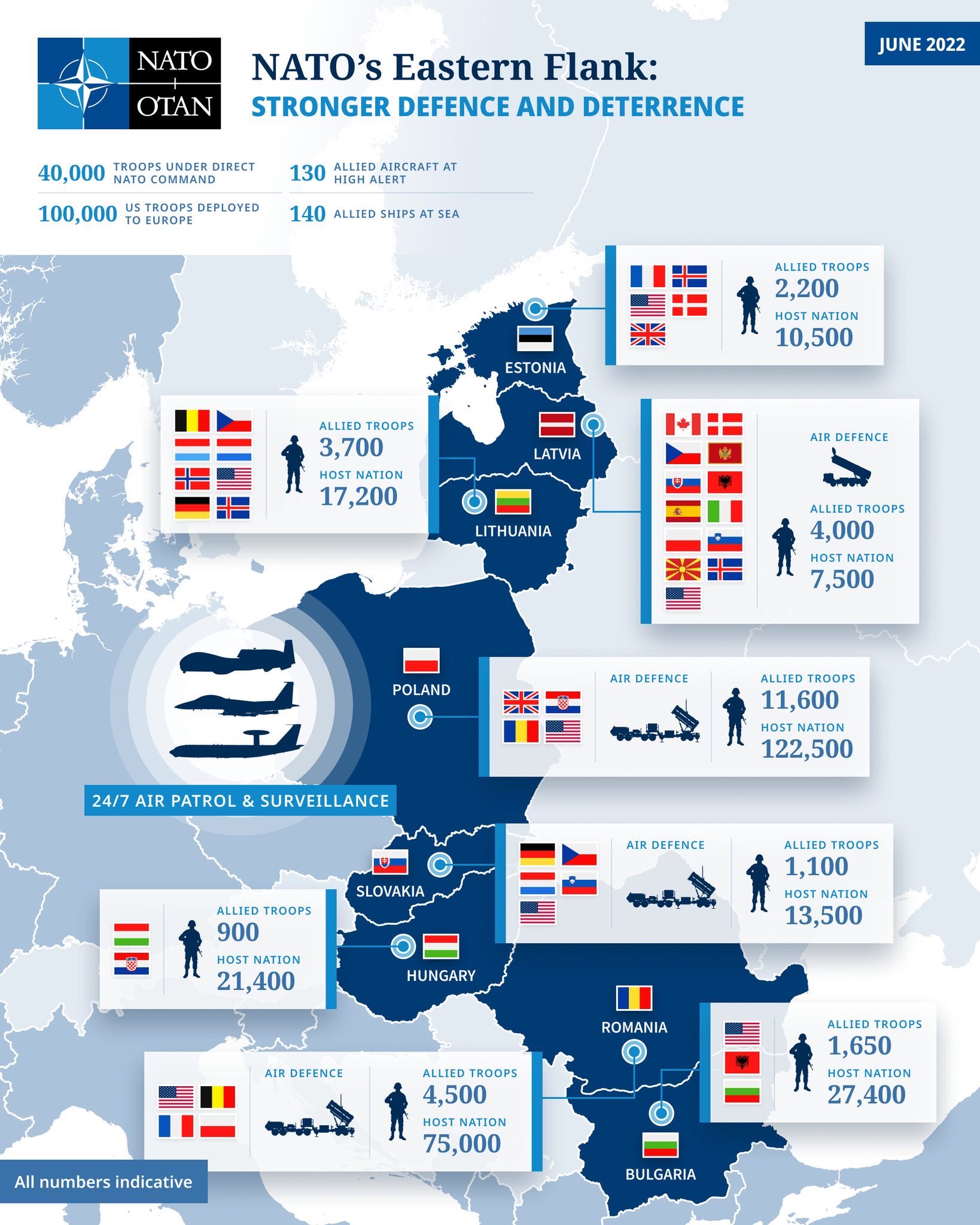 Throughout the Ukrainian conflict, Russia has fired more than 30 rockets at the Yavoriv International Peacekeeping and Security Center, which is only 15 miles from Poland. This is just one example of Russia targeting Ukrainian assets dangerously close to the Polish border.
The Polish government is also attempting to strengthen its defenses by acquiring South Korean tanks, howitzers, aircraft, and the US M1 Abrams main battle tanks.
The US announced that it would expand its forces across the region, establishing a permanent presence in Poland comprising the Forward Command Post for the V Corps Headquarters, the Army Garrison Headquarters, and a Field Support Battalion.  
The Defense Department then said in a statement that this will be the "first permanent US forces on NATO's Eastern Flank" and that they will be backed by continuous support for rotational forces in Poland, including "an Armored Brigade Combat Team, Combat Aviation Brigade element, and Division Headquarters element." 
The US is deploying more troops and sophisticated weapons along NATO's eastern flank. Still, it does not intend to participate in the conflict between Russia and Ukraine directly.