The central committee of China's ruling Communist Party has urged both civilians and servicemen to rally around President Xi Jinping, in a rare declaration published Thursday amid rising tensions with the US.
PLAAF's 'Deadly Combo' Of J-16D EW Aircraft & Stealth J-20 Jets Flexed Muscles During War Drills — Chinese Media
The core political body released the document — the third of its kind in the party's centennial history — at the end of a four-day meeting, which precedes the 2022 national congress.
"The Central Committee calls upon the entire Party, the military, and all Chinese people to rally more closely around the Central Committee with Comrade Xi Jinping at its core, to fully implement Xi Jinping Thought on Socialism with Chinese Characteristics for a New Era," it reads.
The governing party established Xi's central position as general-secretary of both the Communist Party and the central committee to reflect the will of the party, the armed forces and the Chinese people of all ethnic groups to drive forward the national rejuvenation, the document said.
Xi, who also chairs the Central Military Commission, the country's high military command, is expected to have his term prolonged for another five years at the 2022 National Congress after the party removed the two-term limit on the presidency in 2018.
China's Growing Belligerence
Recently, Pentagon spokesperson John Kirby said the US is concerned with the "intimidation" and "coercive behavior" of China in the Indo-Pacific while commenting on media reports of Chinese using mock-ups of American ships for missile target practice.
"What we are concerned [about] is the increasing intimidation, coercive behavior of the Chinese military in the Indo-Pacific," Kirby told journalists.
Chinese Foreign Ministry spokesman Wang Wenbin denied media reports and said he was unaware of alleged mock-ups shaped like US Navy ships in China's Xinjiang province.
Chinese PLA Practices 'Sinking US Ford-Class Aircraft Carrier' With DF-21D Ballistic Missile; Beijing Opens Up
Meanwhile, the US Naval Institute (USNI), an independent military news forum, recently published photos provided by satellite imagery firm Maxar, allegedly showing full-scale outlines of a US aircraft carrier and at least two Arleigh Burke-class destroyers in the Taklamakan desert in the country's northwest. The mock-ups are reported to be made for missile target practice.
There are also reports that Beijing is making significant progress on its newest aircraft carrier, which could be launched by the start of next year. This information was widely circulated in the US media, with claims that it will be ready within three to six months.
There are only two aircraft carriers are currently in service with China's PLA Navy. The Liaoning aircraft carrier was built using the hull of an older Soviet ship, while the second one – Shandong is a Chinese-made model of that initial ship with significant improvements.
The Center for Strategic and International Studies (CSIS), a US-based think tank, posted satellite photographs on Nov. 9 of what seems to be China's third aircraft carrier model, which is largely built at the Jiangnan shipyard in Shanghai, China.
Steady progress on the construction of China's third aircraft carrier has continued throughout 2021, and the vessel—commonly known as the Type 003—may launch in the coming months.

Learn more here: https://t.co/W76Jc6SzNV pic.twitter.com/CQFkTBOo8J

— CSIS (@CSIS) November 10, 2021
According to CSIS, the placement of significant external and internal parts, such as power plants and the aircraft launching system, seems to be completed or near completion. Only a few more equipment, such as radar and armament systems, must be added before the ship can enter the Yangtze.
CSIS noticed two major openings in the flight deck for the placement of massive machinery and components that have lately been sealed up, and temporary work tents have been placed over the deck areas for catapult deployment. The ship will be China's third aircraft carrier, designated Type 003, and the second to be developed locally once it is completed.
China currently possesses two aircraft carriers, both of which are based on the Soviet Union ski-jump ramps at the bow. Their ability to deploy effective fighter missions is hindered by a shortage of catapults, which are required to accelerate and launch heavier-laden aircraft.
Aircraft launched by catapults can take off swiftly and carry more fuel and ammunition, providing them an edge over planes launched from a ski jump, which must rely on their own strength to take flight.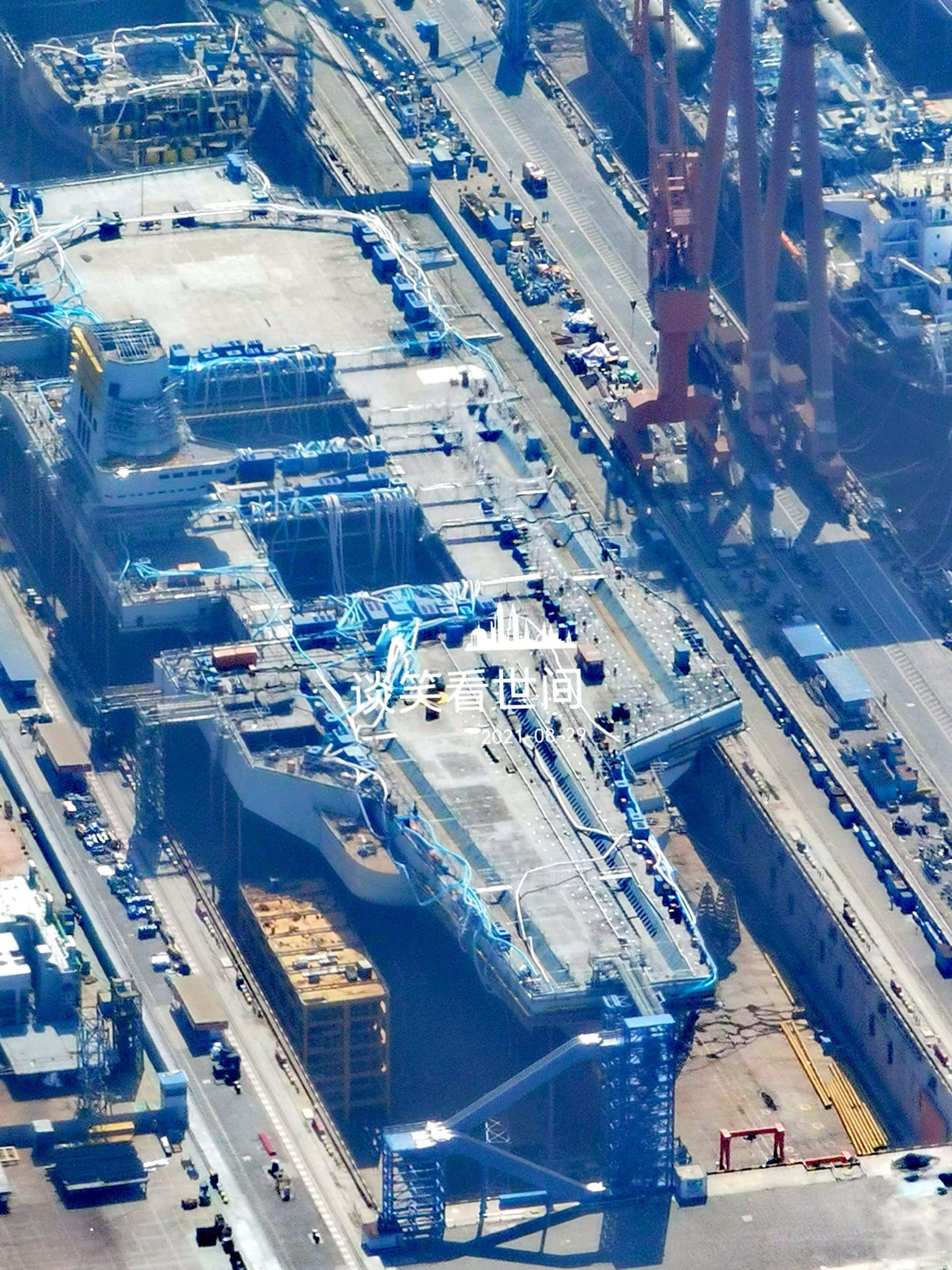 Having a new launching system will further help China to deploy a combination of different planes including airborne early-warning and control craft, tankers, and electronic-jamming planes. China's third aircraft carrier is intended to enhance its carrier capabilities and place it among the world's most formidable navies.
According to the Pentagon, the Chinese People's Liberation Army Navy also called PLAN is an increasingly dynamic and adaptable force with 355 ships and submarines.  The report further stated that China is set to continue developing aircraft carriers as it expands its naval force in the face of geopolitical competition with the United States.
According to a May 2020 Congressional Research Service Report, "By 2025, PLAN is expected to have 400 ships and three to four aircraft carriers."
China's Response To US
China's state media has criticized the US media for exaggerating the progress of China's aircraft carrier and anti-carrier capabilities in order to raise military financing and mobilize allies.
Global Times further accused US media outlets of spreading the "China threat theory," claiming that both China's aircraft carrier development and anti-carrier capabilities put enormous strain on the US' selfish hegemony.
Global Times further adds that these reports aim to increase US military funding and defame China amongst US allies, but they can't stop China's legitimately justifiable national defense growth as the country expands.
Li Jie, a Beijing-based naval expert, told the Global Times that the Aircraft carriers will enable the Chinese Navy to safeguard its national sovereignty in the South China Sea, particularly in the face of the USA's provocative actions in the area.
He went on to suggest that in order to meet these objectives, China will need to build more aircraft carriers rather than just one or two.
According to Song Zhongping, a Chinese military analyst and TV commentator, aircraft carriers are critical pieces of equipment that help China to establish a blue-water and strategic navy. Song further stated that China is under great external pressure to protect its sovereignty, security, and development interests, particularly from the United States.