On August 2, 2023, the US Air Force F-22 Raptors participated in multidomain air missions, alongside RAAF F-35A Lightning IIs, during Talisman Sabre 2023 at Royal Australian Air Force Base Curtin, Australia.
In a statement released on August 3, the Pacific Air Forces Public Affairs mentioned that RAAF Base Curtin, a remote airbase in the North West of Australia, was activated for the exercise to showcase the Air Force's Agile Operations concepts. 
The service further disclosed that they partnered with the Australian Air Force to successfully conduct "high-end, high-tempo, multidomain air missions," with the participation of US Air Force F-22 Raptors and RAAF F-35A Lightning IIs operating in close coordination.
The USAF also published an image featuring a US Air Force F-22 Raptor belonging to the 199th Air Expeditionary Squadron, recognized as the Hawaiian Raptors Squadron, comprising the 19th and the 199th Fighter Squadrons, conducting taxi maneuvers at Royal Australian Air Force Base Curtin on August 2, 2023. 
Wing Commander Lauren Flaherty, the Curtin Air Base commander, explained, "We have both a real-time support function to enable the aircraft deployed here to fly, but at the same time, we are working under a simulated high-threat environment."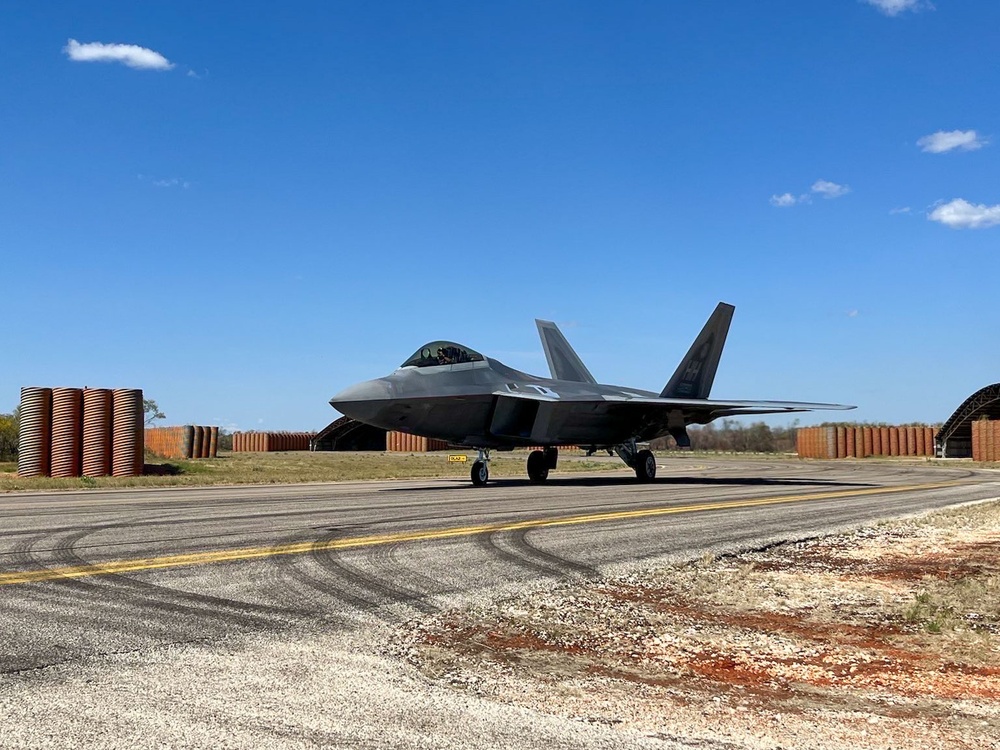 "Talisman Sabre is really about exercising our training objects, opening an air base, operating that air base, and projecting air power under all conditions," Wing Commander added. 
RAAF Base Curtin, nestled in the remote northern corner of Western Australia, typically operates as a contingency air base with a modest staff of around ten people throughout the year.
However, in response to the ongoing multinational exercise, Exercise Talisman Sabre, nearly 500 aviators from the Combat Support Group (CSG) have collaborated to deploy a wide range of capabilities, effectively activating the base for the exercise.
"It's taken a significant period of time and effort across all of CSG to activate RAAF Base Curtin to this level," Wing Commander Flaherty said.
Australia issued a press release titled "Sleepy air base comes to Life," highlighting the challenging exercise scenario faced by the CSG team at Curtin. This scenario tests their ability to sustain a high-tempo air operations rhythm while simultaneously defending the airfield from simulated attacks. 
Agile Operations Concepts
In response to emerging threats from China, North Korea, and Russia, Pacific Air Forces (PACAF) recently devised the Agile Combat Employment (ACE) concept.
This approach was developed due to the increasing risks Air Force assets face resulting from fewer main operating bases in the region and the emergence of new technologies utilized by potential adversaries.
The proposed solution, championed by Brown, the PACAF commander at the time, was to adopt a "light, lean, and agile" strategy.
This involved spreading forces across a wider array of locations, achieving two main objectives: reducing the vulnerability of the USAF to threats and enhancing the unpredictability of potential adversaries.
During Talisman Sabre 2023, the US Air Force and Royal Australian Air Force (RAAF) conducted agile operations and force generation training in the Northern Territory, Western Australia, and the Indian Ocean.
During #TalismanSabre2023 Australia's Top End provided a world-class airspace where Australian and United States Air Force aviators built on partnerships and interoperability in an agile, high-end and multi-domain environment. pic.twitter.com/Hnw5zuW5Nu

— Talisman Sabre (@TalismanSabre) August 3, 2023
The pivotal aspect of agile operations lies in the ability to generate and deploy advanced fifth-generation airpower from remote and austere locations, and this remains a crucial objective for both the US Air Force and the Royal Australian Air Force in the Talisman Sabre 23.
"Whether we're training at a Red Flag, or we're back for a Talisman Sabre or a Pitch Black, it is great just being here and seeing the Royal Australian Air Force execute the mission," said Lt Col Paul Lopez, 199th Air Expeditionary Squadron commander. 
"We have a chance to share best practices and refine how we, as a team, generate, sustain and execute airpower at a scale that we've never seen before," Lt Col Paul Lopez noted. 
Notably, this edition of Talisman Sabre marked the first execution of bilateral fifth-generation aircraft sorties from the remote base at Curtin. 
The training conducted at Curtin provided USAF and RAAF members with invaluable exposure to diverse scenarios, ranging from first responders to airfield operations, all while maintaining a continuous sortie generation process. 
That being said, with the participation of 30,000 military personnel, this year's exercise stands as the largest of its kind, underscoring the significance that countries in Asia and Europe place on fostering collaborative military training in the face of China's assertive actions in the region. 
Initially established as a joint US-Australia exercise, Talisman Sabre has expanded its scope over the years, evolving into a larger, more comprehensive military undertaking.
A series of collaborative activities occurred during the exercise, exemplifying the multinational engagement and mutual benefits of joint training.
In particular, US Marines engaged in an amphibious assault exercise alongside Japanese and German forces, fostering interoperability and shared expertise. 
Additionally, Australia witnessed the first-ever HIMARS missile launch, and German tactical air controllers effectively coordinated a US AC-130 to conduct live munitions fire. The exercises also extended to the sea, with warships from various countries conducting joint operations.