OPED By Gp Cpt TP Srivastava
US military withdrawal from Afghanistan ushered in a new era in the Indian sub-continent: the absence of the US Military from the sub-continent. But is the absence temporary? Will the US administration review the decision and maintain 'US boots' in the sub-continent elsewhere?
US Military Aircraft 'Roars & Soars' Over Taiwan Strait As Chinese Fighter Jets Watch Like A Hawk
No clear-cut answers can be given (perhaps to the latter question), but the US has never lost an opportunity to operate from our backyard – Pakistan.
Be it on the pretext of monitoring the USSR nuclear and missile program during the Cold War era or sending weapons and financial aid 'through' Pakistan to Afghan Mujahedin fighting the USSR military.
The US has always jumped at the opportunity to maintain its presence in Pakistan by placing USAF resources. US Army/Marines have not yet operated from within Pakistan.
USAF In Pakistan
The most notable USAF presence was at the Badaber air base of PAF near Peshawar, operating U-2, the most advanced surveillance aircraft of its era, in fact, even today.
U-2 operations suddenly ended on May 1, 1960, when Gary Powers was shot down over the USSR and taken prisoner. Despite 61 years having passed, the Skunk Works hangar at Badaber Airbase remains locked and keyed by Americans.
What is, however, not known in the public domain is that former Pakistani president Gen Pervez Musharraf allowed USAF operations from Samungli, Shamsi, Dalbandin, Pasni, and Jacobabad from 2001 to 2014.
While the US administration was deliberating on withdrawal from Afghanistan, it was also deliberating (read negotiating) with Pakistan to allow US Military elements to operate from Pakistan territory, particularly PAF bases. Although there is no confirmation yet, it is extremely likely to keep evolving close ties of Pakistan with China and Russia in view.
Post-Afghanistan Withdrawal Situation
Rumors are rife after the commander of Central Command, General Kenneth Mckenzie, told US Senate that some elements of the US military will continue to remain stationed 'nearby' Afghanistan.
Although McKenzie did not name Pakistan, he stated, "Biden administration is busy consulting several landlocked country's neighbors to keep Islamic State (IS) and Al-Qaeda militants in check through counter-terrorism operations from 'outside' Afghanistan."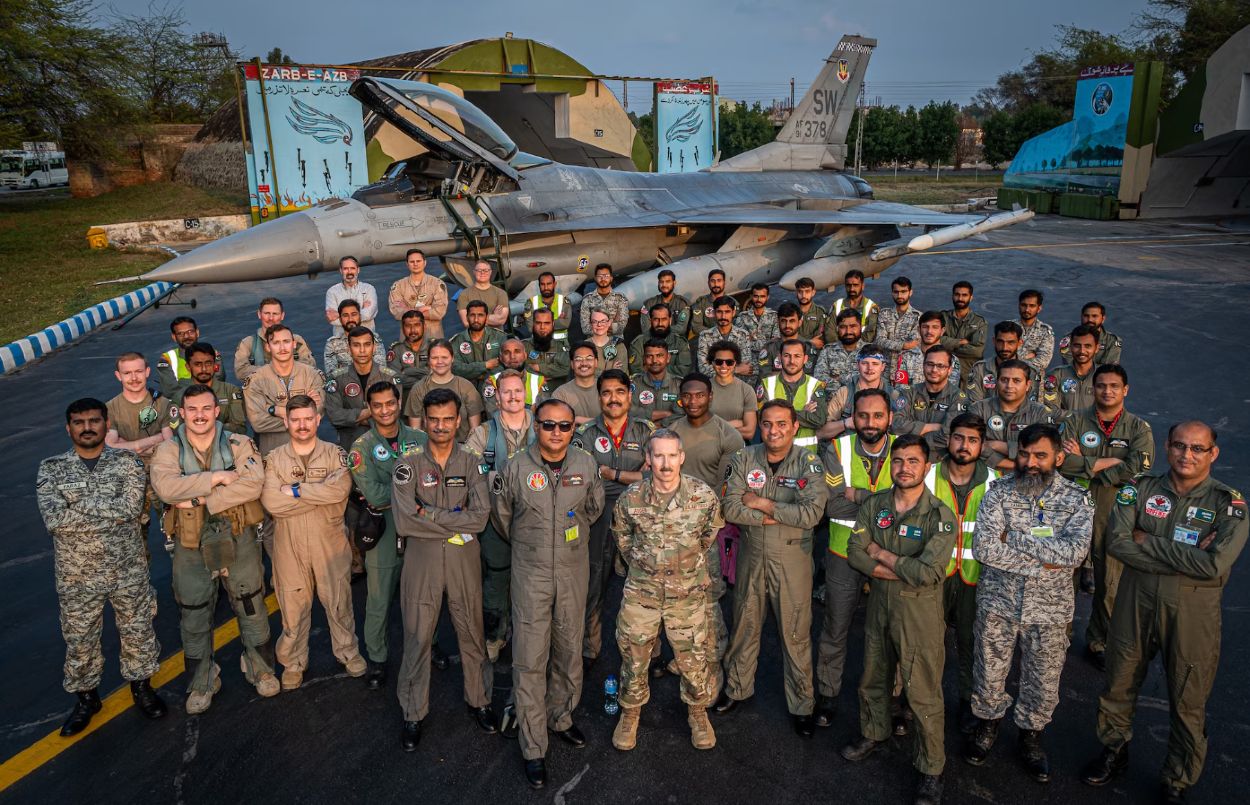 McKenzie also advised Pakistan that the regrouping/strengthening of Taliban and Al-Qaeda would be detrimental to peace and development in Pakistan. Details of the telephonic conversation between US Defense Secretary Lloyd Austin and the Chief of Army Staff (CoAS) of the Pakistan Army are not in the public domain yet.
However, it is inferred that they might have discussed measures to handle situations arising out of US troops' withdrawal from Afghanistan.
It is pertinent to state that during his first interaction with the press after assuming the appointment of Defense Secretary, Lloyd Austin had made the categorical assertion that US-Pakistan relations are important. Kamala Harris had also expressed similar sentiments during her first interview after assuming the charge of VPOTUS.
Options Open To Pakistan
Pakistan has, however, categorically denied that it would provide the US military the facilities to operate from Pakistan territory. Significant events have taken place in Pakistan recently.
Feverish activity is going on to make Nasirabad airbase (Balochistan) functional. The latest satellite imageries have confirmed the development of the Nasirabad airbase.
Whether it has been offered to USAF will be known in a few months. Jacobabad airbase (Sindh) has served as the logistics hub to support US and allied forces since 2001, F-16s in particular. Unconfirmed reports indicate that US representatives discussed the issue with Pakistan authorities in Doha.
Pakistan will find it difficult to accede to the US request because of extremely close relations with China and developing bonhomie with Russia. It must weigh immediate and short-term gains vs. long-term benefits of continued association with China.
China and Russia might view cozying up with the US as providing 'extra legs' to US Indo-Pacific strategy. China will be opposed to such developments. During the Trump era, there has been no military-to-military cooperation between the US and Pakistan.
Deft handling would require the Pakistan government to allow/deny operating base/s to the US. China, Russia, and Iran will almost certainly react adversely if the US military is allowed to operate from Pakistan bases. However, pressure from Saudi Arabia might convince Pakistan to accede to the US request.
China's adverse reaction might be discontinuing the development of the China-Pakistan Economic Corridor and the JF-17 program. A closer examination would reveal that China has invested heavily and cannot discontinue either program.
Pakistan will gain substantially by providing an operating base to USAF. It might succeed in the US agreeing to release the blocked weapons sales and additional F-16s.
US Deliberations
During the Obama administration era, the US had sought India's views on placing 'Indian boots' in Afghanistan, to which India had declined. However, developing military equipment sales cleared by the US to India recently might have a hidden cost in the long run.
With QUAD assuming the status of a military association, claims to the contrary notwithstanding, US Navy will need a place in the Indian Ocean Region for rest, recuperation of personnel, and replenishment of ships/submarines. The US is in Diego Garcia, which is too far to the south.
Will the US be able to convince/coerce India into granting naval facilities to US Navy? If it happens, it will be a landmark strategic event.
Global Situation
International politics is not only strange but unpredictable. Sworn enemies become bosom pals. Till around the mid-80s, Indian official passports carried a stamp inside the front cover, 'Valid for all countries except Israel and South Africa.'
2021 is different. Likewise, Pakistan, the 'terror factory of the world,' is being wooed by three 'super powers' simultaneously, each with a different agenda in Pakistan. An unthinkable proposition till a few years back might become a reality.
Chances of the US succeeding in opening the closed hangar at Badaber air base near Peshawar are not ruled out. Highly fluid and charged international scenario (perhaps) demands India to recast its policy towards allowing the US military to have a presence in India. Hopefully, India will convince the US not to reopen operations from the PAF base.
Gp Cpt TP Srivastava (Retd) is an ex-NDA who flew MiG-21 and 29. He is a qualified flying instructor. He commanded the MiG-21 squadron. He is a directing staff at DSSC Wellington and chief instructor at the College of Air Warfare. VIEWS PERSONAL OF THE AUTHOR