The US Air Force is considering a new jet trainer to hone the flying skills of its young pilots. The key idea is to train future fighter pilots in air combat by simulating fourth and fifth-generation warplanes, including the F-35.
The Air Force issued a Request for Information (RFI) on the Advanced Tactical Trainer (ATT) on October 12. The service is looking for at least 100 aircraft as part of a larger attempt to modernize the fighter training program.
The new jets, however, will most certainly be employed not only for training pilots, but they will also provide air support and serve as a "tactical fighter surrogate of existing and future United States Air Force frontline fighters".
The latest information on ATT confirms that the jet trainers will be used to assist the Reforge project, an altogether new training concept announced last year by Air Combat Command (ACC).
The tactical surrogate's aim is to create a low-cost training platform with a cockpit that is similar to that of an advanced frontline fighter jet like the fifth-generation F-35 stealth program. The present T-7A program, which covers 351 aircraft, is deemed insufficient to address all future jet training demands as foreseen under Reforge.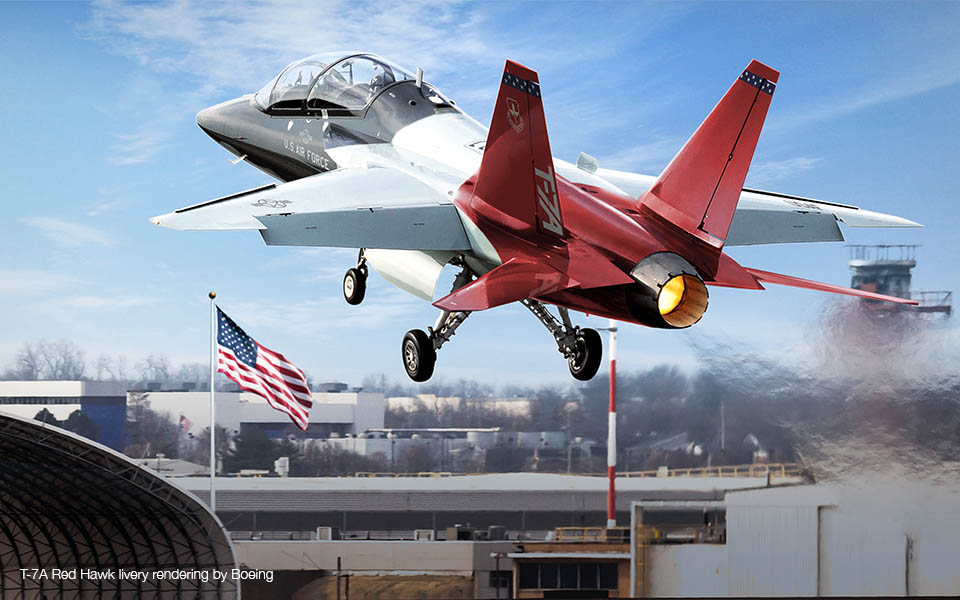 The Air Force inked a $9.2 billion contract with Boeing in 2018 to manufacture 351 next-generation trainers. The following year, the T-7A Red Hawk was introduced.
Many service leaders were enthused by the use of digital engineering, open architecture, and other revolutionary design processes, which were considered a new model for speedy and efficient aircraft development.
The T-7 is intended to replace the accident-prone T-38 jet trainer. "Every day, T-38 Airplanes are a step further away from the advanced avionics, advanced sensing, and advanced processing of modern fighters. That's why we can't fill that gap fast enough," said General Mark Kelly, head of the Air Combat Command, on October 25.
What Is USAF Looking For? 
In comparison to the T-7A, the Advanced Tactical Trainer would most likely have a distinct set of capabilities. The Air Force is proposing to have external hardpoints for training weapons, electronic warfare pods, air combat maneuvering instruments pods, and fuel tanks.
The RFI also states that an infrared search and track (IRST) sensor is being considered for the jet.
The Air Force has yet to determine a timeframe for procuring the additional jet trainers, as well as the number of aircraft that will be necessary. The RFI, on the other hand, identified a requirement for 100 new Advanced Tactical Trainers, with the possibility of further growth through following lots of 50 aircraft.
The service wants a two-seater plane with a secure, open architecture, a large-area display, and secure transmission capabilities, among other things. The military is also looking for a low-cost helmet-mounted display, an automatic ground collision avoidance system, and generators sufficient to power wing stations, antennas, and avionics stations. 
We've delivered another T-7A Red Hawk trainer aft airframe section to @BoeingDefense in St. Louis to be spliced and become a complete test aircraft for use in the flight test program. Let's go fly! #T7A #airforce pic.twitter.com/3ZjVF9gvEQ

— Saab (@Saab) July 26, 2021
In terms of the T-7A's place in the Advanced Tactical Trainer program, the Air Force has stated that it will examine "any and all vendors that can meet the necessary design", according to an Air Combat Command (ACC) spokesperson.
The T-7A's co-developers, Boeing and Saab, have already stated that the platform may be adapted for an aggressor role. Furthermore, the same airframe might be used for operational training missions similar to those carried out by a tactical surrogate type.
Future Pilots' Training
Reforge is a concept from the Air Combat Command that might have a significant impact on fighter pilot training. General Mike Holmes, the head of ACC, announced the Reforge concept in early 2019, calling for the modernization of a training operation that was still built on concepts primarily established to serve the demands of World War II.
In a column for War On The Rocks, Holmes wrote, "Pilot training in the 1930s spanned 12 months and, given the development of GPS, glass cockpits, autopilots, and digitally aided flight controls, it still lasts 12 months today." 
A future fighter pilot currently goes through a three-part Undergraduate Pilot Training (UPT) program, with the T-6A Texan II turboprop trainer being used in the second phase.
The third phase, commonly known as lead-in flight training (LIFT), comprises extra time on the T-6A before switching to the T-38 Talon jet trainer, which will eventually be replaced by the T-7A.
Step onto the #T7A Red Hawk production line where assembly has begun at our St. Louis, Mo., facility. The Boeing-@SAAB T-7A Red Hawk is the advanced trainer for future @USAirForce pilots. Let's go fly! pic.twitter.com/6ymlAHN5KK

— Boeing Defense (@BoeingDefense) February 23, 2021
Pilots then progress to the Introduction to Fighter Fundamentals (IFF) course, which is administered by a Formal Training Unit (FTU), and which provides experience with the specific frontline fighter jet they will fly.
However, as per Holmes's plan, after clearing the first two phases of UPT, future fighter pilots will go straight to their future operational fighter unit. They would continue to fly an advanced trainer aircraft after they arrived at their frontline unit before transferring to their allocated combat aircraft at the same place.
A range of projects, in addition to the primary efforts of the Pilot Training Transformation, is aimed at bringing new approaches into the pilot training system. CRAFT, which stands for Comprehensive Readiness for Aircrew Flying Training, focuses on getting a new pilot mentally and physically prepared for the job.
The US Air Force is experimenting with a variety of methods to teach its troops how to deal with stress and make better judgments, calling it the speed of sixth-generation warfare.  
T-7A Red Hawk To Be Upgraded?
Todd Harrison, director of the Center for Strategic and International Studies' Aerospace Security Project, stressed that the Air Force's RFI on another trainer does not necessarily imply that it will initiate a new program. He went on to say that the insights the Air Force gathers could help it improve the Boeing-built T-7A, allowing ACC to fly the F-35 less.
The T-7, which was built to be adaptable and upgradeable, should be prepared to accommodate it, according to Harrison. And if it means the Air Force can acquire more of their planes, Boeing has a strong incentive to adapt them to fulfill the ATT criteria, according to him. 
It's understandable that the Air Force would want to train fighter pilots in an aircraft that doesn't require time in a real fighter jet, especially the F-35, which has proven to be more expensive to fly than anticipated. 
Moreover, Having T-7A trainers stationed with operational fighter units could simply be a means to extend the life of combat jets' airframes in general, something the Air Force has already demonstrated on a smaller scale.
T-38s are assigned to units operating the B-2A Spirit stealth bomber and the U-2S Dragon Lady spy plane to assist pilots in maintaining basic flight skills and accumulating flight hours without having to fly either of these aircraft, which are exceedingly expensive to operate and restricted in number.