Six USAF F-15 Strike Eagle fighters from Royal Air Force Lakenheath's 48th Fighter Wing have recently arrived at Lask Air Base, Poland, for deterrence operations on NATO's Eastern Flank. 
---
In a statement, the Department of Defense said that F-15s of the US Air Force arrived at Lask Air Base on Nov. 27, 2022. The arrival of Strike Eagle in Poland was also announced on Twitter by the DOD on December 12. 
DOD tweeted, "Coming down the line. Six USAirForce F-15 Strike Eagles assigned to the @48FighterWing arrive at Lask Air Base, Poland, to begin deterrence operations on @NATO's eastern flank. #WeAreNATO."
Coming down the line.
Six @USAirForce F-15 Strike Eagles assigned to the @48FighterWing arrive at Lask Air Base, Poland, to begin deterrence operations on @NATO's eastern flank. #WeAreNATO pic.twitter.com/9PJsePG2w9

— Department of Defense ?? (@DeptofDefense) December 12, 2022
The 48th Fighter Wing (48 FW), which is attached to Headquarters Air Command Europe and United States Air Forces in Europe (USAFE), is a part of the Third Air Force of the United States Air Force. 
It has its base at RAF Lakenheath in England. The 48 FW, the sole F-15 wing stationed in Europe, comprises both F-15C/D Eagle and F-15E Strike Eagle aircraft. 
The 48 FW was awarded the moniker "Statue of Liberty Wing" on July 4, 1954, and it is still the only unit of the American Air Force to have both a name and a number.
The Strike Eagles have taken over the fighter mission from the 90th Expeditionary Fighter Squadron as part of an attempt by the US European Command to strengthen the collective defense posture and allied integration.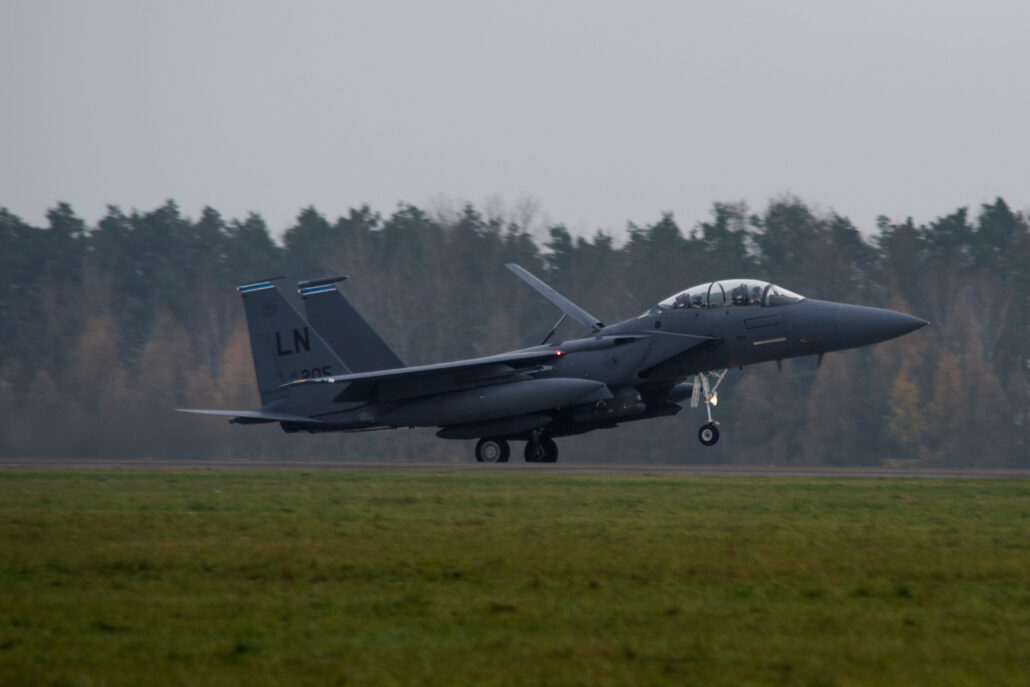 The 90th Expeditionary Fighter Squadron (EFS) has been utilizing F-22 Raptors to carry out NATO's Air Shielding mission since their first arrival in the European theater on July 27.
Following the successful deployment in support of NATO's air shielding mission, the 90th EFS has returned to Joint Base Elmendorf-Richardson, Alaska. 
The 90th EFS carried out tasks in support of US national defense priorities in addition to deterrence operations along NATO's Eastern Flank. The fifth generation of fighters carried out several Agile Combat Employment movements and alliance-building activities with European allies.
The Polish air facility provides US forces with the infrastructure and potential to support a variety of missions along the Eastern Flank, as well as via the Baltic and Black Sea regions, closer to allies and partners. Close coordination among coalition forces improves interoperability and collaboration.
NATO's Air Policing Missions
With its dual-role mission platform, the F-15E Strike Eagles can conduct both air-to-air and air-to-ground operations. In the past, RAF Lakenheath F-15C Eagles and Seymour-Johnson F-15E Strike Eagle jets rotated at Lask Air Base to support Eastern Flank deterrent operations.
The fourth-generation fighters have a longstanding experience integrating with Allied and Partner troops across Europe.
Similarly, the F-22s had also deployed to hotspots, conducting multiple missions to the Middle East in 2022. After Russia invaded Ukraine, America's footprint in Europe significantly increased, including the deployment of fifth-generation warplanes to Poland.
Poland, also hosting American ground forces, is situated directly east of Ukraine. The Air Force has a limited number of F-22s, with approximately 180 in service, and plans to phase down the fighter in the 2030s.
F-22s from Joint Base Elmendorf-Richardson were recently relocated to Kadena Air Base in Japan as the Air Force began withdrawing aged F-15Cs from the base. The withdrawal of the F-22 from Europe means that no American fifth-generation aircraft is executing NATO air policing duties in the region. 
However, fifth-generation F-35 Lightning IIs are stationed at RAF Lakenheath.
Additionally, other air policing missions saw adjustments around the month's turn. Polish F-16s, supplemented by French Rafales, recently took up NATO's Baltic air policing duty from Hungary's Air Force.
NATO has improved its air policing missions since Russia invaded Ukraine in February. Previously, General James B. Hecker, commander of the Allied Air Command of NATO and the US Air Forces in Europe and Africa, emphasized more than just air policing. 
NATO carries out missile defense drills and training operations that mimic attacks on ground-based air defenses. Recent tests with a French air defense system were conducted in Romania with aircraft from France, Spain, Turkey, and the United States.
In September, Hecker said at AFA's Air, Space, & Cyber Conference, "We have combat air patrols in the air, with live weapons, as a deterrent to Russia. But we don't want to do that. Because if you just do that, you're just doing circles in the sky, and you get very inproficient." 
"As we move forward, the new normal is going to be a lot of practicing with other nations … on missions that we're going to have to do should Russia decide to attack a neighbor," Hecker added. 
That being said, the F-15s of the US Air Forces will now maintain a forward presence in Europe to support NATO's operations.