While a bloody conflict with Ukraine rages on, Russia is set to begin the multilateral military exercise "Vostok 2022" with friendly countries. While several militaries have announced their participation, China's entry is keenly watched.
China's Shandong Aircraft Carrier Holds Drills In South China Sea Amid Subtle Warnings From Australia
On August 25, it was revealed that the Chinese People's Liberation Army (PLA) dispatched troops to participate in the upcoming Vostok-2022 drills in Russia. Global Times reported that PLA ground and air forces had arrived at the designated drill site, and PLA Navy forces were en route to a sea rendezvous with Russian vessels.
Chinese Defense Ministry Spokesman Senior Colonel Tan Kefei told a press briefing: "The Chinese side's units participating in the land and air stages of the drills have already arrived in the deployment areas, and efforts are currently underway for amassing forces, setting up field camps and reconnoitering the terrain. In addition, flight preparations are underway."
Chinese analysts told Global Times that this was the first time the PLA has dispatched three of its forces to participate in a single Russian training that will run from August 30 to September 5 at 13 training grounds in Russia's Eastern Military District.
O Exército de Libertação Popular da China enviou alguns soldados para a Rússia para participar do exercício estratégico #Vostok (Leste)-2022, disse um porta-voz militar chinês na quinta-feira. pic.twitter.com/2WsF6zm8xs

— Diário do Povo (@DiarioPovo) August 26, 2022
Earlier this month, when China confirmed its participation in the drills, Chinese military experts stated that one focus of these combined exercises would be to deal with the potential threat from the direction of the Pacific Ocean.
The comments and participation have become significant due to China's growing presence and interest in the Pacific.
Besides China, another country to participate in the Vostok 2022 is India, with which Beijing remains embroiled in a protracted border conflict.
India and China have refrained from naming and shaming Russia for invading Ukraine. Both countries have been purchasing oil from Russia when it is reeling under international sanctions.
Since the beginning of the invasion, the military partnership between Beijing and Moscow has grown manifold.
In May, when US President Joe Biden was visiting Tokyo, Russia and China conducted their first combined military drill since the invasion of Ukraine by flying strategic bombers over the Sea of Japan and the East China Sea, as previously reported by EurAsian Times.
中国及びロシア軍用機の動向についてhttps://t.co/UvelrN5vHC pic.twitter.com/BAwC6pz8hw

— 防衛省統合幕僚監部 (@jointstaffpa) May 24, 2022
The cooperation was also displayed when Japan's Ministry of Defense announced that Chinese and Russian warships were encircling it in June 2022. While a link between the warship maneuvering was not established, experts believed it to be a joint exercise to intimidate Japan.
Besides China and Russia, the Armed Forces of Belarus, India, Tajikistan, and Mongolia will participate in the Vostok 2022 strategic command and staff drills. According to Russia's Ministry of Defense, the drills will focus on practicing the use of forces (troops) in ensuring military security in the Eastern region.
China's Tri-Service Participation In Vostok-2022
Senior Colonel Tan Kefei, a China's Ministry of National Defense spokesperson, said that the PLA had sent some of its troops to Russia to participate in the Vostok-2022 exercise based on the 'annual China-Russia military cooperation plan' and the agreement reached by the two sides.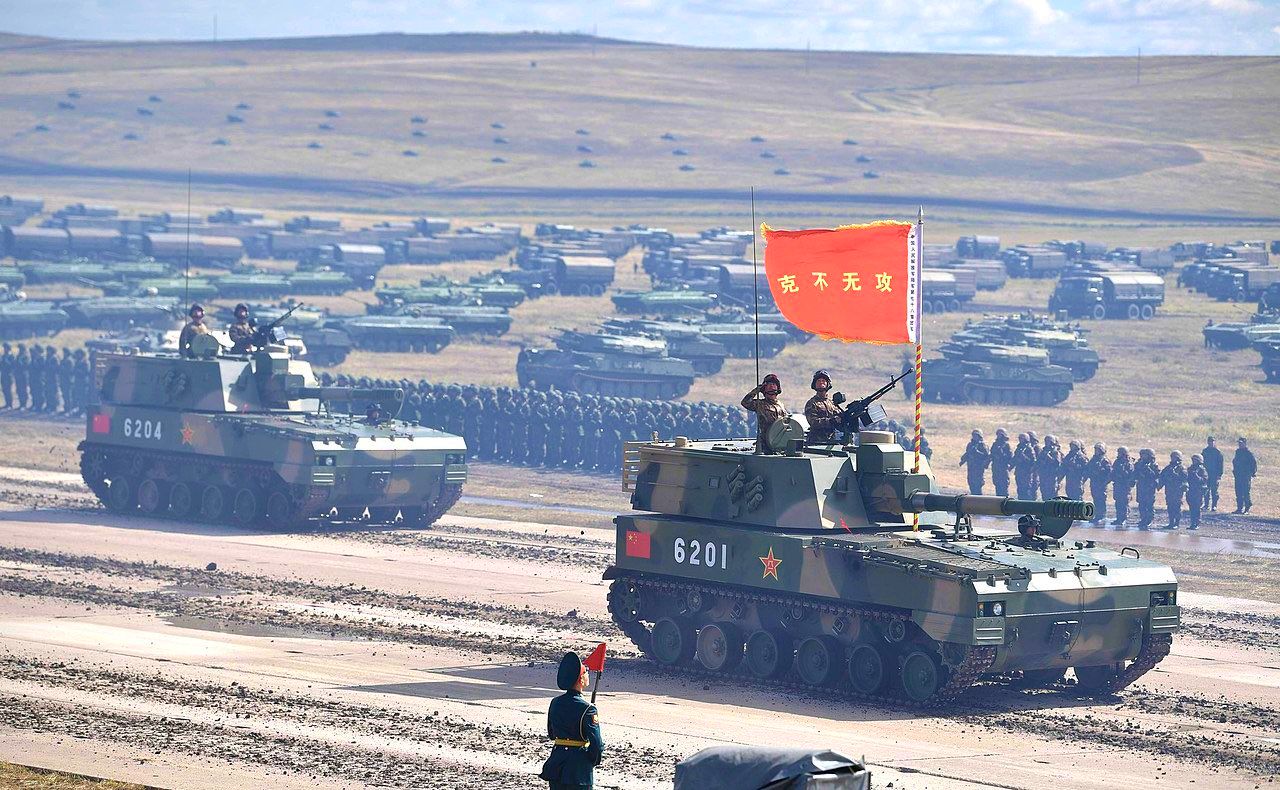 In November 2021, Russia's Defense Chief Sergei Shoigu signed a roadmap for closer military ties with China, pointing to increasingly frequent US strategic bomber flights near both countries' borders. Hailing a series of maneuvers that involved Russian and Chinese warplanes and naval ships, the two countries signed a plan for military cooperation from 2021-2025.
Kefei stated that the Chinese ground and air forces had finished force assembly, field camp establishment, and site checks. Adaptive flying training missions were also underway, and the Chinese Navy forces had engaged in communications drills following their at-sea engagement with Russian vessels.
These exercises are also significant as they come after US-hosted Rim of Pacific Exercises (RIMPAC), of which neither Russia nor China was a part. RIMPAC saw the participation of 26 countries and was held on the plank of 'Free and Open Indo Pacific.' China was also accused of spying during the RIMPAC exercises.
According to Zhang Xuefeng, a Chinese military expert based in Beijing, China's participation in the drills demonstrates that the Chinese military can decide when to hold what kind of exercises with whom, based on its own security needs and training arrangements, without interference from external situations.
Zhang argued that the West should avoid overinterpreting it because it has little to do with the current international and regional circumstances. However, an expert EurAsian Times reached out to has struck a different note.
"First, this is not the first time China has sent all three services to Russia for military exercises. Russia holds three major exercises where China sends troops, sometimes from all three services. Second, suppose one carefully reads the texts of the Defense Ministries of China and Russia concerning military drills — in that case, there are always covert references to the United States, Japan, and, very intriguingly, even North Korea.
China is not as upfront about the US being its adversary as Russia is. In fact, in 2014, when things were alright between China and US, the former was invited to the RIMPAC exercises. The primary objective for China is to learn military practices.
But of course, the Chinese and the Russians are not only irritating Washington with their growing military cooperation but also practicing and planning against it.
As for others participating, like India, it has a good relationship with Russia and follows strategic autonomy", said Srikanth Kondapalli, Professor in Chinese Studies, Centre for East Asian Studies, Jawaharlal Nehru University, New Delhi.
While Russia and the US have had overlapping interests in the Pacific, China's swift inroads make it a new but significant stakeholder. The exercises will be watched with interest in the West.