South Korea's advanced Army unit, outfitted with state-of-the-art weapons, has conducted a joint field exercise with a US Army's Stryker Brigade Combat Team close to the inter-Korean border.
The two-week-long exercise began on January 2 in the border city of Paju, located around 30 kilometers north of Seoul, reported Yonhap News Agency.  
The drill included using South Korean Army K808 wheel-type armored vehicles known as "Baekho," Stryker combat vehicles, reconnaissance drones, and the anti-tank missile Hyungung. 
The exercise was intended to boost joint military operations and share warfighting expertise between the two nations, as readiness among the combined defenses is required in light of North Korea's recent provocations.
During this exercise, the South Korean demonstration brigade and American military forces trained together for the first time. On January 13, the allies allowed reporters access to field exercises at the Mugeon-ri exercise facility close to the Demilitarized Zone (DMZ). 
In November 2022, the US Army deployed the Stryker teams for a nine-month rotational deployment to South Korea. On January 10, approximately 41 Stryker vehicles from the  2nd Stryker Brigade Combat Team participated in an armored combat team live-fire exercise. 
Got to ride along with @2INFDIV first Stryker Brigade Combat Team to rotate into South Korea.

Story: https://t.co/RFvUvO8xGe pic.twitter.com/mYRAOtE6yp

— David Choi (@choibboy) January 10, 2023
A Stryker brigade demonstrated its capabilities for the first time during maneuvers in the snowy hills of Rodriguez Live Fire Complex, some 16 miles from the border with North Korea.
Lt. Col. Michael Filanowski, 8-1 Cavalry Regiment commander, recently told Stars and Stripes that the eight-wheeled Strykers offer "significantly improved mobility" compared to the vehicles in the combat teams of the armored brigade. 
During the exercise, the Stryker crews used cameras and infrared vision to identify simulated targets before remotely firing their mounted MK-19 grenade launchers and M-2 Browning machine guns.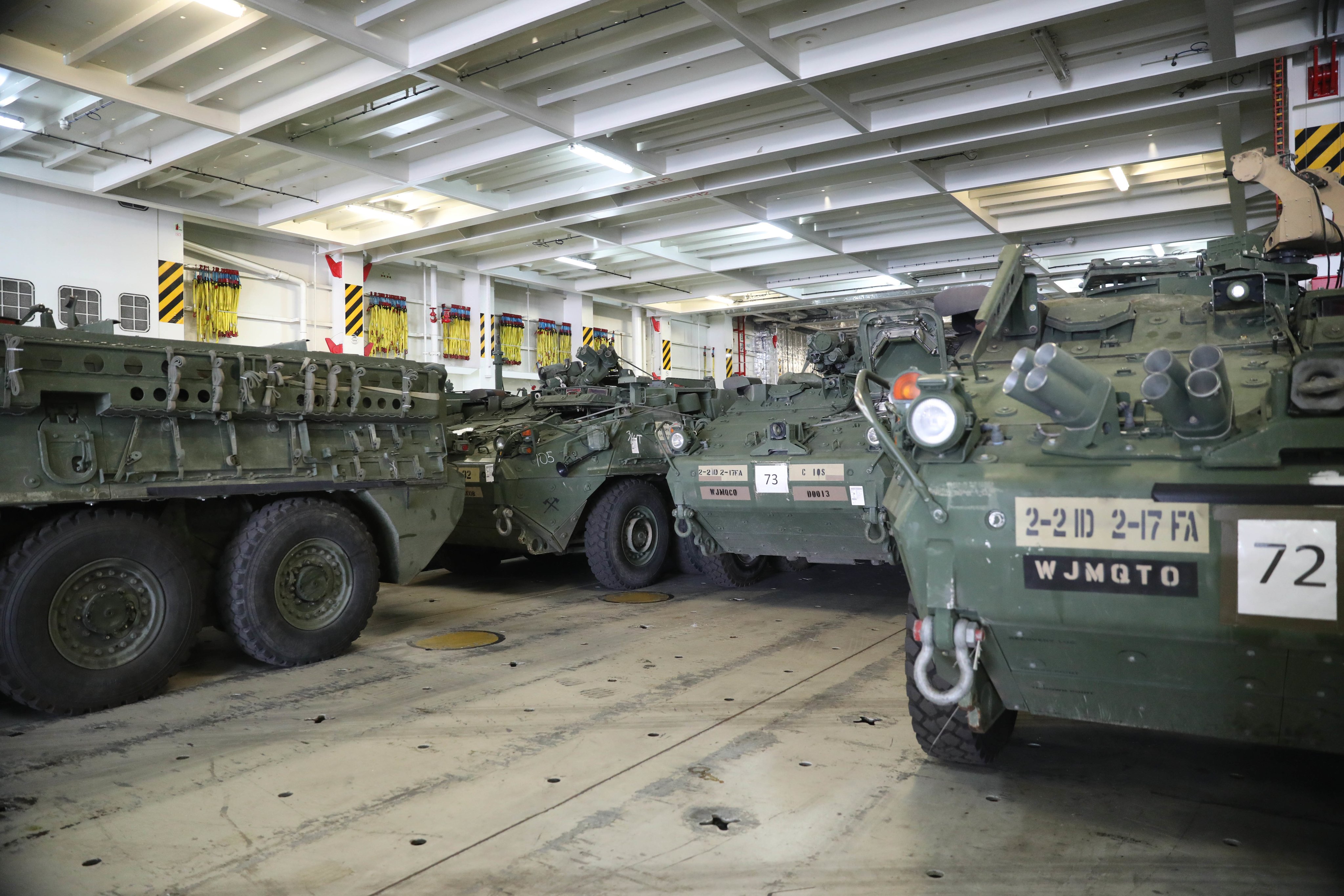 The Stryker combat vehicles have recently come under the spotlight because of the reports that the US may send these armored vehicles to Ukraine. 
The Stryker armored vehicles might bolster Kyiv's fast-expanding arsenal and address a vital armored need for the Ukrainian military. This comes as fears grow that Russia is ready to launch another big military offensive in the coming weeks. 
Stryker is an eight-wheeled armored combat vehicle manufactured by General Dynamics Land Systems. It can move over snow, mud, and sand, but the lack of tracks limits its off-road mobility. 
South Korean Military Displays Drone-Armed Future Fighting Force
The South Korean army also staged a training exercise with a new unit geared to showcase the future of ground warfare with drones, artificial intelligence, and other modern systems.
In June 2022, the South Korean military launched the Army TIGER Demonstration Brigade within the army's 25th Infantry Division. 
The TIGER brigade was established as the forerunner of an initiative to increase the employment of cutting-edge weaponry, including drones driven by artificial intelligence, soldiers equipped with advanced combat gear, and highly mobile armored combat vehicles.
The army intends to transform all combat brigades into similar units outfitted with these technologies by 2040. "TIGER" means "Transformative Innovation of Ground Forces Enhanced by Fourth Industrial Revolution Technology."
"Through this training, (we) were able to make the Army TIGER Demonstration Brigade's operational method more concrete and verify its interoperability with combined forces," Lt. Col. Lee Jae-Yong, battalion commander of the TIGER unit, said. 
South Korea has deployed aerial surveillance drones to search for targets in mountains and other difficult-to-reach areas. They are believed to fly for 30 minutes within a 5-kilometer radius of the operator. 
The drones are anticipated to aid in more effective combat by spotting weaknesses in opposing formations and directing pinpoint attacks. 
The training takes place amid fresh North Korean threats. In 36 separate days of testing last year, Pyongyang launched more than 70 missiles, and on December 26, at least five drones entered South Korean airspace.
After spending three hours in South Korea, one drone made its way back to the North while the others, one by one, disappeared from military radars, the Joint Chiefs of Staff said.
South Korean armed forces deployed fighter jets and assault helicopters and fired warning shots, but they could not neutralize the North Korean drone threat. According to the Defense Ministry, the helicopters fired 100 rounds.
It is anticipated that the new fighting force equipped with drones will substantially contribute to efforts to repel North Korean threats.