Amid Russia's bombardment targeting Ukraine's critical infrastructure, the war-torn country received two western air defense systems – the NASAMS and the Aspide – to defend against Russian attacks.
"Look who's here! NASAMS and Aspide air defense systems arrived in Ukraine!" Ukrainian Defense Minister Oleksiy Reznikov wrote on social media, thanking Norway, Spain, and the United States. The delivery comes when Ukraine's air defense systems have been overwhelmed by the continuing Russian attacks.
Look who's here!
NASAMS and Aspide air defence systems arrived in Ukraine!
These weapons will significantly strengthen #UAarmy and will make our skies safer.
We will continue to shoot down the enemy targets attacking us.
Thank you to our partners: Norway, Spain and the US. pic.twitter.com/ozP4eXhgOg

— Oleksii Reznikov (@oleksiireznikov) November 7, 2022
After Russia began a brutal aerial bombardment of Ukrainian cities on October 10, President Zelensky urged Western countries to assist Kyiv in building an "air shield" to ward off the threat.
At the G7 meet, he told world leaders that "millions of people would be grateful" for help to fend off Russian attacks from the sky.
Soon after President Zelensky made the plea, Germany delivered the IRIS-T air defense systems that the Ukrainian authorities have praised.
The US announced expediting delivery of the two National Advance Surface-to-Air Missile System (NASAMS) systems. Subsequently, Norwegian troops in Germany trained the Ukrainians on these systems, as previously reported by EurAsian Times.
While the American-Norway and German air defense systems have received widespread attention from the international media, the Spanish Aspide delivered alongside NASAMS has remained an underdog.
My Spanish friend @JMAlbares came to Kyiv with good news. Spain sends our way a new military aid package, including HAWK and Aspide air defense systems, artillery, and ammunition. I assured him Ukraine will always remember that Spain stood with us during the most difficult time. pic.twitter.com/lERppcGIJd

— Dmytro Kuleba (@DmytroKuleba) November 2, 2022
It was on November 2 that Spain announced an aid package for Ukraine that included a battery of the Aspide anti-aircraft missile system, four Hawk air defense systems, anti-tank missile systems, and guns and shells for them.
The decision was announced in a briefing after Spanish Foreign Minister José Manuel Albares visited Ukraine and discussed the protection of its skies.
The Ukrainian President thanked Spain for transferring air defense systems to Ukraine.
"For us today, this is the number one issue to provide powerful air defense, to create an air shield to protect our civilian infrastructure." However, despite the critical function that the Aspide air defense is set to perform in Ukraine, there's little discussion about its role.
How Will The Aspide Defend The Sky Over Ukraine?
Since October, 19 Ukrainian troops have been receiving training on the four Aspide systems that Spain pledged to provide. Aspide is an Italian surface-to-air missile system that was first produced in the 1970s by Selenia, a division of Leonardo that is a member of the MBDA European missile consortium.
It has been developed based on the American medium-range air-to-air missile AIM-7E Sparrow.
There are four Aspide models: Mk.1, Mk.2, 2000, and Citedef. As of now, uncertainty surrounds the model delivered to Ukraine. However, Spain had previously purchased the Aspide 2000 variant that can be launched from the export versions of the Skyguard air-defense system and the Spada 2000 air-defense system.
Aspide 2000 was made by Italy ?? and entered service in 1997

Ukraine ?? has recently received 1 Aspide battery from Spain ??
1 Battery holds up to 2 launchers each with 6 missiles

Aspide uses Spada2000 missiles with a speed of 4 Mach, a range of 25km, and a max altitude of 6km pic.twitter.com/fD6QBqchKQ

— Ukraine Battle Map (@ukraine_map) November 7, 2022
The Spada 2000 is an all-weather, day and night, highly automated air defense system that offers 2,000 km² of air defense missile coverage.
The missiles can intercept crossing and approaching targets to a range of 25 kilometers, while the range of target recognition and tracking is up to 60 kilometers. Even when crossing very agile targets, the kill probability is very high. Aspide missiles can be fired at up to four targets at once by the system.
The Aspide 2000 missile system, which flies at Mach 4 (almost hypersonic), has a semi-active radar-homing seeker capable of engaging targets at a distance of up to 15 miles (25 kilometers). It has a high-thrust single-stage rocket motor and a 77-pound (35 kilograms) high-lethality fragmentation warhead.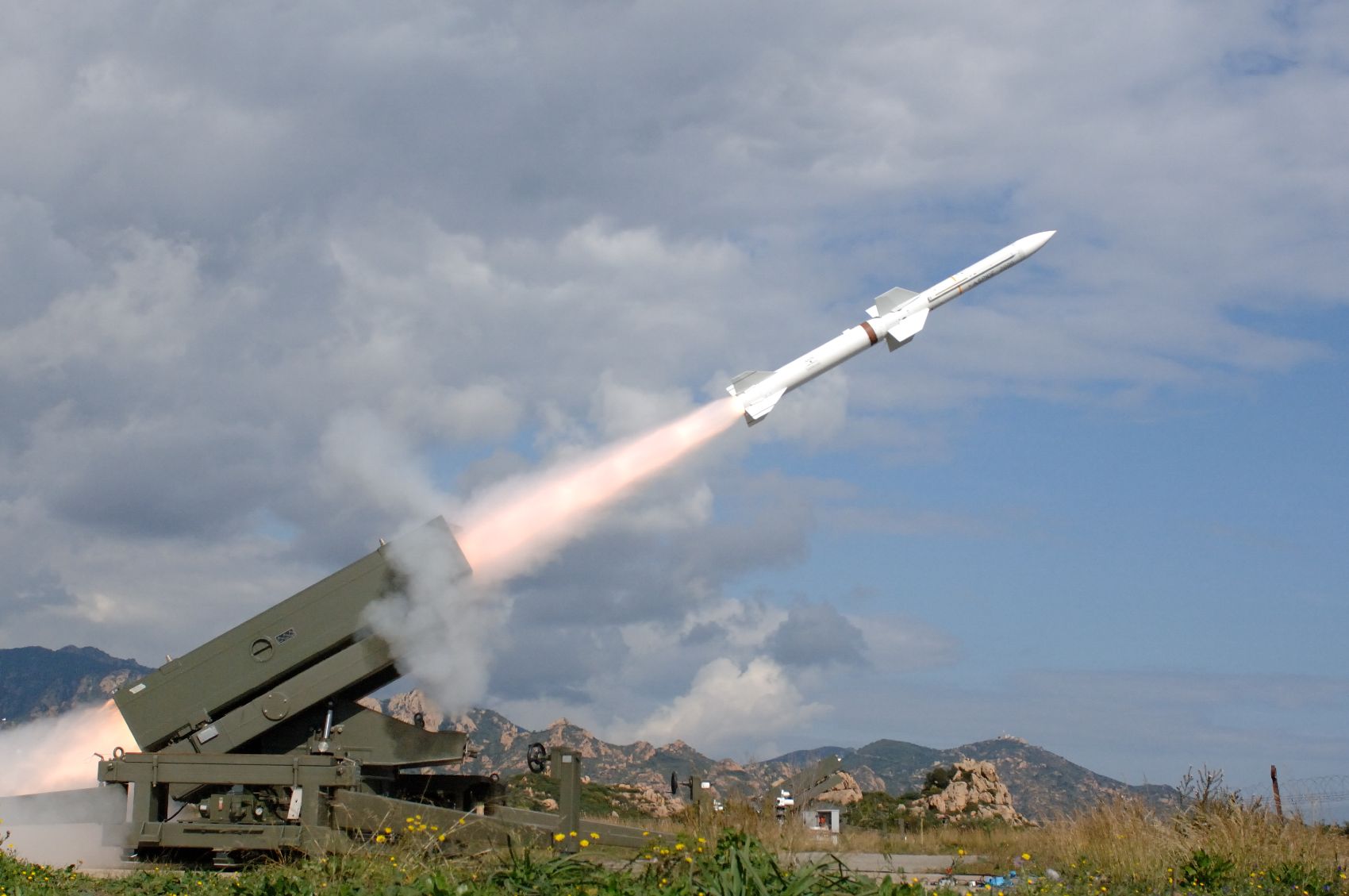 Once fired, air-launched missiles can also be intercepted by the Aspide 2000. The missile uses a single-stage rocket motor, which increases missile speed, lateral acceleration, and effective range.
The high-thrust single-stage solid-propellant rocket motor provides high supersonic speed and agility to intercept moving targets. Radar homing with a semi-active system is used for navigation.
The Royal Thai Air Force and the Italian Air Force also use the missile as a component of the Oerlikon Contraves Skyguard air defense system. Skyguard is an air defense system manufactured by the German Company Rheinmetall Defense.
A fire control/search radar unit, up to three 4-cell missile launchers, and two twin-barrel 35mm cannons make up the air defense system. The Skyguard battery fires Sparrow/Aspide missiles.
More than 40 nations worldwide use the Skyguard air defense technology.
As Russia continues to pound its power grids, Ukrainian leaders and officials have been pleading with western countries for more advanced air defense systems. Not just that, Kyiv has been contemplating an evacuation of three million people, with Moscow targeting Ukrainian electricity infrastructure to cripple its war-fighting capacity.
"We understand that if Russia continues such attacks, we may lose our entire electricity system," Roman Tkachuk, the director of security for the Kyiv municipal government, told The New York Times.
With Russia now ready to secure the delivery of lethal ballistic missiles from its ally in this war, Iran, the going is getting more challenging for Ukraine, and air defense systems from the West are of primary significance.