Ukrainian President Volodymyr Zelensky, who has been pleading for fighter aircraft from NATO and the US hasn't received any positive response yet as these countries fear such a move will escalate tensions with Russia.
Tired of the wait, Ukrainians have begun the #buymeafighterjet campaign to crowdfund the restocking of the nation's fighter force.
A video began circulating on April 14 featuring a Ukrainian Pilot wearing a helmet with the visor down and begins with the pilot walking in front of a MiG-29 that appears to be damaged, after which he appeals to the viewers for donations so that Ukraine can procure operational fighter jets.
Donated fighters will "help me to protect my sky, filled with Russian planes that bomb my land, kill my friends and destroy our homes and everything I have ever known," the pilot says in English. "Give us wings to fight for our sky."
Estimates suggest that Ukraine has lost more than 30 fighter aircraft in the six weeks of fighting since Russia launched its military assault but it is not sure if the jet in the video was recently damaged or one of several unserviceable jets destroyed during the conflict.
"I will fight with my whole heart to destroy the tanks, armored vehicles, and war criminals — occupants," the pilot continues while boarding what appears to be an undamaged MiG. "They would not escape neither from me and you nor from the anger of the Ukrainian people and God."
This is followed by a shot of a Ukrainian Sukhoi Su-27 throttling up its engines and taxiing and the video concludes with the pilot saying for the final time, "Buy me a fighter jet!"
On the website of the #buymeafighterjet project, the average cost of a plane is estimated at $25 million. The website lists the combat jets that the Ukrainian Air Force currently operates which include, Su 25, Su-27, Su-24, and MiG-29.
A new MiG-29 Fulcrum can cost $25 million, but the price of a Su-27 Flanker can run up to $40 million, according to the page.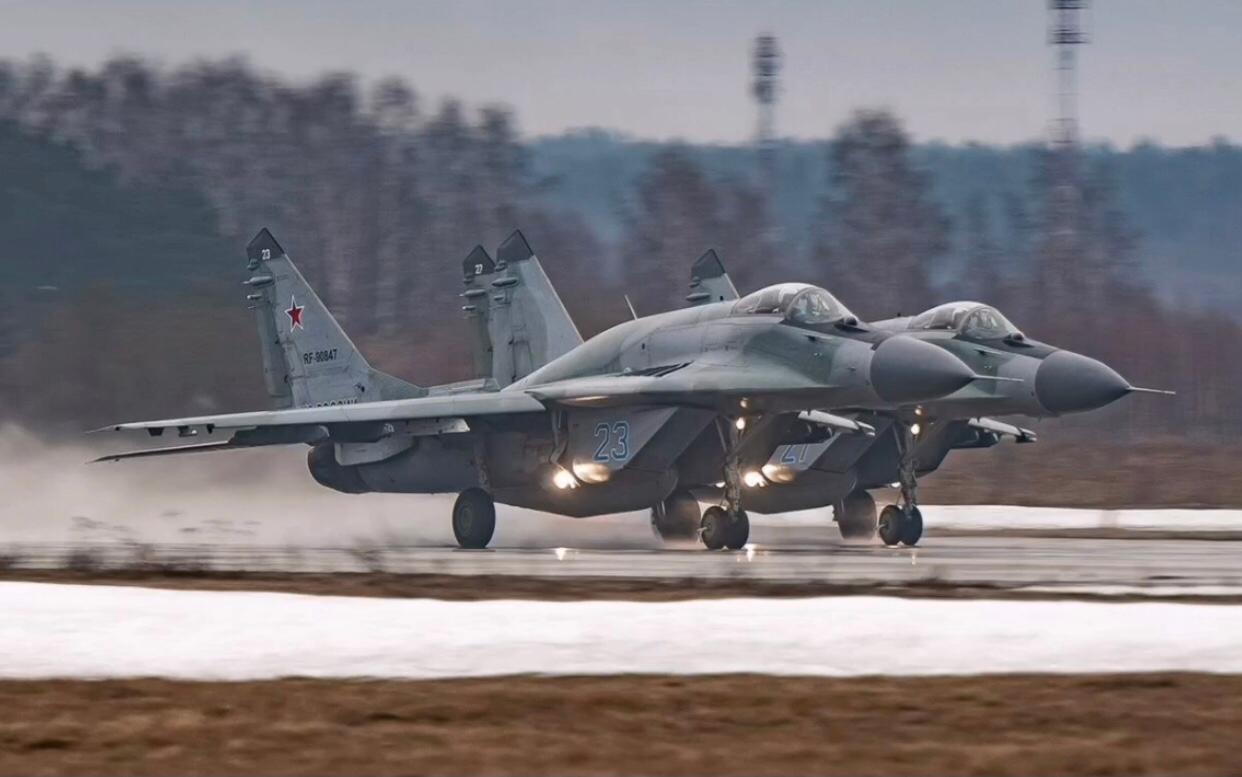 The website also claims that Ukrainian pilots will be able to quickly train to successfully protect the Ukrainian airspace on platforms such as JAS-39 Gripen, Rafale, F-15, F-16, F-18, F-22, F-35. Nothing can be far from reality than this absurd claim, considering how complicated and expensive the Western-built fighters are when compared to those flown by Ukrainian pilots.
A detailed chart of aircraft type, location, and availability is linked and donors are not asked to contribute directly to the fighter jet crowdfunding effort online. Instead, they are encouraged to email for more information. The site asserts its "experts will advise you on technical and legal issues."
Of late, the Czech government has also coordinated a crowdfunding program on behalf of Ukraine which reportedly raised $29.6 million in a single month and paid for more than the $18.3 million worth of equipment made available for purchase with the donated funds by the Czech Ministry of Defense.
The funds went to the Ukrainian Embassy in Prague, which had also launched its crowdfunding campaign in the country during the initial days following the Russian invasion.
Ukraine's National Bank had also raised $ 40 million, according to Reuters, to support the nation's armed forces and humanitarian assistance. Anyone can donate directly to the bank through its website using mobile payment applications, credit cards, and other methods.
The issue is that there are not many fighter jets around of the familiar Soviet-type that are currently being operated by Ukrainian fighter pilots and while the US and some NATO countries do have a handful of these, they are reluctant to provide them because of complex political and security reasons.
While there are some private owners in the US such as Don Kirlin, proprietor of the adversary air contractor Air USA and Jared Isaacman, an entrepreneur and now astronaut from whom, Ukraine can purchase a few MiG-29s.
Don Kirlin has been trying to sell his flyable two-seat MiG-29UB for years, along with three other MiG-29s. One of them is another two-seater-UB model that could be made flyable with relative ease, according to past advertisements, while the other two are single-seaters and serve as spare parts donor airframes.
The UB models do not have a radar, but have an infrared search and track (IRST) system and are still combat-capable if properly re-equipped. Past listings mention that Kirlin has spare radars and IRSTs as well.
Also, the latest reports suggest that Slovakia is considering supplying Soviet-made Mig-29 fighter jets to Ukraine after the recent delivery of its S-300 air defense system.
"After how the Russian Federation has behaved now, Soviet-made equipment is becoming very risky. Therefore your question is in place and comes into consideration," Prime Minister Eduard Heger said this week in response to a reporter's question about asking allies to help secure Slovak air space and the possibility of giving MiG-29s to Ukraine.
"This is equipment that we want to finish anyway because we're waiting for the F-16s," Heger further added while referring to Slovakia's US-made F-16 jets set to be delivered in 2024.
Slovakia is said to have around 12 MiG-29s however, Heder did not specify how many of those the country is willing to donate.
There is another option available for Ukraine and that is the MiG-21s, as they are very easy to maintain and cost less than medium-to-heavy Soviet fighters to buy and sustain over time.
If upgraded properly with the right set of avionics and armaments, such as the fleet of MiG-21 Bison belonging to the Indian Air Force, and combined with innovative tactics which the Ukrainian pilots are known for, the MiG-21s can prove very deadly even against the world's best 4th generation fighters.
Ukraine can obtain MiG-21s from the neighboring Romania which has recently grounded its fleet of MiG-21s. The Romanian Ministry of Defense announced that all operations with the MiG-21 Lancer fighter jets were suspended starting April 15, as the country is accelerating the transition of its fighter force to F-16s.