The Russian military is "winning in the air," said a former US Navy admiral, shortly after Ukrainian President Volodymyr Zelensky appealed to the West for more air defense systems.
Retired Admiral James Stavridis of the US Navy, who is now the Vice Chair of the Carlyle Group, said that there are two wars ongoing in Ukraine, one on the ground and the other in the air, and even if Ukraine has gained a lot of ground in past few months, Russia is winning in the air.
Stavridis led the NATO Alliance in global operations from 2009 to 2013 as 16th Supreme Allied Commander responsible for Afghanistan, Libya, the Balkans, Syria, counter-piracy, and cyber security.
In a Twitter post on November 25, he said Ukraine is a "tale of 2 wars…1 on the ground ..1 in the air."
Ukraine is a tale of 2 wars…1 on the ground ..1 in the air.The Ukrainians are winning on the ground, but Russians are winning in the air and destroying Ukraine's electric grid.We need to increase air defense to help win the 2nd war – doing that will break the Russian war effort. pic.twitter.com/kIeqnFTMYZ

— Admiral James Stavridis, USN, Ret. (@stavridisj) November 25, 2022
Stavridis wrote: "The Ukrainians are winning on the ground, but Russians are winning in the air and destroying Ukraine's electric grid. "We need to increase air defense to help win the second war."
According to Stavridis, providing more air defense systems to Ukraine would break the Russian war effort.
Ukraine Losing In The Air But Gaining On Ground
EurAsian Times has discussed, in extensive detail before, how the advanced fighters of the Russian Aerospace Forces (VKS), like the Su-30SM and Su-35S, have remained very effective and lethal against Ukrainian aircraft throughout the war.
Additionally, the Ukrainian Air Force is disproportionately outnumbered by the VKS. There have also been instances where the VKS has deployed around 10-12 fighter jets against one Ukrainian fighter.
This is evident even from the documented losses of air defense assets on both sides, where Ukraine's losses are much steeper than Russia's.
Ukraine's pre-war inventory of fighters comprised around 30 Su-27s and roughly 50 MiG-29s which can also be used for air-to-ground operations.
So far, Ukraine has lost up to 15 MiG-29s and five Su-27s, according to the latest figures compiled by the military tracking blog Oryx based on visual confirmations. Of these, one MiG-29 and one Su-27 were destroyed on the ground.
Whereas Russia's losses comprise only one Su-35S and eleven Su-30SMs, five Su-30s have been destroyed on the ground, as documented by Oryx.
Nevertheless, in recent months, Ukrainian armed forces managed to drive the Russians out of Kharkiv and forced the Russian troops to withdraw in Kherson from the Dnipro River's right (west) bank to the left (eastern) bank.
These battlefield gains by Kyiv's forces in the south and east of Ukraine, despite the lack of air cover fire support from advanced fighter jets and bombers, led some observers to conclude that the air domain and air power are not as relevant as the land domain to future wars.
However, from the start, the war in the air domain was not as much about air superiority for Ukraine as it was about denying airspace to Russian combat aviation assets by using an array of air defense systems.
Russia Changed Its War Strategy In The Air To Compensate For Losses On Land
Ukraine's air denial strategy worked for a while, but then the Russian military adapted to the circumstances and began employing kamikaze drones like Iranian-made Shahed-136 and Russia's own Lancet drones, in large numbers that overwhelmed Ukraine's air defenses.
These kamikaze drones gave Russia an expendable and cost-effective alternative to expensive aircraft and cruise and ballistic missiles. Even if they are shot down, they still deplete Ukraine's already diminishing stockpile of surface-to-air missiles, as discussed previously by EurAsian Times.
The Russian forces began swarm attacks using multiple Shahed-136 kamikaze drones at once, in batches of five and more, to overwhelm Ukrainian air defenses. Russian forces reportedly used 12 drones for a single swarm attack in one instance.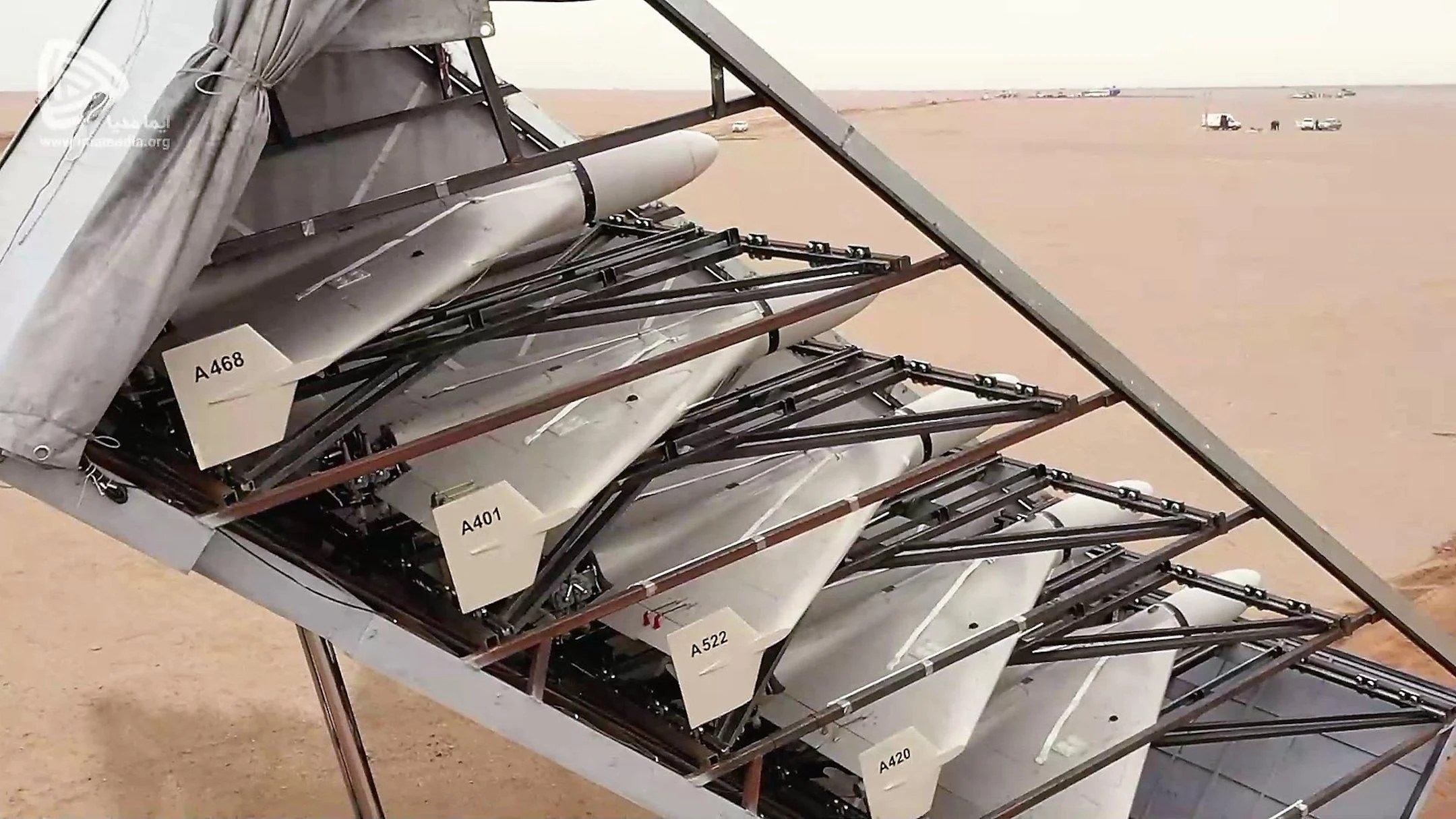 Since early October, Russian strategy has been to fill the Ukrainian skies with a salvo of missiles and loitering munitions to overwhelm the Ukrainian air defense systems.
The purpose of this strategy is not to support Russia's ground offensives but to destroy Ukraine's critical energy infrastructure as the winter sets in. This is where Russia is winning, as pointed out by Admiral Stavridis.
The latest instance of this was witnessed on November 23, when Russia fired 67 cruise missiles across Ukraine, of which 30 missiles were launched at Kyiv alone, according to the Commander in chief of Ukraine's armed forces, Valeriy Zaluzhniy, who also claimed that Ukrainian defense forces shot down a total of 51 missiles.
The Russian bombardment on November 23 was much smaller in scale than the similar one on November 15, involving around 100 missiles, of which Ukraine claimed to have intercepted 73 missiles.
Before that, Russia carried out a similar offensive on October 10, which involved over 83 missiles fired across Ukraine, of which the Ukrainian Air Force reported intercepting 43 missiles.
Assuming that figures released by Ukraine are accurate, the interception rate of Ukrainian defense forces has been on an upward trend, from around 51% of missiles intercepted on October 10 to approximately 76% of missiles intercepted on November 23.
This means that Ukrainian air defenses are performing effectively. Yet, at least half of the country's energy infrastructure is "out of order," per the remarks made by Ukrainian Prime Minister Denys Shmyhal on November 18.
In all the Russian bombardments across Ukraine since early October, missiles and drones targeted energy facilities in almost every region where they were deployed.
The missiles have targeted critical components of Ukraine's electrical transmission system, knocking out transformers without which it is impossible to supply power to households, businesses, government offices, schools, hospitals, and other critical facilities.
The snow has already fallen across much of Ukraine, and temperatures have reached below-freezing in several parts of the country.
Hans Henri P Kluge, regional director for the World Health Organization, told reporters on November 21 that two to three million Ukrainians were expected to leave their homes "in search of warmth and safety." However, it was not clear how many would stay inside the country.
According to military experts, President Putin is trying to make up for the Russian military's losses on the ground by creating war fatigue among Kyiv's European NATO partners in a bid to force them to pressure Kyiv into making concessions and slow the arms deliveries that have helped Ukraine score victories so far.
"This is all about the weaponization of refugees," said retired US Army Lt. Gen. Ben Hodges, a former commander of US Army Europe.
"By making Ukraine uninhabitable in the wintertime, they are potentially sending millions more Ukrainians to Europe," Hodges said. "That would put pressure on European governments. The hope is that Europe, in turn, would pressure Kyiv."