On Wednesday, November 23, 2022, faced with unrelenting belligerence on the part of Ukraine and the West, Russia defiantly pounded Ukrainian power generation infrastructure with yet another wave of cruise missiles and loitering munition strikes.  
In a Telegram post, Ukraine's Air Force states that Russia launched 70 cruise missiles from aircraft and ships in the black sea and an unspecified number of short-range Lance-type kamikaze drones. The Ukrainian Air Force claims to have shot down 51 cruise missiles.
Ukraine's power infrastructure, already operating at 50% capacity, suffered more grievous degradation. During the strike, all three nuclear power plants under the control of Kyiv were accidentally disconnected from the power system: Rivne, Khmelnytsky, and South Ukrainian.
Strong Messaging By Russia
The timing of the Russian attack had a strong message for the West. It took place on a day when the European Parliament voted to designate Russia as a state sponsor of terrorism.
The vote made a mockery of the "state sponsor of terrorism" designation by equating warfighting with terrorism. Ironically, the US and its NATO allies attacked adversary infrastructure with far greater vigor during their illegal wars in Iraq and Yugoslavia.
Not to forget what the US did to Japan by unnecessarily dropping nuclear bombs on Hiroshima and Nagasaki.
Coming on the heels of credible video evidence of Ukrainian soldiers shooting dead Russian POWs in cold blood, the European parliament's vote appeared not just farcical but also heartless.
The mockery and irony of the vote was completely lost on Ukraine's President Zelensky, who tweeted: I welcome@Europarl_EN decision to recognize Russia as a state sponsor of terrorism and as a state which uses means of terrorism. Russia must be isolated at all levels and held accountable in order to end its long-standing policy of terrorism in Ukraine and across the globe.
In response to the Russian attacks, Ukraine's Western allies called a meeting of the UN Security Council and arranged for Zelensky to address the council remotely.
Even as Zelensky addressed the UNSC over a video link, the Ukrainian military unleashed massive shelling of Donetsk on his orders. For Donetsk residents, it was just another day. Ukrainian forces have been shelling their city for over 8 years, a fact known to all those at the UNSC who heard Zelensky speak.
Zelensky knew, as did the residents of Donetsk, that the thought of designating Ukraine as a state sponsor of terrorism for the over 15,000 civilian deaths in Donbas as a result of shelling by the Ukrainian army over 8 painful years would not have crossed the minds of those listening attentively to him.
Zelensky pompously opened his address by saying, "Ladies and Gentlemen, in your midst, you have representatives of a state that does not offer anything to the world but terror, destabilization, and disinformation."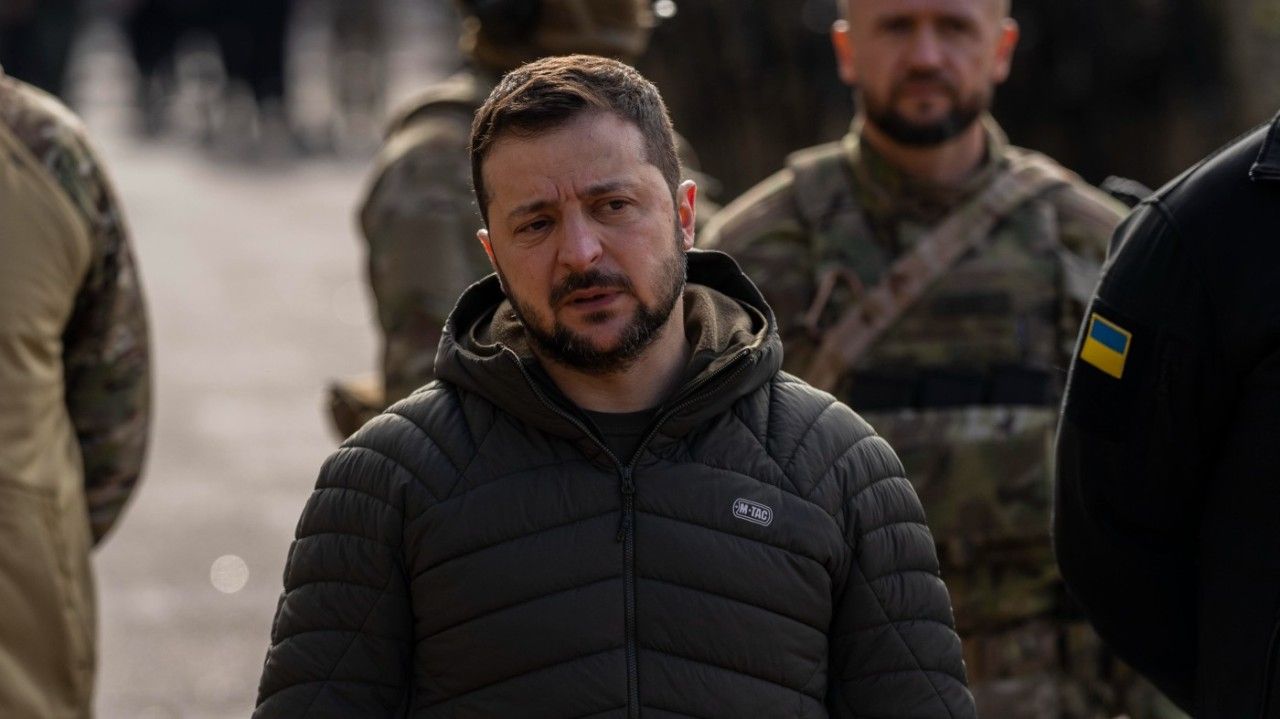 For many of us in India and most of the world, Zelensky could have well been talking about the US!
Referring to the impact of Russian attacks on Ukraine's power generation capability, Zelensky resorted once again to dangerous hyperbole, saying, "Energy terror is an analogue of the use of weapons of mass destruction."
Completely ignoring his own intransigence over peace negotiations with Russia, he added,  "When the temperature is below zero outside, and tens of millions of people are left without electricity, heat, and water as a result of Russian missiles hitting energy facilities, this is an obvious crime against humanity."
Responding to Zelensky's address, Russian Ambassador Vasily Nebenzya said that Russia's strikes were designed to weaken "the military ability of our opponents" and were conducted with "precision."
He asserted that Western-supplied weapons were responsible for much of the damage to residential and other civilian areas and pulled up council members for not showing the same concern for Ukrainian war crimes.
Kremlin spokesman Dmitry Peskov, in turn, asserted that the bombing is serving military purposes and will continue until Moscow's war aims have been achieved.
West Shows No Desire To Relent
The US knee-jerk and predictable response to the Russian attack was to expedite an additional $400 million in military assistance for Ukraine.
Besides munitions, the package will include an additional 2 NASAMS plus 150 heavy machine guns equipped with thermal sights to help Ukrainian forces spot and gun down unmanned aircraft. Ironically, the package also includes more than 200 power generators to help Ukrainian citizens survive the Winter months.
There is little evidence to suggest that additional US NASAMS will prevent Russia from taking out Ukrainian power generation infrastructure completely. On the contrary, there is evidence to suggest that the indiscriminate use of AD weapons by Ukraine has caused more death and destruction than Russian attacks.
The recent death of 2 Polish citizens from a Ukrainian S-300 missile attack is a case in point.
During the Russian attack on Wednesday, an S-300 missile struck the maternity ward of a hospital in Vilnyansk, about 20 miles northeast of Zaporizhzhya city, killing a 2-day-old baby boy. Zelensky, without evidence, promptly blamed Russian forces for the attack.
Interestingly, the Ukrainian Air Force, in its Telegram post, did not say that Russia had used S-300 missiles during the attack – the post specified cruise missiles and Lancet kamikaze drones only.
Because of its limited warhead size and accuracy, the S-300 is highly unlikely to be the weapon of choice of Russian forces to attack infrastructure targets.
The truth is Russia would have no conceivable reason to target a maternity ward. The S-300 missile was more likely launched by a Ukrainian battery in an attempt to intercept an incoming Russian cruise missile.
During the Russian attack on November 15, 2022, according to the NYT, Russia launched 96 missiles. Not one was targeted against Kyiv, yet there were reports of the destruction of civilian targets in Kyiv. Most likely errant Ukrainian AD missiles, including AIM-120C missiles of NASAMS batteries, were responsible for the destruction.
Inevitability Of Escalation
Russia is clearly determined to achieve its modest war aims – the liberation of Donbas and the denazification and demilitarisation of Ukraine. Demilitarisation likely implies staying out of NATO, not doing away with its Army.
What the West has been attempting to do so far, using Ukraine as a proxy, is to force Russia to fight itself into submission while keeping its hands tied with Western rules-based order. Western leadership is relying more on intelligence and corporate briefs and less on leadership intuition and wisdom.
Russia will likely continue to hit Ukrainian power generation infrastructure through the winter, forcing millions of Ukrainians to flee to Europe and causing the nation's economy to collapse. If the West doesn't relent, escalation is inevitable. It appears Russia is prepared for it, something that you cannot readily say about the West.
Vijainder K Thakur is a retired IAF Jaguar pilot. He is also an author, software architect, entrepreneur, and military analyst. VIEWS PERSONAL
Follow the author @vkthakur