Top US security officials have expressed concern about the growing military ties between Iran and Russia in the wake of the Ukraine War.
Discussion about Iran's support for the Russian war effort is mainly centered around the 'kamikaze' or suicide drones that have wreaked havoc on Ukraine's critical infrastructure. However, Iran recently stepped up its support around November by supplying artillery and tanks to Moscow, according to the White House National Security Council (NSC).
In exchange for its support for Moscow's war in Ukraine, Iran is also expected to obtain advanced weaponry and military equipment from Russia, John Kirby, the NSC spokesman, said in a media interaction on February 25.
"Russia is planning to cooperate with Iran to obtain more military equipment. Russia has been offering Iran unprecedented defense cooperation, including missiles, electronics, and air defense," Kirby said. "We believe that Russia might provide Iran with fighter jets."
While Kirby did not specify what type of fighter jets Russia might provide but as EurAsian Times covered earlier, Shahriar Heidari, a member of the Iranian Parliament's National Security Committee, confirmed in January that Iran had placed an order for 24 Su-35 fighter jets, which will be delivered in the upcoming Iranian year, starting on March 21.
Also, Iran appears to be preparing its newly revealed 'Eagle 44' underground air force base to host advanced Russian-made Sukhoi Su-35 multirole fighter jets, according to the analysis of the satellite imagery of this underground facility published by the New York Times on February 18.
The tactical airbase has been designed to house and prepare a variety of missions, including fighter jets, bombers, and unmanned aerial vehicles (UAVs). According to Iran's official IRNA news agency, the air base would be home to fighter jets equipped with long-range cruise missiles.
The report by the NYT, which examined images released by Iran and satellite images of the site, uncovered a couple of clues that the base is being prepared for the arrival of Su-35 fighter jets.
Among the clues that Eagle 44 is being prepared as a base for the Su-35s, the first one was seen in the promotional video and photos released by Iran, in which a poster is seen with silhouettes of fighter jets, in which there is one that stands out because it is not of any aircraft currently operated by Iran.
at #Iran's Eagle 44 underground Air Force base, possible new #Russian Su 35 fighter jets. pic.twitter.com/ZRh9NBXCUX

— MilitaryNews (@MilitaryNewsomg) February 18, 2023
This silhouette resembles the shape of Russia's advanced 4.5 generation Su-35 aircraft that will soon arrive in Iran, as claimed by Heidari in January. The second clue was found in the satellite imagery of the site, which shows what seems to be a full-scale mockup of a Flanker-series fighter jet.
Iran Could Also Acquire Helicopters & Trainer Jets
"Iran also seeks to purchase additional military equipment from Russia, including attack helicopters, radars, and the Yak-130 combat trainer aircraft. Iran is seeking billions of dollars worth of military equipment from Russia," said Kirby.
Kirby did not specify which attack helicopters Iran might be seeking from Russia. However, experts suggest various Russian-made utility and attack helicopters that Iran may hope to acquire from Moscow.
According to Farzin Nadimi, a defense and security analyst and Associate Fellow of the Washington Institute for Near East Policy, Iran might purchase or even jointly produce Mi-38, Mi-26, Mi-28N, and Ka-32/-226/-60/-52 helicopters.
Nadimi thinks "Mi-38 and Ka-32 or a modern version of it are more likely."
The Mil Mi-38 and the Ka-32 are multi-purpose helicopters that can be used to haul cargo, while the Ka-32 can also be used for conducting air surveillance and search & rescue operations over land and sea, fighting fires, and carrying out erection and loading/ unloading operations.
As for the potential attack helicopter acquisition, Nadimi believes Iran is more likely to choose the Mi-28N over the Ka-52 since the latter "hasn't had a brilliant performance in the recent war."
The Ka-52 is considered one of Russia's best attack helicopters, with superior optics, night-vision devices, and precision missiles than other Russian gunship helos like the Mi-24/35 Hind and Mi-28 Havok.
Therefore, the Ka-52 fleet has seen more intensive use than other Russian gunships and has suffered the most losses.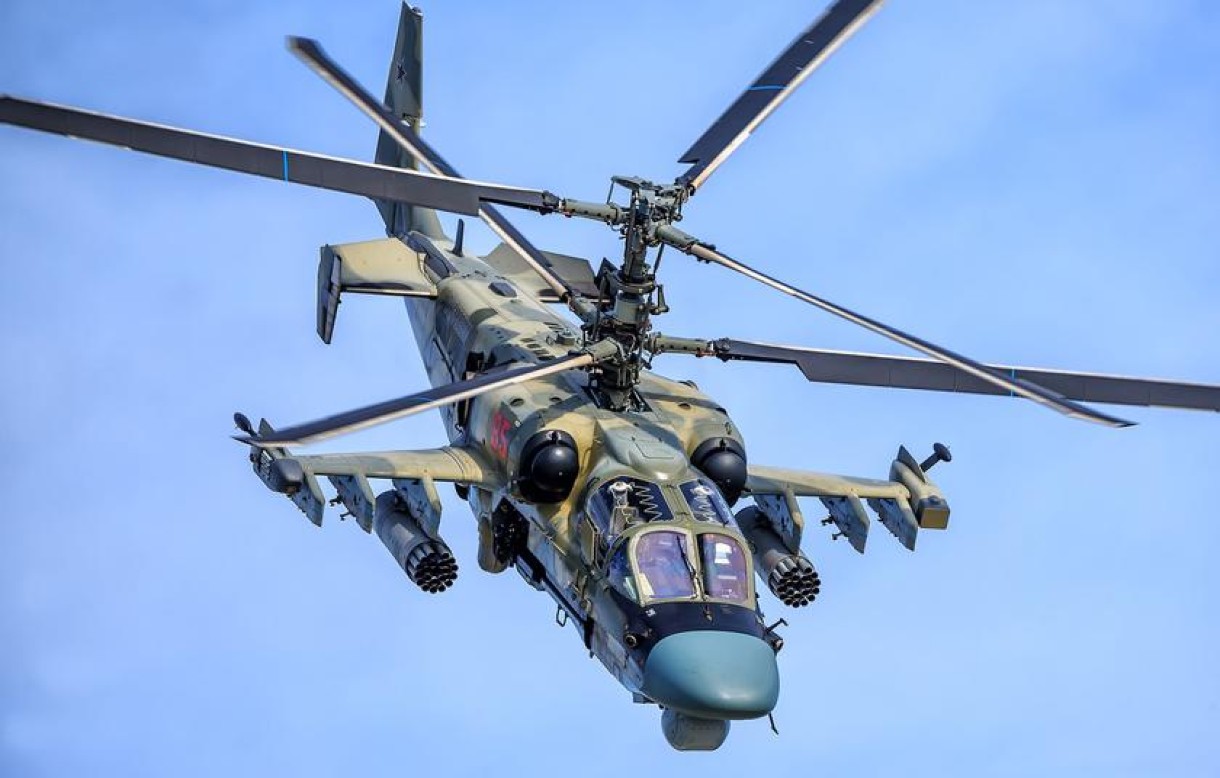 Also, Egypt is the only foreign operator of the Ka-52 helicopter. Cairo signed a contract with Russia's state-owned arms exporter, Rosoboronexport, to acquire 46 Ka-52s. However, reports have suggested that Egypt's military was unhappy with the Russian attack helicopters.
"The new Ka-52 has technical problems with the power plant, avionics, navigation systems, and night vision systems. In hot climatic conditions, the Ka-52 engine significantly loses power in different flight modes," Defense Blog reported in 2018, citing an unnamed local source in Egypt.
Most of Iran's attack helicopter fleet consists of the aging AH-1J SeaCobra helicopters acquired from the US in the early 1970s. Also, Iran has built two versions of the AH-1J, the Toufan I, and Toufan II.
Mardasov, an independent Russian analyst and non-resident scholar of the Middle East Institute's Syria program, does not believe that Iran would be able to acquire the Ka-52 because of the three military reform plans recently announced by Russia, which, if implemented, could see "the number of army aviation increased exactly twofold."
"This is a huge domestic order, and I do not know how any foreign orders can be implemented under such a reform," Mardasov told Paul Iddon, a freelance journalist who writes about Middle East developments, history, and politics.
Mardasov thinks it is more likely that Iran could acquire the Ka-226 multi-purpose passenger helicopter, as Russia and Iran are known to have been negotiating about organizing joint production of this helicopter.
As for the Yak-130 combat trainer aircraft, Iran already has trainer jets inspired by the Yak-130.
In 2014, a media outlet affiliated with Iran's Revolutionary Guard Corps (IRGC) published a blurry image of a mockup of a new Iranian jet called 'Borhan,' derived from a domestically designed Shafaq subsonic, light attack/combat trainer aircraft.
However, David Cenciotti, a defense journalist based in Italy, pointed out that the Shafaq and the new Borhan are inspired by Russia's Yak-130 combat trainer and "have an almost identical front section and large LERX (Leading Edge Root Extensions)."
Growing Russo-Iranian Military Cooperation Could Pose Danger For Israel
According to Kirby, the growing defense cooperation between Russia and Iran is bad for Ukraine and the Middle East.
"This defense cooperation is not only not good for the people of Ukraine—as Russia continues to get drones and potentially other capabilities—but certainly is not good for the Middle East, as Iran will seek to benefit from their cooperation with Russia to get Russian military capabilities to bolster their military power there in the region," said Kirby.
It seems that Washington is sensitizing Israel about the potential dangers of Russo-Iranian Military Cooperation for Israel's security interests in the Middle East, urging Tel Aviv to consider supplying arms to Ukraine.
Reports suggest that the recent visit of US President Joe Biden to Ukraine, and direct calls from Ukrainian President Volodymyr Zelenskyy to Israel for the supply of David's Sling air defense system, have been intended to pressure the Israeli government.
Breaking Defense reported that Israeli Prime Minister Benjamin Netanyahu's government is reconsidering whether to send weapons to Ukraine.
The review is reportedly being conducted by the national security unit in the prime minister's office, together with the Ministry of Defense, the Ministry of Foreign Affairs, and Mossad, as per the unnamed sources cited by Breaking Defense.
It is also important to note that two senior Israel lawmakers, Yuli Edelstein, Chairman of the Foreign Affairs and Defense Committee of the Israeli parliament, and Zeev Elkin, a parliament member from the opposition, met with President Zelensky shortly after Biden's trip to Ukraine.
Meeting @ZelenskyyUa together with @YuliEdelstein and @zeev_elkin. Israel and Ukraine will maintain close relations based on common values and mutual interests. @AndriyYermak pic.twitter.com/Z1rIHkXVcc

— Michael Brodsky (@michael_brodsk) February 21, 2023
After the meeting, the two lawmakers made some strong indications in a joint statement: "Israel has provided and will continue to provide extensive humanitarian aid to Ukraine, but, in our opinion, it is not enough."
"We support practical cooperation between Israel and Ukraine in the field of air defense and anti-missile defense and other defensive fields," the two said in the statement.
The two Israeli lawmakers also visited a Ukrainian military intelligence laboratory, where they were shown captured Iranian-made drones used by the Russian military to destroy Ukraine's critical infrastructure.
Inspecting Iranian drones in Kyiv. The drones were provided by Iran to Russia during the war and used against Ukrainian civilian infrastructure. Iran poses a real threat to ?? ?? and the whole world. @YuliEdelstein @zeev_elkin #Iran #drones pic.twitter.com/7CPF5WSDmw

— Michael Brodsky (@michael_brodsk) February 21, 2023
"The production dates that appear on the drones prove that they have been supplied since the beginning of the war, contrary to the Iranian claims," Edelstein said. "Israel should help Ukraine not only because it is the right and moral thing, but because it is our national and security interest against the Iranian enemy."
Reports suggest that these statements are important, considering that Edelstein is a member of the ruling Likud party, headed by Netanyahu, and is also known to be close to him.
"Political sources said that the statement would not have been released without the full approval of Netanyahu," reported Breaking Defense.
According to one source, Netanyahu visited the two lawmakers in Ukraine to say, "we will answer some of your operational requirements for air defense systems."
However, as EurAsian Times discussed earlier, Israel has some legitimate security reasons to consider, which could dissuade Tel Aviv from providing Ukraine with Iron Dome or David's Sling air defense systems, which the Ukrainians are seeking from Israel.
For instance, if Russia captures Israeli military systems in Ukraine, these could be sent to Iran for analysis, which could enable the Iranian regime to find ways to counter these systems, thereby benefiting Iran's proxies such as the Lebanese Hezbollah, Hamas, and Palestinian Islamic Jihad, in future confrontations with Israel.
Furthermore, Israel must avoid triggering a harsh response from Russia, which maintains a huge military presence in Syria, where Israeli Defense Forces (IDF) regularly conduct regular military operations to curb Iran's efforts to smuggle advanced weapons to Hezbollah in Lebanon.
Russia also appears to have begun pressuring Tel Aviv, as was witnessed last week when Moscow condemned what was allegedly an Israeli airstrike in the Syrian capital of Damascus on February 19.
"We strongly urge the Israeli side to stop armed provocations against the Syrian Arab Republic and refrain from steps fraught with dangerous consequences for the entire region," Russian foreign ministry spokeswoman Maria Zakharova said.
"The last warning from Moscow after the attack in Syria is part of this (Russia's) pressure," Giora Eiland, a retired Maj. Gen. and former head of the Israeli National Security Council told Breaking Defense.