A Russian A-50U Airborne Warning and Control System (AWACS) aircraft was destroyed in a drone attack at the Machulishchy air base in Belarus in the incident that took place on Sunday evening. 
Following initial reports claiming it to have been carried out by a Ukraine-aligned Belarusian partisan group BYPOL, the organization later claimed responsibility and confirmed the attacks. Damage to the A-50 has also been more or less extensive and will render it unflyable for a significant period.
BYPOL reportedly used two drones in a "sabotage" operation and exploited the aircraft's "large" size. "We note that A-50U is quite a 'convenient' target due to its large (more than 10 meters in diameter) fiberglass dome, where a rotating antenna of the Shmel radar system is located," read a Tweet from Belarusian Hajun Project.
The make of the drones used in the attack is not known, but reports do not indicate a large UAV like the Tu-141 Strizh that Ukraine had used in the past to strike Russian air bases.
Such a large aircraft would have left behind severe damage, debris, and possibly human casualties. A modified commercial drone, with explosives strapped onto it, is one possibility, as it has been a signature Ukrainian practice throughout the war.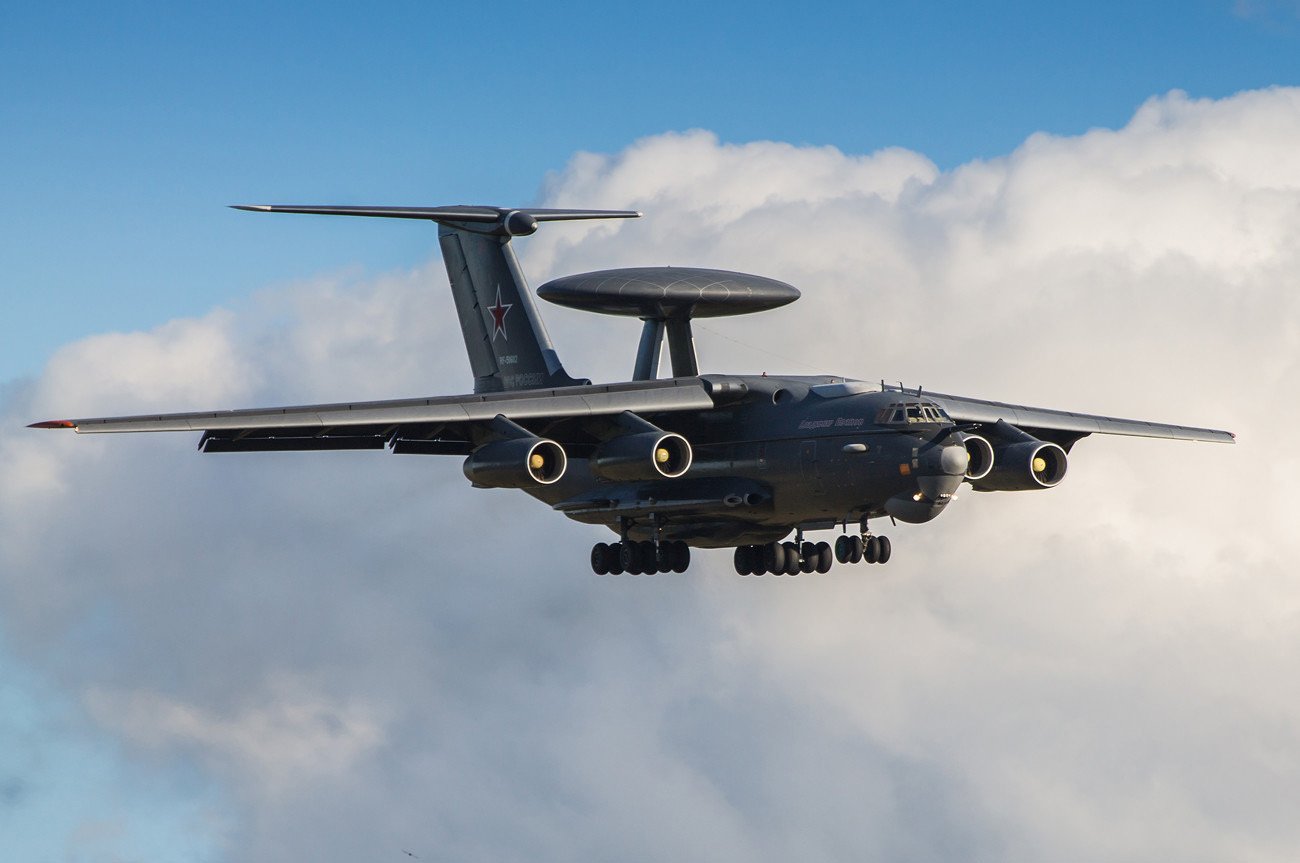 Both Russia & Belarus Angered
Belarusian security agencies later found a bag with drone control panels, which confirmed the sabotage act. Both Moscow and Minsk will now possibly treat this as a terrorist act.
Russia has long accused Ukraine of using methods it claims qualifies it as "terrorist" tactics following the assassination of civilians in Russian territory (Daria Dugina) and the bombing of the Kerch Bridge.
However, what remains to be seen is whether the AWACS aircraft's disabling will impact Russian air force (VVS) operations from Belarusian airspace since the VVS has very few AWACS planes. None of the publicity material released by the Russian Ministry of Defense (RuMoD) has featured special mission aircraft like AWACS.
The reason could purely be operational security and tactical, and it is unlikely that it means the VVS has not employed these planes. Russian MiG-31K, which carries the Kinzhal hypersonic missiles, also operates from Machulishchy.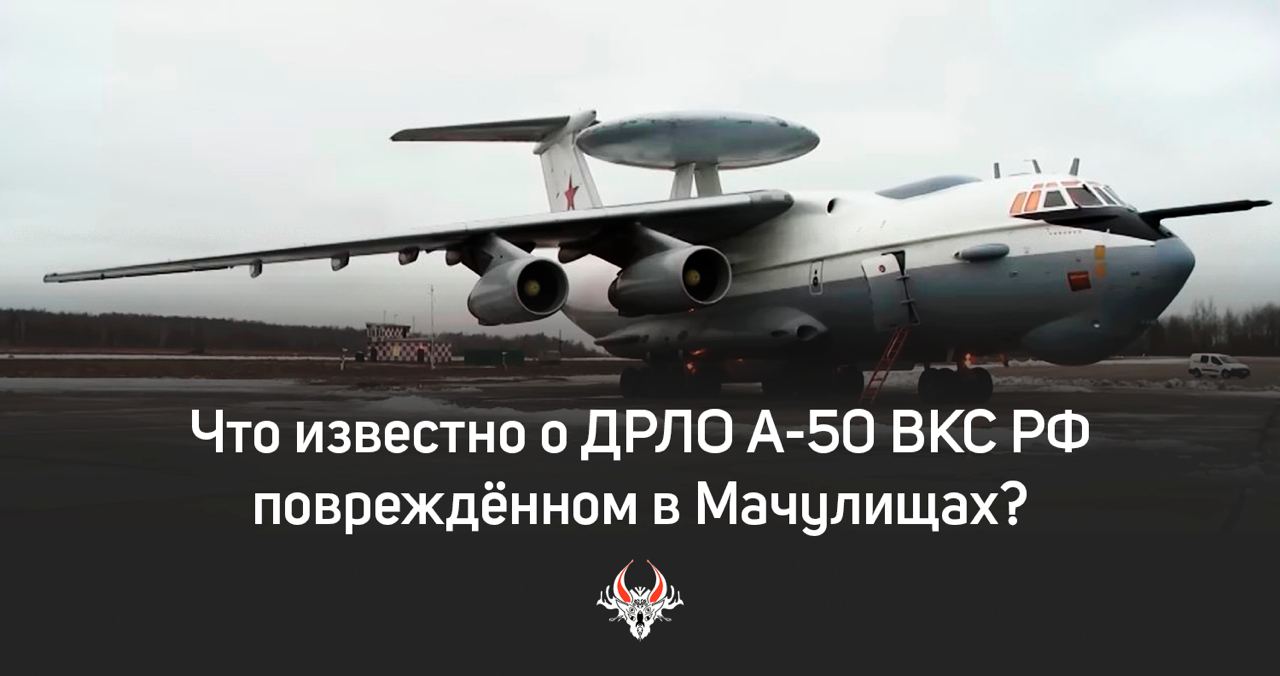 Machulishchy is 12 kilometers from the capital Minsk, which initial reports said was rocked by "two powerful explosions." The BYPOL group later took credit for the attack, with various reports quoting celebratory statements from the group.
"One of the nine AWACS of the Russian Aerospace Forces worth $330 million (was destroyed)," said a statement attributed to the group on one Telegram channel.
"These were drones. The participants of the operation are Belarusians. (They have attained) 'Victory' and are now safely outside the country. Everyone has left. Let them now look for the wind in the fields," said one statement attributed to the head of the BYPOL association, Alexander Azarov. The plane "definitely won't fly anywhere," BYPOL added.
Russia Is Already AWACS Deficient
Russia has long been known to have a few numbers of AWACS aircraft, and this was one of the only nine aircraft in its inventory. Belarus Hajun claimed that the A-50 (registration number RF-50608) arrived in Belarus on January 3, 2023, marking "54 days in the Republic of Belarus," and flew "12 sorties."
Before that, the last time the aircraft flew to Belarus was on February 24, 2022, when Russia began its special military operation.
The Beriev A-50 is a Soviet-era AWACS plane based on the Ilyushin Il-76 aircraft that first flew in 1978. It entered service in 1985, with about 40 produced by 1992. Their scarcity and reported delays in the induction of the A-100 AWACS owing to the industrial and technological sanctions are likely to affect Russia's ability against long-range airborne strike capabilities – if Ukraine acquires such in the future.
With the US arming Ukraine with M1A2 tanks after President Joe Biden flatly declined them a year ago when the war began, the denial to Western fighters too might also be reconsidered.
Ukraine has been demanding F-16s, and some North Atlantic Treaty Organization (NATO) countries have even been training their pilots in the event such a decision is made. Therefore, the criticality of airborne early warning planes becomes even more acute for Russia.
Some Russian defense bloggers on Telegram groups now fear that Western military experts, who Russia had long accused of secretly helping Ukrainian troops on the ground, might exploit the absence of an AWACS and help Ukraine devise tactics for bolder use of its MiG-29 and Su-27 fighters.
This, however, could be a dangerous gamble for Ukraine, given its massive aircraft losses and Russia's far superior fighter fleet, which, if successful in shooting down the Ukrainian jets, will erode even the little air denial capability it possesses.