India can see more insults, like Ukraine's Goddess Kali tweet, for not condemning Russia's war, as the world is now divided into those who support the former financially or militarily, say strategic experts.
Facing a backlash for its racist tweet mocking India, Ukraine has apologized for defaming Hindu Goddess, but it has again exposed Kyiv's deep contempt for India for taking an independent view of the Russian military operations in Ukraine.
Ukraine's Deputy Foreign Minister Emine Dzheppar Dzhaparova tweeted: We regret @DefenceU (Ukraine Defense Ministry's official Twitter account) depicting Hindu Goddess Kali in a distorted manner. Ukraine & its people respect the unique Indian culture & highly appreciate Indian support. The depiction has already been removed. Ukraine is determined to increase further cooperation in the spirit of mutual respect & strong friendship."
Perturbed by Russian Defense Minister Sergei Shoigu's recent visit to India, the defense ministry of Ukraine had mocked India's one of the most revered Goddesses, 'Maa Kaali,' by a racial slur.
On its official Twitter handle, Ukraine's Ministry of Defense posted a picture of a black tornado on one side and an Indian Goddess in Hollywood's iconic pose of Marilyn Monroe. The post wrote 'Work of Art' as a caption on the picture, which was posted at 1.40 am on April 30, two days after Russian defense minister Sergei Shoigu was in Delhi to attend the crucial SCO conference of defense ministers on April 27 and 28.
During his Indian tour, Sergei Shoigu had come down heavily on Ukraine and Western allies, particularly the US. In his speech at the SCO defense ministers conclave, Shoigu blamed the US for the 'conflict in Ukraine' because "Washington and its enablers are pursuing their strategic agenda of provoking other countries into a military confrontation with Russia and China."
The Ukraine war is a "clear demonstration of this criminal policy" of the US, said Shoigu, adding, "Its real aim is to inflict a strategic defeat on Russia, threaten China, and maintain its (US) monopoly position in the world."
The Shanghai Cooperation Organization defense ministers conference was hosted by India and was attended by Russia, China, Iran, Belarus, Kazakhstan, Uzbekistan, Kyrgyzstan, and Tajikistan. Pakistan had skipped the meet, with only a representative attending it online.
While India, China, Pakistan, Russia, Kazakhstan, Uzbekistan, Kyrgyzstan, and Tajikistan are member-states of the Shanghai Cooperation Organization (SCO), this year, Iran and Belarus also joined as observer nations.
The Russian defense minister even alleged that the weapons transferred to Ukraine by the US and other NATO countries "end up on the black market and go further into the hands of terrorist organizations, which poses additional risks, especially given the allegations of depleted Uranium ammunition to be supplied to the Armed Forces of Ukraine (AFU)."
Shoigu said, "Russia has been left with no option but to eliminate threats from Ukraine's military. Our objectives are clear and will be achieved within the special military operation."
Such hard talk by the Russian defense minister on Indian soil may have infuriated Ukraine and, thus, the blasphemous picture of the Hindu Goddess. After a backlash from the Indian community, Ukraine's defense ministry deleted the post, which already had 160,000 views by then.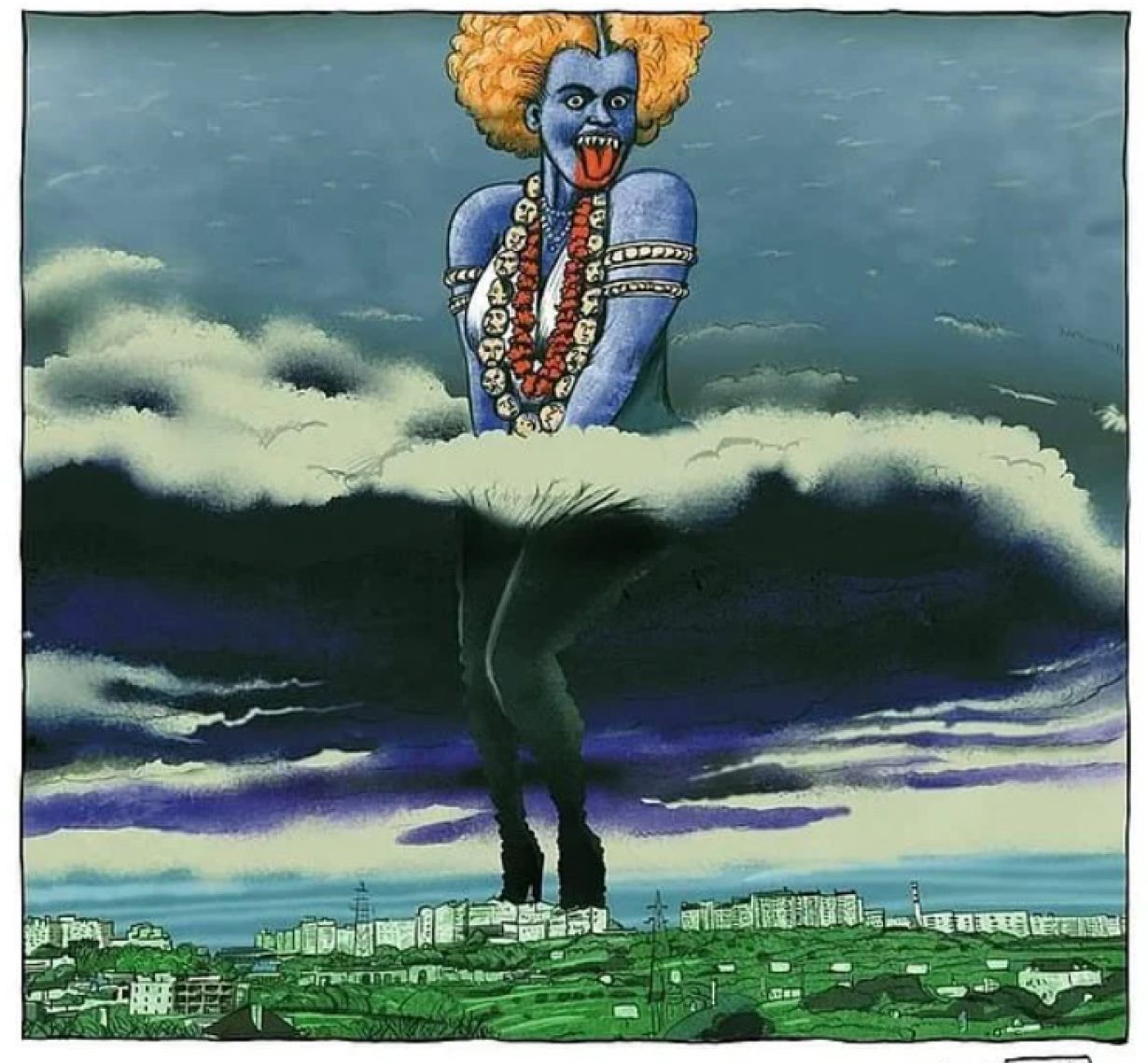 The screenshot of the post went viral and was condemned by Indians on social media for deeply insulting the religious feelings of India. Goddess Maa Kaali is revered by the Hindu community of India, which constitutes 80% of the 1.4 billion population.
Strategic Affairs student Monica Verma, pursuing her Ph.D. in International Relations from South Asian University in Delhi, wrote on her Twitter: "Shocking! The official handle of the Ukraine Defense Ministry portrays Maa Kali in a demeaning pose. This is not a work of art. Our faith is not a matter of joke. Take it down and apologize @DefenceU (sic)."
Indian journalist Shubhangi Sharma wrote on Twitter: "This centuries-old obsession with disparaging Goddess Kali Ma continues to run deep in the West. It's replete with ignorance and bigotry, and no matter how woke the new generations get, some malicious fixations will remain deeply entrenched forever."
India dispirits Ukraine, the US, and other European countries for not denouncing Russia openly and still having close military and trade relations with Putin after so many economic sanctions. Ukraine's Foreign Minister, Dmytro Kuleba, once alleged that "every barrel of Russian crude oil delivered to India has a good portion of Ukrainian blood in it."
"It is unlikely that anyone in the Ukrainian Ministry of Defense seriously studied Indian religion. The consciousness of Ukrainian officials and politicians is mostly West-centric, with little interest in Asia and Africa or the feelings of the people inhabiting them. For them, it is just a funny joke", said Alexei Kupriyanov, a senior research fellow at the Institute of World Economy and International Relations of the Russian Academy of Science in Moscow. Alexei writes regularly on India-Ukraine-Russia relations.
"All countries are divided into those who support Ukraine with weapons and money and into explicit and implicit allies of Russia. India belongs to the latter, which means it deserves much more insults", Alexei Kupriyanov told EurAsian Times.
Even Ukraine's Deputy Foreign Minister Emine Dzheppar (Dzhaparova), who was in Delhi last month, had gone overboard to say, "Being with Russia, we are again very sincerely saying so, is actually being on the wrong side of history. Supporting Russia means it is to be in the evil visionary picture of the world…supporting Ukraine is the only right choice for true Vishwaguru (India)."
Dzhaparova even compared the capture of Crimea by Russia with India's 'difficult neighborhood' with China (and Pakistan). India has a long-standing dispute with China over the 3,488-kilometer-long Line of Actual Control (LAC) with several flashpoints, including Galwan Valley in eastern Ladakh and the whole northeastern state of Arunachal Pradesh.
Last week's visit of the Russian defense minister to India amid the Ukraine war, which is now in its 15th month, may have further infuriated Kyiv, prompting it to post a derogatory tweet.
Even Russian defense minister Shoigu lambasted Ukraine and Western countries at the SCO conference, saying, "During the special military operation, Russia's partners experienced pressure to isolate the Russian Federation. The West has launched a global information campaign to compromise the Russian leadership and its policies…in the end, all such attempts eventually fail."
On the Shoigu visit to Delhi, India's well-known international expert, Sanjeev Srivastava, clarifies, "It is an international obligation for India to host G20 or SCO meetings.
Since Russia is part of SCO, the Russian defense minister will visit Delhi. This week Russian Foreign Minister Sergey Lavrov is visiting India to participate in SCO Foreign Ministers Conference.
"As far as India's approach towards the Ukraine-Russia war is concerned, the Modi government has taken a balanced view with full discretion," senior journalist Sanjeev Srivastava told EurAsian Times.
Although India has not openly opposed Russia but has abstained from voting on various United Nations Security Council resolutions on Russia and has given clarification notes too.
"India respects the sovereignty of all the nations and wants all disputes to be resolved through peaceful and diplomatic means," said Srivastava.
Another Indian journalist who did not wish to be quoted said India has nothing to do with the Ukraine-Russia war. We are already neck-deep involved in various counter-insurgency issues besides conflict with China and Pakistan. But Ukraine's insulting tweet has lost some support that it was getting from India and further isolated Kyiv (from Delhi).
Penned By: Neeraj Rajput
Please email us at etdesk (at) eurasiantimes.com