The delivery of second-hand Leopard-1A5 from Germany to the Ukrainian Armed Forces (AFU) recently hit a roadblock, as Ukraine refused to accept a batch of 10 of these archaic tanks due to its inability to service them.
The authorities in Kyiv refused to import the Leopard 1A5 tanks from Germany on the ground that these tanks required extensive repair work, the German publication Spiegel reported. The Ukrainian authorities noted that the repair and maintenance work would require spare parts and technical expertise that Kyiv does not have.
It was about six months ago, in February this year, that Germany approved the delivery of over 100 Leopard-1 tanks to Ukraine in a joint effort with The Netherlands and Denmark. At the time, however, it had said in a statement that "How many Leopard 1A5 main battle tanks will be delivered to Ukraine depends on the required maintenance work."
The delivery of these tanks from Germany most likely began sometime in July. By the end of last month, the list of armament and military equipment delivered to Ukraine under the German military support program had been updated to show that 20 Leopard-1A5 tanks had been delivered to Kyiv.
The refusal to accept the delivery of 10 tanks by Ukraine, thus, appears to have happened recently. The Spiegel report noted that Kyiv recently told the special staff of the German Ministry of Defense that the German Leopard 1 tanks that had been sent to Poland to be passed on to Ukraine needed maintenance, with some of them requiring a significant overhaul.
Ukraine has told Germany it won't accept 10 Leopard 1A5 tanks from Germany because of the tanks being in a very poor state.

After inspecting the tanks in Poland, Kyiv said there's no point sending them as there are no spare parts nor specialized technicians available in Ukraine. pic.twitter.com/1hJgkn0tqD

— Visegrád 24 (@visegrad24) September 20, 2023
To inspect the tanks firsthand, the German side dispatched a team of specialists to Poland. After examination, it was revealed that "they were already quite worn out after the training of the Ukrainian soldiers in Germany and needed repairs."
In fact, it was also notified several other Leopard 1s that had arrived in Ukraine throughout the summer broke down soon after. Ukrainian authorities rejected the tanks even as the delivery has been taking place at a snail's pace. For instance, Die Welt reported in early August that only 10% of the pledged tanks were delivered.
On being probed, the Defense Ministry told Spiegel that Leopard tanks are being refurbished "jointly with Ukraine after intense training in Germany," the German and that it was unable to comment on a "concrete individual incident."
The condition of the 100 Leopard 1A5 tanks that Germany has committed to give Ukraine also reveals debilitating logistical issues with the supply of archaic equipment. The Cold War-era 1A type tank was last used by Germany in the year 2000, i.e., they have been in cold storage for about 20 years.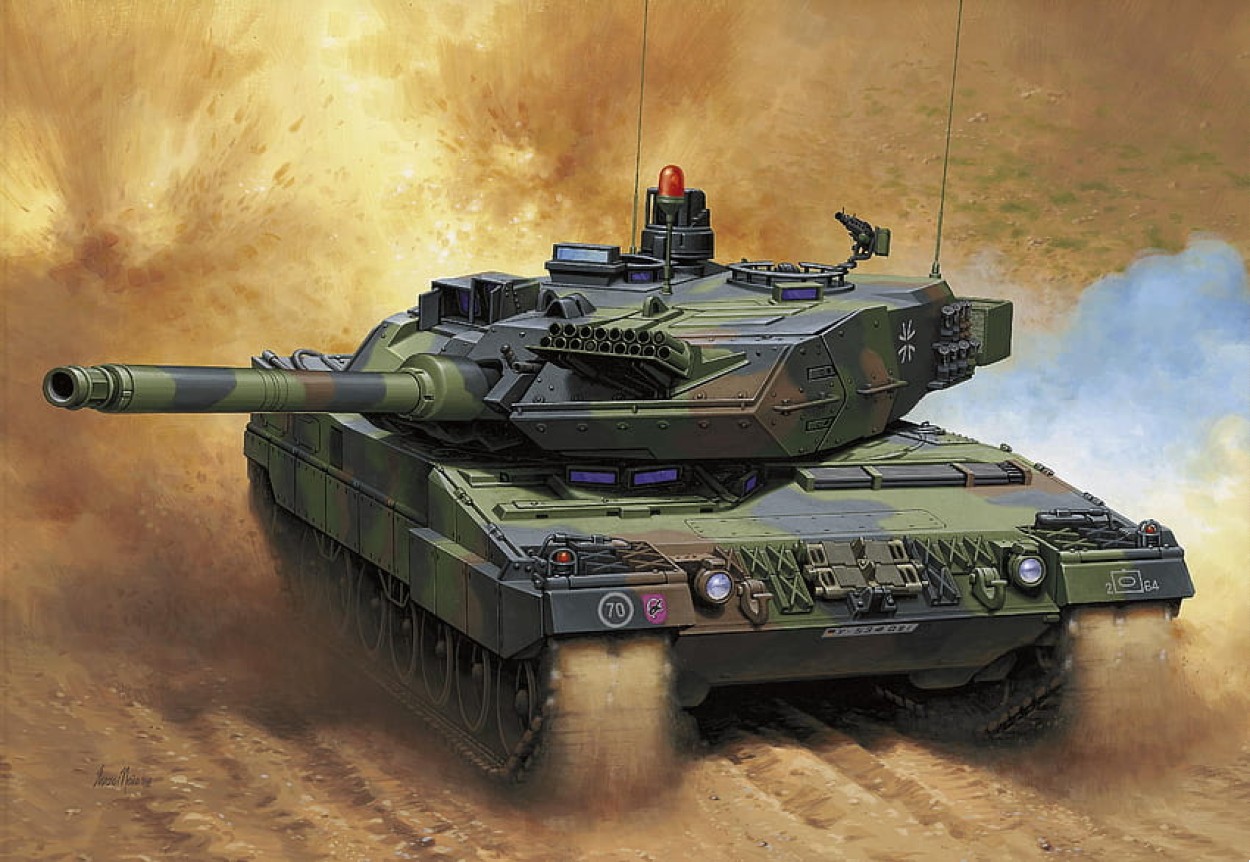 The refurbishment of tanks that are pulled out of the cold storage takes a significant amount of time, even posing impediments to training that usually happens in Germany. This became evident as the Danish Army pulled out Leopard 1A5 tanks from museums so the training of Ukrainian tank crews could begin without delays.
Although some Western military experts have been emphasizing that even an old Leopard-1A5 can take on the Soviet-era T-72 tank deployed by Russia, some of them have now started to concede that the Leopard 1s may not prove to be as resilient or survivable in combat if it was breaking down right after training.
This is in contrast to the Leopard-2s that have put up a pretty good fight in the counteroffensive that started in June this year. Only six of the 72 Leopard 2s that Kyiv's forces have so far received have been lost in the three months of intense combat. Several Leopard 2s that have been damaged have already been recovered, repaired, and put back into action.
Having said that, while the Leopard 1A5 delivery seems to be in jeopardy for a while, a significant Ukrainian ally has hinted that it may stop the supply of weapons to Kyiv.
Poland Says No Weapons For Ukraine Any Further!
Poland, one of Ukraine's most steadfast allies, has said that it will no longer provide weaponry to its neighbor as a diplomatic row over grain intensifies. Poland's priority, according to Prime Minister Mateusz Morawiecki, is on arming itself with more contemporary weapons.
Poland has not offered much more than the 320 Soviet-era tanks and 14 MiG-29 fighter fighters it has previously supplied to Ukraine.
The statement came while relations between Poland and Ukraine were already strained due to Warsaw's extension of a ban on Ukrainian grain due to concerns that big quantities of it would harm Polish farmers. In fact, the Polish Foreign Ministry officially summoned the Ukrainian envoy to Warsaw for a formal ticking off, Polish media reported.
Mateusz Morawiecki expressed regret saying that Ukrainian oligarchs had "pushed their grain onto the Polish market" without taking into account the implications for Polish farmers.
He claimed that this had caused prices to drop, necessitated the introduction of price guarantees, and finally resulted in the government banning imports of Ukrainian grain.
Poland has stopped supplying weapons to ukraine and is actively arming itself – Polish PM Mateusz Morawiecki pic.twitter.com/yCNmfT9oQZ

— Lady Vets 🇺🇸 (@LoveOurTrump) September 21, 2023
"Of course, we will maintain the transit of Ukrainian goods," Morawiecki said. "Poland does not bear any costs due to that. On the contrary, it could be said that we earn from it." The Polish Prime Minister also said Poland would not risk Ukraine's security.
"Our (military supply – PAP) hub in Rzeszow, in agreement with the Americans and NATO, is fulfilling the same role the whole time as it has fulfilled and will fulfill," he said.
However, he emphatically said that instead of sending weapons to Ukraine, Poland was now "defending ourselves, with the most modern weapons." "If you want to defend yourself, you have to have something to defend with," Morawiecki said. "We adhere to that principle, that is why we have placed increased orders."
Contact the author at sakshi.tiwari9555 (at) gmail.com