Ukrainian forces are said to have destroyed multiple Iranian-made "kamikaze" drones that Russia was using to intensify air strikes on the Ukrainian port city of Odesa. 
---
These Iranian drones can are seen flying above Odesa in videos widely shared on the internet. The Ukrainian Armed Forces claimed they had destroyed four Iranian Shahed-136 drones in the Mykolaiv region with mid-range anti-air missiles on September 22. 
Ukraine also said a person was killed, and a building was destroyed in an attack by an Iranian-designed Shahed-136. Also called "suicide drones," these UAVs allow users to examine a battleground from the drone before smashing into a target.
Video reportedly of a Iranian Shahed-136 loitering munition over Odesa. https://t.co/LLYyhB8a2I pic.twitter.com/OmrhNe896j

— Rob Lee (@RALee85) September 23, 2022
"The enemy continues aerial reconnaissance using UAVs and also activates air attacks using Iranian kamikaze drones of the Shahed-136 type," Ukraine's Operational Command South (OCS) said in a Facebook post. 
"It was in this way that the port infrastructure of Ochakov was once again struck. Our units shot one of the two attacking drones down, and the other hit a port tug. Firefighters promptly extinguished the fire. There are no casualties," OCS added. 
Ukraine Shoots Down Iranian Mohajer-6 Drone
Meanwhile, Kyiv claimed that it had, for the first time, shot down an Iranian-made Mohajer-6 flown by Russian forces over the Black Sea on September 23. The country's military also released short footage of the destroyed drone. 
In the video, the wreckage of the Mohajer-6 UAV, which was found in the water, is seen being towed to shore by a motor boat. The drone is designed to conduct reconnaissance, surveillance, strikes, and reconnaissance. 
? This is what the Iranian-made Mohajer-6 drone looks like, shot down by the Air Force of the Armed Forces of Ukraine in Odessa today. pic.twitter.com/5it0YUfjHm

— Toronto Television / Телебачення Торонто (@tvtoront) September 23, 2022
The Ukrainian Armed Forces Air Force stated that this UAV could carry up to four guided missiles. The Mohajer-6 is a twin-boom drone with a high-wing configuration, which means that its wing is attached to the upper portion of the fuselage.
The Mohajer-6 drone has a maximum takeoff weight of 600 kilograms, a length of 5.5 meters, and a wingspan of ten meters. The drone can operate at a speed of 200 km/h. Additionally, the drone can monitor and pursue targets while operating in both day and nighttime environments.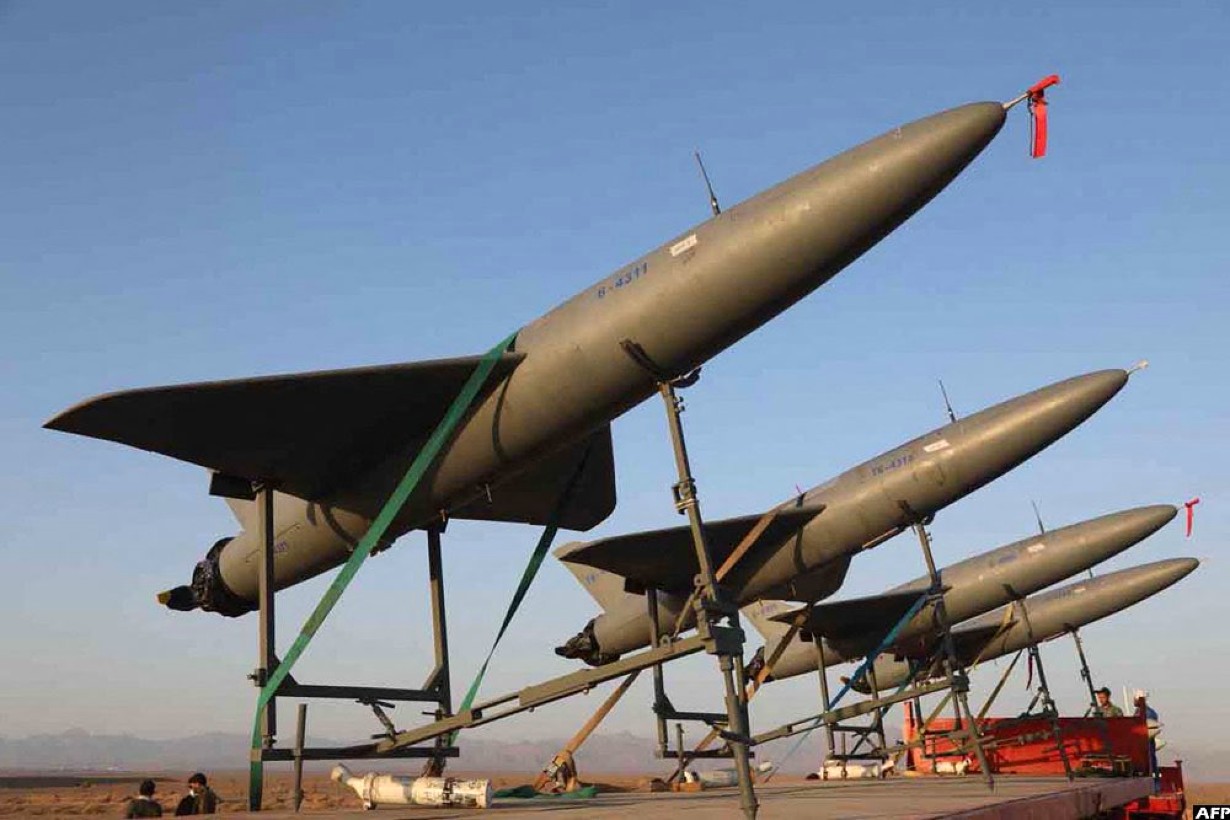 Nevertheless, it ranks among the top drones used by the Iranian military, and the serial production of this UAV began in 2018.
Given its access to guided missiles, Mohajer-6 can carry out a variety of missions against both stationary and moving targets. The drone can launch "smart diamond missiles" and "vertical guided bombs" and carry 40 kilograms of weaponry in its wing hangars. 
Iranian Drones In Ukraine War
The Ukrainian Armed Forces air force shot down the first Iranian drone in Ukraine on September 13. Russia is reportedly employing these drones in the Kharkiv region, given its diminishing artillery advantage over advancing Ukrainian forces.
They have already hindered Ukraine's artillery forces during their recent and successful counter-offensive in Kharkiv Oblast, reported WSJ. The Ukrainian armed forces noted that it is challenging to shoot down such drones. 
Shahed 136 is a relatively small aerial target that flies primarily at low altitudes, according to Yurii Ihnat, the spokeswoman for the Air Force Command, who also noted that these drones are hardly detectable on radars.
The most effective option to destroy such drones would be electronic warfare systems or anti-aircraft guns, for instance, Germany's Gepard or Ukraine's ZSU-23-4 Shylka. 
Kyiv is alarmed by the Russian Army's use of Iranian drones. According to reports, Ukraine contacted Israel to request information about the shipment of Iranian weapons to Russia and to open a communication line to discuss these issues. 
On July 11, the US said Iran was preparing to send "up to several hundred drones" to Russia and train its military to utilize them. The Shahed-136 and Mohajer-6 drones had been delivered to Russia "over many days in August," White House press secretary Karine Jean-Pierre said during a press conference on August 30.
Iran had previously denied supplying weapons or drones, including the Shahed-136, to Russia. However, Iran's Revolutionary Guard commander later bragged about arming Russia with these drones.
A Russian delegation also made two trips to Iran to examine the Shahed-191 and Shahed-129 attack drones, CNN reported on July 16. A satellite photo taken the day of the Russian visit was made public by CNN.
The UK's Defense Ministry said that Russia's supply of weapons is running low, forcing it to use weaponry from nations like Iran and North Korea.