The Prime Minister of the UK, Rishi Sunak, recently said that his country would be the first to provide Ukraine with longer-range weapons during a speech at the Munich Security Conference.
According to the British PM, "a military strategy for Ukraine to gain a decisive advantage on the battlefield to win the war, and a political strategy to win the peace" is needed.
"To win the war, Ukraine needs more artillery, armored vehicles, and air defense," Sunak said. "So now is the time to double down on our military support. When (Russian President Vladimir) Putin started this war, he gambled that our resolve would falter. Even now, he is betting that we will lose our nerve. But we proved him wrong then and will prove him wrong now."
"Together, we're delivering as much equipment in the next few months as in 2022. And together, we must help Ukraine to shield its cities from Russian bombs and Iranian drones. And that's why the United Kingdom will be the first country to provide Ukraine with longer-range weapons, and it's why we're working with our allies to give Ukraine the most advanced air defense systems and build the air force they need to defend their nation," he further continued.
While Sunak did not go into detail about what platform or weapon system the UK would donate to Ukraine to provide it with long-range capabilities, his remarks have revived speculation that Kyiv's forces could soon receive Storm Shadow missile.
As EurAsian Times reported previously, there have been rumors of Polish engineers integrating Storm Shadow air-launched cruise missile (ALCM) with Ukraine's Sukhoi Su-24M fighter bombers.
As per speculative reports, Poland is the integrator country that has undertaken the mission to fuse this British-French weapon with only one Ukrainian Su-24 fighter from the 7th Tactical Aviation Brigade because of the high price of the missile (($1.4 million per unit).
If true, this would be the second Western-made air-launched missile for Ukraine after the American AGM-88 High Anti-Radiation Missile (HARM).
Storm Shadow Missiles 
Developed by the European multinational developer and manufacturer of missiles, MBDA, Storm Shadow is designed to destroy bunkers, hardened infrastructure, and other moving or fixed targets.
The missile can be deployed against the enemy's command and control centers, airfields, ports, and power stations.
It is powered by a turbojet engine, providing a range of 250-300 kilometers and a top speed of up to 1,000 kilometers per hour. The missile has a blast/penetrator-like warhead. Its navigation system combines Inertial Navigation Systems, Satellite Navigation (GPS), and Terrain Referencing.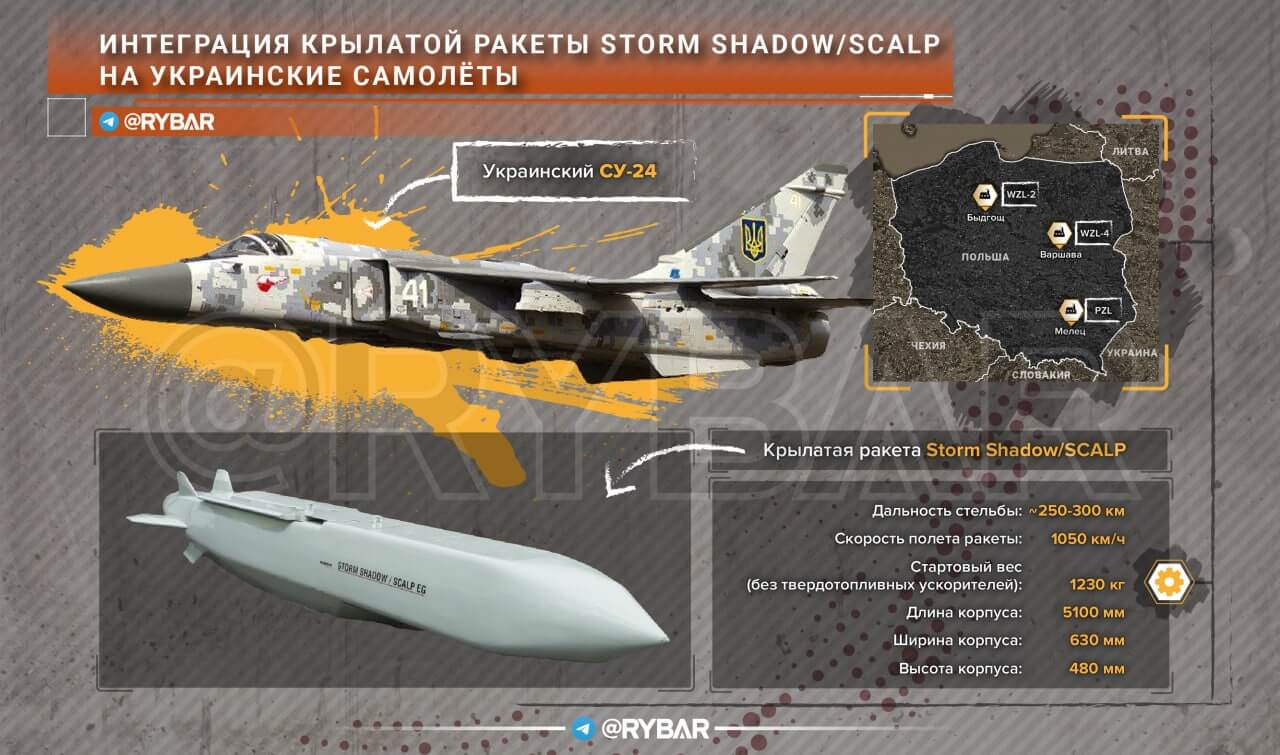 The French version of the weapon is called the SCALP, also used by the Indian Air Force's (IAF) own Rafale fighters. Other fighter jets like the Tornado, Eurofighter Typhoon, Saab Gripen, and Mirage-2000 can also fire the Storm Shadow/SCALP missile.
The missile can be programmed before it is deployed, giving it a 'fire-and-forget' capability, which enables the pilot of the launching aircraft to turn around and fly away after firing the missile before it can be tracked by the hostile air defense systems.
The missile uses satellite navigation systems and terrain mapping, thereby semi-autonomously guiding itself to the target area on a low-flight path.
Ukraine's Quest For Long-Range Strike Weapons
Ukraine has been requesting Western countries to provide it with long-range strike capability. However, the West has not been forthcoming in this regard.
For instance, Ukrainian officials have also been lobbying the US to supply a long-range Army Tactical Missile System (ATACMS) tipped with a 227 kg warhead and able to hit targets up to 300 kilometers.
Such a long-range strike capability packed with a powerful punch will allow Ukraine to obliterate any high-value target inside Russia, but the US is not keen to provide ATACMS to Ukraine, as the Biden administration considers it 'too escalatory.'
However, the Strom Shadow missile might fill this gap for the Ukrainians. Specific Russian-language media sources have even published a map with places inside Russia and even Belarus that could become targets if Ukrainians are provided with Storm Shadow missiles.
In the map, several Russian regions, including Bryansk, Oryol, Kursk, Voronezh, Belgorod, and Rostov-on-Don, would come inside the range of the Storm Shadow missiles.
Additionally, some of the Belarusian regions, such as Brest, Gomel, Mogilev, and Grodno, would also come inside the range of these missiles.
Apart from the Storm Shadow missiles, there have also been reports of a secretive UK program named KINDRED, which is known to have designed and tested several unmanned aerial systems that would be suitable for use by Ukraine.
The program is reportedly aimed at providing "recommendations for uncrewed aircraft systems that could be deployed readily by the Ukrainian military."
Not much is known about the program. However, some details were recently revealed by a UK-based defense company QinetiQ that regularly collaborates with the UK Defense Ministry on novel technologies.
Last week, QinetiQ released a photo featuring a small drone with sweeping wings and a fin-like tail. The drone appears to be powered by two micro-turbine engines and may have been 3D-printed, according to a preliminary analysis by The War Zone.
Ukraine has also been using kamikaze drones to strike targets deep inside Russia. For example, the Soviet-era Tu-141 Strizh was allegedly used by the Ukrainian military after adapting it for conducting suicide attacks on Russian Air bases deep inside the country.
Whether Ukraine will be allowed to use the UK-supplied long-range strike capability for attacks inside Russian territory remains a question.
The governor of the Kursk Oblast has shared photos of what he claims is a downed Ukrainian Tu-141 Strizh.https://t.co/mMv756n2LS https://t.co/W2tGRHCKsF pic.twitter.com/EoNwXnUw58

— Benjamin Pittet (@COUPSURE) June 29, 2022
The HIMARS MLRS, which has been wreaking havoc on the Russian military, was earlier off the table for Ukraine, as the US feared that providing highly advanced, destructive, and long-range MLRS to Ukraine would be interpreted as an escalation by Moscow.
However, Washington later agreed to provide HIMARS to Ukraine after Kyiv gave "assurances" that it would not use the missiles to strike inside Russia. The UK could add a similar caveat to providing long-range strike capability to Kyiv.