Ukrainian defense minister Oleksiy Reznikov, who was at the forefront of the prolonged campaign for NATO-grade Main Battle Tanks (MBTs) for the Ukrainian army, has now announced that Kyiv would be buying the indigenously developed Oplot tanks.
Reznikov announced on May 12 during a working visit to Kharkiv oblast where he tested one of the Oplot tanks produced by the state-owned defense manufacturer Ukroboronprom. The defense minister subsequently published a video of the testing.
"It's always nice to test-drive equipment going to the front. But when it's Ukrainian equipment, it's many times more pleasant. Yesterday I had the honor of personally trying out Ukrainian Oplot tanks…And I am convinced there should be a Ukrainian tank, such as the Ukrainian Oplot Tank, in the first ranks of the tank coalition…
"That's why it has been decided that the Ministry of Defense of Ukraine will order Oplots from Ukroboronprom for the Ukrainian army," Reznikov was quoted. However, he did not specify the number of tanks that would be ordered by the defense ministry or the estimated delivery schedule of these tanks.
Reznikov emphasized the necessity for an "armored fist" on the front lines to safeguard Ukrainian soldiers. He also honored many Ukroboronprom defense industry workers for contributing to Ukraine's combat capability.
"I love the cuisine and music of different nations around the world, but when it comes to industry, I am a proponent of Ukrainian protectionism," he stated.
Ukraine to order homegrown BM Oplot main battle tanks (MBTs) after their successful tests in Kharkiv region. pic.twitter.com/NJFl5bKtbW

— Clash Report (@clashreport) May 12, 2023
Ukraine has just five or six T-84 Oplot tanks based on the Soviet-era T-80 tanks, which have seen extensive operations in the ongoing war. Just six T-84 tanks would be enough only for one platoon, which is why this tank has rarely been spotted on the battlefield.
Over twenty years ago, the Kharkiv Malyshev factory produced just 10 T-84 Oplots for the Ukrainian army. This was essential because the Ukrainian army still had several hundreds of T-64 tanks, forerunners of the T-80, in fine working order, making a replacement low priority. Moreover, the cost was also a major consideration.
⚡️⚡️Testing of the same ??Ukrainian tank BM "Oplot" zr. 2009 at the military training ground in the Kharkiv region pic.twitter.com/FIk6STRPde

— ??Ukrainian Front (@front_ukrainian) May 12, 2023
Even out of the ten Oplots produced, the Ukrainians only kept a few. Four of the T-84 Oplots were purportedly given to the Americans for testing, leaving maybe six in Ukrainian service, writes Forbes.
According to the Military Balance handbook from the International Institute for Strategic Studies for 2021, only five T-84 Oplots were available in Ukraine's inventory.
Due to the inability of either side to achieve air superiority in the war and the limited scope of the air battle, artillery and tanks have seen more action that is only set to become more significant in the coming weeks.
The announcement for purchasing the Oplot tanks comes even as Ukraine has received shipments of Leopard-2 tanks from Poland and Germany, with Britain recently confirming that all the Challenger-2 tanks were now in Ukraine. In addition, the US Pentagon said the Abrams would be handed over to Kyiv in early fall.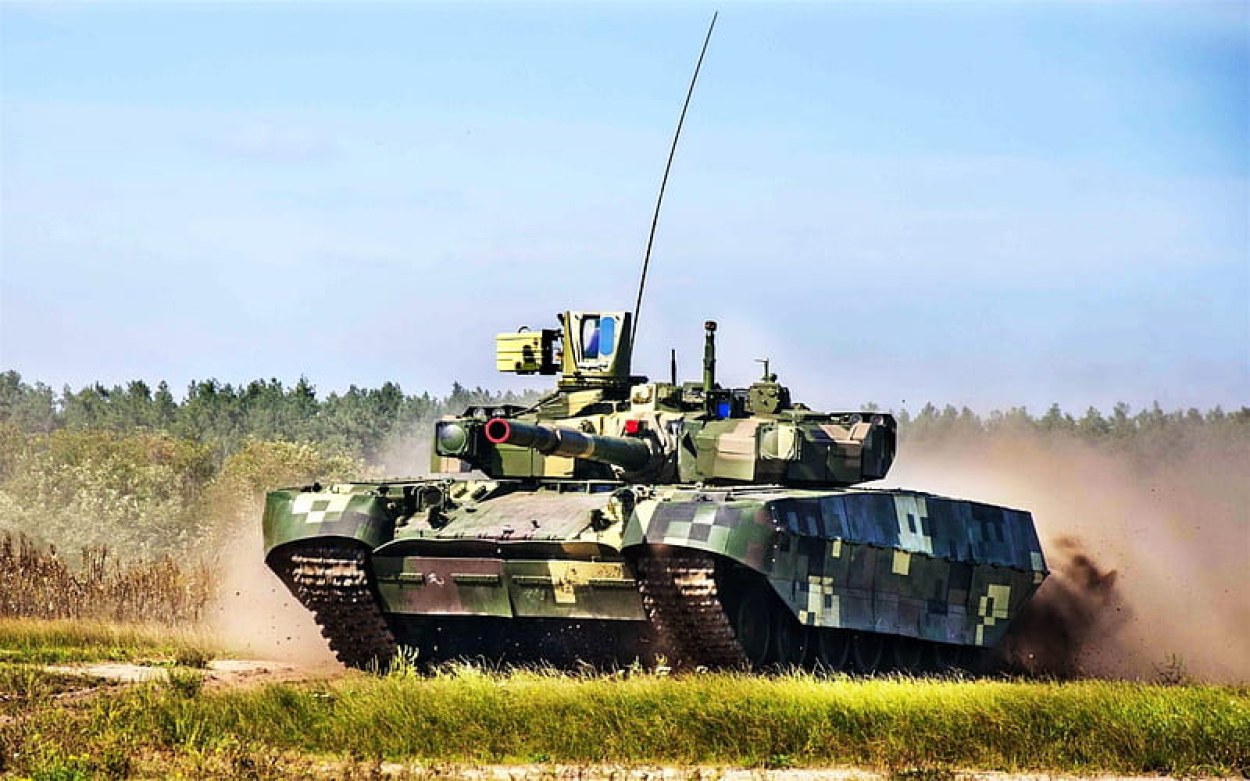 What Do We Know About The Oplots?
The Oplot is a main battle tank produced from the T-84 and introduced to service in 2009. It has a navigation system, an optoelectronic countermeasure complex, thermal imaging sights, and a combination protection and anti-radar system. A single tank is worth about US$4 million.
The tank has a 125mm smoothbore gun, a 7.62mm coaxial machine gun, and a 12.7mm anti-aircraft machine gun. Additionally, it carries "Kombat" laser-guided missiles developed by Ukraine, which have a range of up to five kilometers and may be used to strike heavily protected ground, surface, or low-flying targets as well as tanks, helicopters, and other targets.
Three crew members can fit within the tank's three compartments, arranged conventionally with the driver's compartment in the front, the fighting compartment in the middle, and the engine at the back.
According to information from Ukrainian soldiers, the T-84U can travel at a higher speed than other Soviet-built tanks, with a top road speed of 75 kilometers/hour and a top all-terrain speed of 50 kilometers/hour.
The tank can move forward at a speed of up to 35 kilometers/hour thanks to a strong engine that produces 1,200 horsepower and is connected to a gearbox with seven forward and four reverse gears. This device is fantastic for fast-shifting positions and going back. As a result, it is very challenging for the enemy to hit the tank.
The T-84U is shielded by an upgraded Explosive Reactive Armor (ERA) package known as Kontakt-5. It will considerably reduce Armor-piercing fin-stabilized discarding sabot (APFSDS) rounds' penetration.
The optical-electronic countermeasures complex "Shtora-1" that jams anti-tank laser and infrared systems of approaching missiles and anti-tank guided weapons also protects the tank. The system incorporates smoke/aerosol screen laying technology, infrared jamming technology, and laser warning sensors.
A new auxiliary power unit, installation of a command and control system, the ability to be fitted with two types of track, a new R-163-50K radio, a new-generation 1V528-2 ballistic computer, a new 1 KRNA land navigation system, and more are also included in the T-84U Oplot's equipment list.