In May 2022, Turkey's defense industry and the Altay battle tank project experienced a watershed moment as the domestically produced tank was finally integrated with South Korean engines that had been marred with delays and policy roadblocks.
A South Korean company will provide the engines' transmissions for Altay in a new development that takes the cooperation even further. South Korea's S&T Heavy Industries announced that it will provide BMC, a Turkish tank company, with a 1,500-horsepower automatic transmission until 2030 as part of a $217.9 million deal.
According to the company, the export agreement includes a supply commitment of $74.9 million through 2027 and an option for additional sourcing valued at $141 million between 2028 and 2030.
In the longer run, Turkey wants to produce its engines and transmissions. However, until its defense industry can produce these parts locally, the South Korean supplies will serve as a stop-gap solution.
Turkey is going to produce a thousand Altay tanks under the project. The Turkish tank is believed to be very similar to the South Korean K-2 Tank.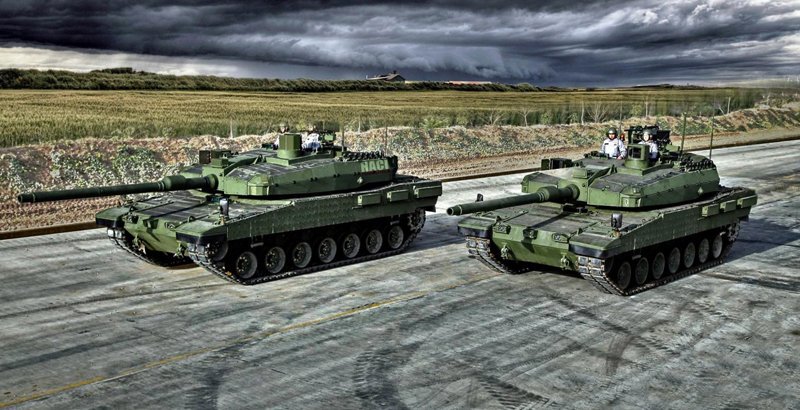 Originally, the Altay tank was intended to incorporate technologies from multiple players, with Germany transferring technology for its 55-caliber Rh-120 gun, MTU833 engine, RENK transmission, and Hyundai-Rotem from South Korea providing the turret design of its indigenous K2 Black Panther tank for $424 million.
However, due to an arms embargo placed on Turkey, the agreement with Germany did not go through. Around this time, Turkey began looking for new engines to power its ambitious and first-ever main battle tank project.
This was when the South Korean defense came through, and a deal was signed.
As for the burgeoning South Korean defense industry, signing a deal with Turkey to supply crucial tank parts is just one of its several breakthroughs. Recently, this booming industry has been making inroads into markets traditionally dominated by European and American defense giants.
South Korea Is Sweeping Europe
The Russian invasion of Ukraine and almost a year-long war has presented a unique opportunity to the South Korean defense sector, as there is a steadily growing demand for weapons among European countries.
South Korea is becoming increasingly popular as a cost-effective supplier for countries looking to replenish their Soviet-era armament stockpiles, especially tanks and howitzers.
Since several European countries still operate the battle tanks from the Soviet era that they are looking to replace, there's a massive market that South Korea could sweep.
Last year, South Korean defense companies signed a deal with Poland to supply K2 main battle tanks and K9 Howitzers. The first shipment arrived in Poland in December 2022, showcasing the speed with which Seoul could move to fulfill its commitments.
Recently, military expert Blake Herzinger writing for Foreign Policy, pointed out that Germany's hesitation in sending its Leopard-2 tanks to Ukraine, which played out as an episode for several weeks, will have repercussions around Europe.
Herzinger argues, "While Germany has long been a defense acquisition partner for its European neighbors, this episode has shaken the confidence of its customers, creating the impression that Berlin's confused defense policy and weak leadership are strategic liabilities and encouraging them to explore other options for defense hardware."
This is where the South Korean defense industry comes in, as it did when the Germans turned their back on Turkey. The K-2 tank has been an alternative to German tanks by military experts.
Further, South Korea provides several incentives for the European countries looking to purchase tanks and artillery to fill an essential security requirement that the Russian invasion of Ukraine has left.
For instance, the Korean contract fulfilled Poland's objective for technology transfer to advance its domestic military sector while also enabling Warsaw to obtain tanks at a competitive price point and far faster than Rheinmetall of Germany could.
States like Slovakia have contacted South Korea to examine options for replacing its vintage T-72 tanks. Earlier, Norway was also evaluating K2 battle tanks against the German Leopard 2A7 variant.
Even though there has not been any progress, Norway has joined ranks with other European states like Finland and Estonia by ordering 28 K9 self-propelled howitzers from Hanwha Defense.
There are still many roadblocks for European countries to switch to a different supplier far away from the continent. However, South Korea's capability to mass produce in record time and willingness to localize production could prove to be a big incentive.
Not just Europe, South Korean tanks and howitzers have also found their way into South Asia and South East Asia. India already uses the K-9 Howitzers and is willing to purchase more. Swift inroads are also being made in the Middle East, as earlier, there were reports that the country was in talks with Egypt to co-produce the K-2 battle tank.
In addition, it was reported in December 2021 that Hanwha Corp would build 30 self-propelled howitzers and 15 armored ammunition resupply vehicles for Australia.
While many advanced nations' defense industries, notably the US and countries like the UK, Germany, and France, are experiencing significant production deficiencies in their defense industrial bases, South Korea's defense industry is going strong.
Contact the author at sakshi.tiwari9555 (at) gmail.com