With Turkey growing more assertive in the Middle East, the Mediterranean, and South Asia, can Kashmir become a battleground between India and Turkey soon?
​Pakistan's 'Strong' Pro-Israel Lobby Determined To Normalize Ties With The Jewish State Despite Imran Khan's Denial
Relations between Turkey and India soured following New Delhi's decision to scrap the special status of Jammu and Kashmir in 2019. Turkey has been openly supporting Pakistan on the Kashmir issue on international platforms. Kurdish and Greek media reports claim that Ankara is preparing to relocate Syrian mercenaries from Libya and Azerbaijan to Kashmir.
"Abu Emsha, the head of the Suleiman Shah Brigades, one of the gangs recruited under the label of the Syrian National Army (SMO), informed the members of Afrin / Shia that the Turkish state wanted to reinforce Kashmir," ANF News, a Kurdish news agency said citing "local sources".
Analysts have cast doubts on the news as South Asia has enough "jihadist who can infiltrate Kashmir". Aditi Bhaduri writing for Money Control argued that Turkey has been actively involved in conflict zones, "it is not impossible that Turkey may in 2021 instigate conflict in South Asia, which may necessitate dispatching some militants here".
During the Nagorno-Karabakh conflict, Ankara vowed to stand with Baku that concluded with Armenia ceding the disputed land to Azerbaijan. While the international community including France, India, Russia, and the United States called for a ceasefire during the 6-week war between Armenia and Azerbaijan over the disputed region, Ankara offered military support to Azerbaijan. Baku acknowledged the use of Turkish and Israeli-produced drones to strike in the Nagorno-Karabakh region. 
Karabakh victory today, Kashmir victory tomorrow InshAllah

— Ali Keskin (@alikeskin_tr) November 10, 2020
Turkey sold $123 million worth of arms and ammunition to Azerbaijan in the first nine months of 2020. Following the conflict in July, Ankara sold drones, rocket launchers, and other weapons worth $36 million in August, and $77.1 million in just September, said a Reuters report citing the data compiled by Turkish Exporters' Assembly.
Bhaduri suggested that Turkey's "successes are rooted in conflict, given its advantage in military technology and know-how as a NATO member" as the Turkish economy weakens. Ankara has also been at loggerheads with Saudi Arabia, a strong influencer in the Gulf and a major market for Turkish goods.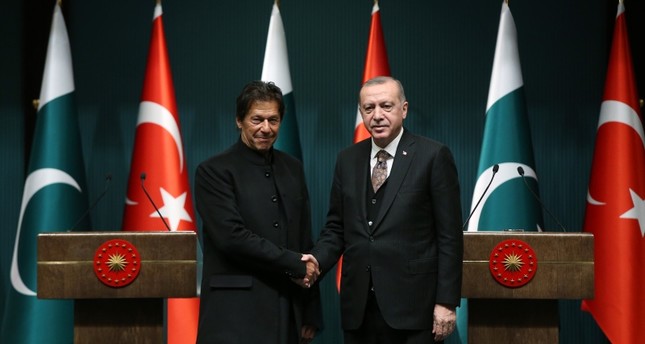 With the increasing rift between the two the head of the Council of Saudi Chambers, Ajlan bin Abdulaziz Al-Ajlan, called for a boycott of Turkish goods in October. "A boycott of everything Turkish, be it imports, investment or tourism, is the responsibility of every Saudi 'trader and consumer,' in response to the continued hostility of the Turkish government against our leadership, country, and citizens," businessman Ajlan Al-Ajlan tweeted.
Turkey has also received backlash from the west when it bought the S-400 missile system from Russia that resulted in its ouster from the F-35 program and stringent sanctions were recently imposed by Washington.
With Pakistan and Turkey warming up their relations, Islamabad makes for a suitable buyer as it is also entangled in a conflict with its arch-rival, India. In 2018, Turkey signed its biggest ever arms export with Pakistan for $1.5 billion for 30 T129 attack helicopters.
https://twitter.com/eadkski/status/1344029484425629697
Turkey didn't hold back on the one-year anniversary of the scrapping of Jammu and Kashmir's special status. The country has openly taken sides with Pakistan and raised the issue at the United Nations drawing a sharp response from India. 
With consistent support from China and Turkey, Kashmir may see increased tensions as India rejects Islamabad's claim on the territory.
Follow EurAsian Times on Google News