Since Turkish President Recep Tayyip Erdogan began to believe that he had a divine mission of reviving the lost grandeur of the Ottoman Empire, he concluded that a road to achieving that ambition lay through the labyrinth of Islamic revivalism.
3 Key Reasons Why Turkey Is Keen To Reset Its Ties With India & Keep Its Pro-Pakistan, Pro-Kashmir Sentiments On Backburner
In his college days, he was influenced by the Islamic Brotherhood Movement. His pro-Islamist reach is also because of the repeated refusal of the European Union to admit Turkey as a regular member. Deep inside, his inclination towards Islamism springs more from vengeance and much less from conviction in all Islam claims.
"The mask of pro-Europeanism started to erase after continuous attempts by Turkey to be a part of the EU failed. After the 2011 Arab Spring, Erdogan asserted his support for Islamist political forces in the West Asia and North Africa (WANA) region like Mohammad Morsi in Egypt and the 'Dawn Coalition' in Libya," wrote Tahiroglu in Ankara's Failure.
Firstly, Erdogan supported the Muslim Brotherhood-led Morsi government so much so that when Morsi was deposed in 2013 by al-Sisi in a military coup, and the latter became the president, Erdogan refused to recognize Sisi as a legitimate ruler of Egypt.
Secondly, when the crackdown on Muslim Brotherhood leadership began under Sisi, many of its leaders and sympathizers relocated to Turkey. Thirdly, Erdogan's support of the Muslim Brotherhood has been one of the main issues of contention between Turkey and its relations with the Arabs.
---
The UAE, Jordan, Egypt, and Saudi Arabia are also on opposing sides of Turkey in Libya. The Arab monarchies are supporting the General Khalifa Haftar-led Libyan National Army.
Erdogan, who has regional ambitions in the Eastern Mediterranean, firmly supports the Government of National Accord, which has close relations with the Islamists and the Muslim Brotherhood. Turkey's relations with Saudi Arabia have been badly affected after the killing of pro-US Jamal Khashoggi.
However, Qatar and Turkey share ideological convergence in supporting the Muslim Brotherhood and other Islamist groups like Hamas. Qatar also opposed Morsi's overthrow, like Turkey. This explains the basis of their friendly relationship.
While addressing the Sixth Religious Council meeting of the Presidency of Religious Affairs (DİB) in Ankara in November 2019, Erdogan charged that Muslim countries "look for solutions in the Western capitals for their problems, instead of reaching out to their Muslim brothers and sisters for help." He contemplates new leadership of the ummah (an Arabic word meaning "community") and discards the existing one.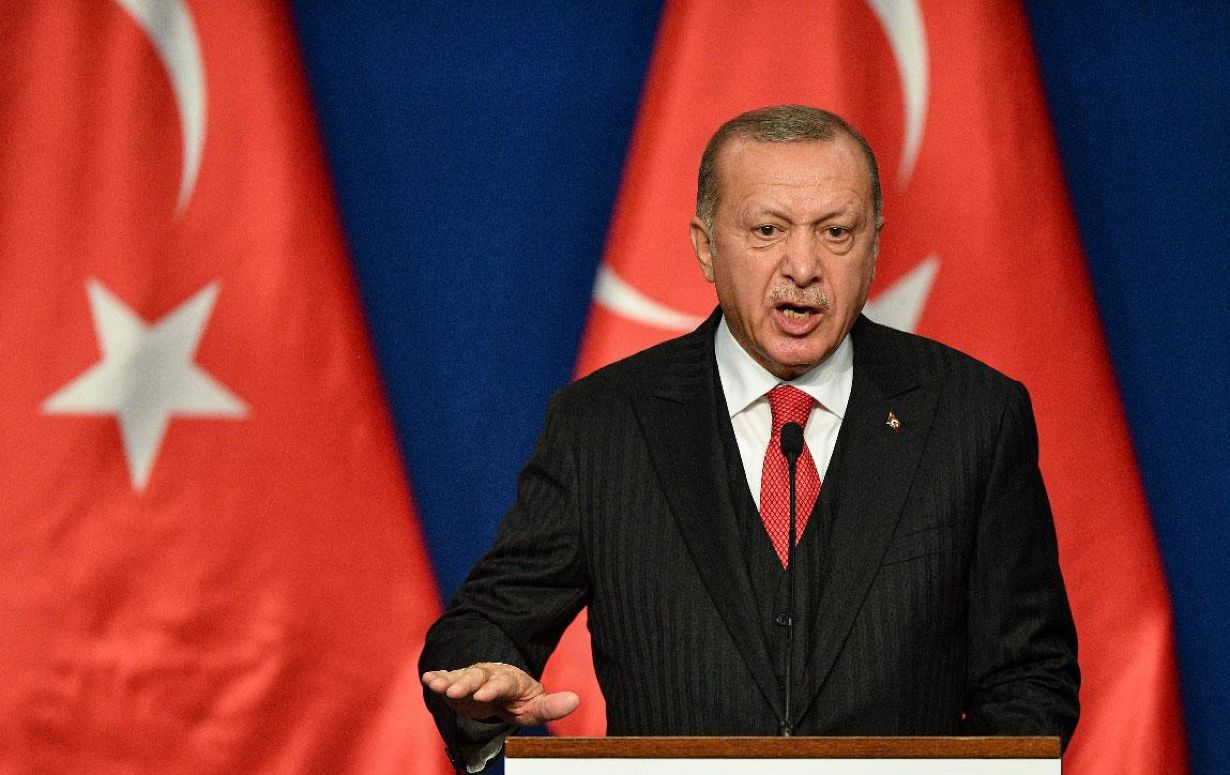 Erdogan has been trying to gather international muscle around the idea of reviving the Muslim ummah, which other Islamic states like Pakistan and Malaysia have actively supported.
Erdogan praised the then Pakistan PM Imran Khan for raising the voice for Muslim ummah and the issue of Kashmir at a reception hosted for the participants of the Third Speakers Conference in Istanbul in October 2019.
At the UN General Assembly in 2019, Erdogan raked up Kashmir and criticized the international community for not paying attention to the issue.
This speech came just a month after the Indian government revoked Jammu and Kashmir's special status (Article 370) in August 2019. He also highlighted the intervention issues in Yemen and Qatar and the Israeli settlements in the West Bank.
Turkey, Pakistan, Malaysia, Iran, and Qatar also tried to create an alternative to the Saudi-dominated Organisation of Islamic Cooperation (OIC) by holding an Islamic summit in Kuala Lumpur in 2019.
This angered Riyadh, which pressured Pakistan to opt out of the summit. Erdogan, Mahathir Mohammad, Hassan Rouhani, and Qatar's Hamad al-Thani participated in the conference.
The group creates an impression that most of the Arab peninsula monarchs have abandoned the cause of ummah, especially Palestine and Kashmir. Thus Erdogan tries to wear the crown of the leadership of the ummah.
Even as he continues to work towards reviving the old Ottoman glory and 'Ittihad-I Islam' ('Unity of Islam'), Erdogan will have to choose between a pragmatic vis-à-vis an Islamist foreign policy.
If the Turkish economy returns to high growth rates, Erdogan's domestic position will be strengthened, and he might still return to his pet Islamist adventures overseas.
What Are His Achievements As The President Of Turkey?
"Erdogan has used his unprecedented power to sweep away judges, media outlets, journalists, academics, military officers, and NGOs. According to one estimate, about 120,000 government employees were suspended, dismissed, or imprisoned in the wake of the coup attempt, primarily from the judiciary and education branches.
Over 7,500 soldiers and officers, including over 100 with the rank of brigadier or above, and over 10,000 policemen were sacked, with countless others imprisoned. More than a dozen colleges and universities and 1,000 schools were closed.
The licenses of 24 radio and TV channels were revoked, and numerous journalists were arrested", reported BESA Centre Perspectives Paper No. 1,124, March 27, 2019.
Speaking at the annual coordination meeting of the OIC held in New York recently, Turkish foreign minister Mevlut Cavusoglu said, "As the second largest international organization, the OIC is our collective voice against injustice towards Muslims. I reaffirm our strong solidarity with the Uyghur Turks, the Rohingya Muslims, our Kashmiri brothers, and all other Muslim communities facing injustice worldwide."
If this is Turkey's conviction, why did Erdogan speak about only Kashmir in his recent address to the UN General Assembly and skip the Uyghur Turks? OIC is doing politics, not religion.
What makes Erdogan hostile to India is not the alleged disregard for the rights of Indian Muslims. No, that is not true. The truth is that Erdogan is very uncomfortable with Indian secular democracy that treats all citizens at par in the eyes of the law. \
To Erdogan and the fundamentalists, the Islamic ummah is special specie and has not to be equated with non-Muslims in terms of civic and other rights. Turkey's policy towards the Cypriots is also hinged on the same line of thinking.
Successive governments in Ankara have always sided with Pakistan on the issue of Kashmir. Jagdish N Singh explains Turkey's interference in the Indian part of Kashmir in his article 'Erdogan's Dangerous Ambitions Threaten India and Beyond.'
As part of its strategy to attain Muslim leadership status, Ankara has also been reaching out to Indian Muslims. Reliable reports indicate that in the recent past, the Erdogan regime has invited several Indian Islamist leaders, including Zakir Naik, to spread Erdogan's influence across India.
Turkish cleric Serdar Demirel visited Kolkata in 2016 to participate in a protest march organized by Muslims opposed to the Indian government's bid to apply a Uniform Civil Code throughout the country. Turkey has also funded Indian NGOs to reach out to Muslim students and influence madrasahs and mosques.
Ankara has given special facilities to Kashmiri Muslim students for admission to professional institutes in Ankara. The daughter of the late Ali Shah Geelani is running a website from Ankara which propagates vicious anti-India and anti-Hindu broadcasts.
Most Kashmiri students who have joined educational institutions in Ankara are taken over by the ISI agents and given good brainwashing.
Jagadish N Singh concludes his write-up in these words: "The strategy seems to be working. There are indeed Muslims in India who see Erdogan as a leader of the Muslim world, and they celebrated his victory in the presidential elections of June 2018 in a big way.
Kashmiri separatist leader Mirwaiz Umar Farooq was among the first to offer congratulations. In a speech to an Islamist group run by Erdogan's son Bilal in 2017, Naik described the Turkish president as "one of the few Muslim leaders who have the guts to support Islam openly." He said: "O Muslim world, wake up…May Erdogan be the next ruler of the Muslim world."
After the coup attempt in Turkey, Indian Islamic cleric Maulana Salman Hussaini Nadvi endorsed Erdogan, and the Shahi Imam of Delhi Sayyid Ahmed Bukhari met the Turkish ambassador to India and expressed his support. Delegations from Jamaat-e-Islami Hind, Jamiat Ulama-i-Hind, the Chishty Foundation, and the India Islamic Cultural Centre (IICC) met the envoy.
This narrative about Erdogan's Islamist credentials should help New Delhi understand how it has to deal with the interference of a radical nature. It must not allow a Turkish Islamist like Demirel to join a domestic protest in India.
This amounts to interfering with India's internal matters. New Delhi must not tolerate Ankara's hobnobbing with an Indian Islamist preacher like Zakir Naik, who is alleged to have inspired a terrorist attack on a cafe in Dhaka in 2016 and has been evading an arrest warrant in India. Doing so is tantamount to encouraging terror against India.
Prime Minister Modi and President Erdogan have met on the sidelines of the Samarkand SCO meet. What transpired between the two is not known.
Observers, commenting on Erdogan's address to the UN General Assembly just two days after his meeting with Modi in Samarkand, have said that Erdogan toned down his Kashmir tantrum and has now referred to bilateral talks between India and Pakistan on the Kashmir issue.
One wonders whether Modi raised the problems of the Greece-Turkey dispute, Turkey's use of brute force against Kurd dissidents, and Turkey's silence on the atrocities perpetrated on the Uighurs of Xinxiang.
Erdogan is living in a glass house, throwing stones at others. He may or may not become the topmost leader of the Islamic ummah; that is no worry for the global society.
The concern is that he is trying to destabilize the secular-democratic dispensation of the world's largest democracy which also has the second largest Muslim community as part of its society. This cannot be allowed.
KN Pandita is the former Director of the Centre of Central Asian Studies, Kashmir University. Views Personal
Mail EurAsian Times at: etdesk@eurasiantimes.com