Ukraine has used the Turkish-made TRLG-230 Multiple Rocket Launch System (MLRS) for the first time, according to multiple tweets of a video showing the rocket firing.
US Gray Eagle MQ-1C UAV Supply To Ukraine A 'Dangerous Escalation'; Will They Turn The Tide Against Russia?
The MRLS is supposed to work more effectively when combined with the TB-2 Bayraktar drones to identify, coordinate and engage its rocket artillery fire on ground targets.
Neither Turkey nor Ukraine has officially confirmed using the rocket platform. However, based on the number of times the clip was shared and established websites reporting the development leaves little room for doubt.
??The first recorded use of the Turkish TRLG-230 MLRS in Ukraine https://t.co/ohz5eNEukv pic.twitter.com/s8GiPbHs8p

— ТРУХА⚡️English (@TpyxaNews) November 22, 2022
Turkey's Own HIMARS
Moreover, the delivery of the TRLG-230 to Ukraine was reported by well-known open-source intelligence (OSINT), arms analysis, and tracking portal Oryx on November 21.
The short eight-second clip could therefore be the first video of the actual combat use of the newly developed Turkish defense major Roketsan.
Middle East Eye reported on Wednesday that 50 TRLG-230 missiles have been shipped to Ukraine and quoted other unnamed sources that put the figure at 200.
Interestingly, the rocket pod is mounted on a truck chassis combat made by KAMAZ, the leading Russian heavy vehicle manufacturer.
The pod has six 230-mm guided rockets, with a firing range between 20 to 70 kilometers, in variants with a satellite and semi-active laser guidance. Whether Ukraine has both variants or only one of them is not yet clear.
The TB-2 can only strike up to four targets but has a 24-hour endurance and a 75-kilometer range Electro-Optical/Infrared (EO/IR) system, which the 230mm TRLG-230 exploits, according to Oryx.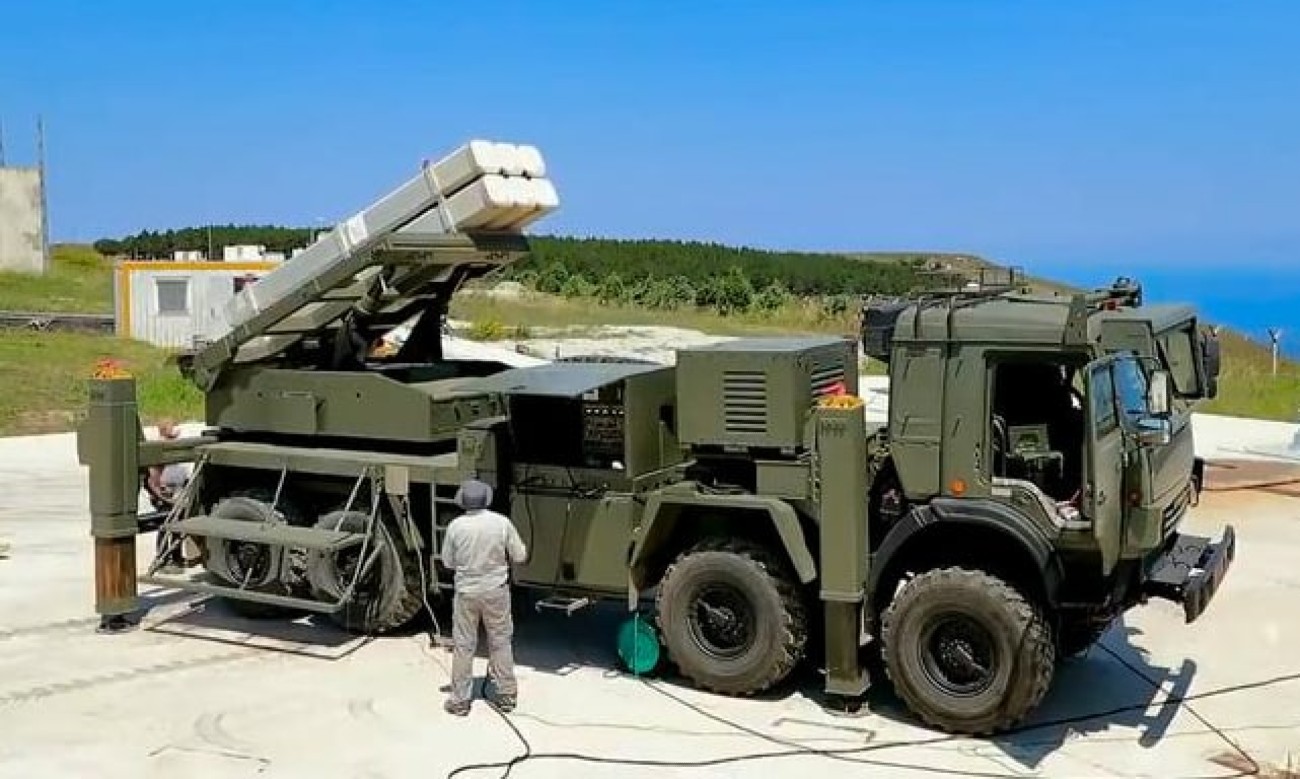 Footage released by the Azerbaijani military last year revealed that Baku had used TRLG-230s in the 2020 conflict in Nagorno-Karabakh, which also saw the TB-2's rise to fame.
The TB-2 initially scored massive tactical successes striking Russian targets with its MAM-L air-to-ground missile (AGM) but was later shot down in large numbers as Russian air defense rapidly evolved.
This had split AFU junior officers, soldiers, and the senior general staff as the latter wanted to continue their use despite their increasing vulnerability to advanced Russian electronic warfare (EW) and surface-to-air missiles (SAM).
The TB-2 reportedly transitioned to long-range Intelligence-Surveillance-Reconnaissance (ISR) and EW missions.
Bizarre Russian-Turkish Ties
The development also highlights the complicated – and often bizarre – Russo-Turkish relations considered one of the trickiest in the diplomatic world.
While thick in terms of commercial, civil nuclear cooperation and pragmatic coordination of their positions on critical issues, it is marked by undercurrents of Turkish strategic competition where Ankara simultaneously acts directly against Russian interests.
Turkey and Russia are on opposite sides in the conflicts in South Caucasus (Armenia-Azerbaijan), the Syrian and Libyan civil wars, and Ukraine. At the same time, the two countries entered into official deals like the four-party Black Sea Grain Initiative with Russia, Ukraine, United Nations (UN), and Turkey itself.
The agreement allows grain exports from Russian-controlled ports in Crimea and the Black Sea to the Mediterranean Sea through the Bosphorous and Dardanelles Straits that Turkey controls under the Montreaux Convention.
It initially mediated between Ukraine and Russia at the Antalya Forum in early March while officially supplying Bayraktar TB-2 drones to the Armed Forces of Ukraine (AFU).
It has a deconfliction mechanism with Russia and Iran in Syria under the Astana Process. Turkey has allegedly supported extremist groups like the Hayat Tahrir al-Shams (HTS) and elements of the Islamic State (IS or Daesh) that oppose the Bashar al-Assad regime, backed by Iran and Russia.
Turkey-Ukraine Defense Ties & Russian Leverage
Turkey and Ukraine have a robust defense partnership, where Motor Sich had won an order to provide components for 30 AI-450T engines that power Turkey's advanced Akinci drone. A March 2021 Daily Sabah report also claimed Turkey's heavy 11-ton-class attack helicopter, the ATAK-2, will use a Motor Sich powerplant.
But by late October, the burgeoning defense ties were threatened by Baykar's reluctance to go ahead with a previously agreed plan to set up a drone manufacturing facility in Ukraine using Motor Sich's industrial base. EurAsian Times had reported that this could have resulted from two significant developments.
One, Ukrainian official Serhiy Pashinsky admitted in an online sting operation about the vulnerability of the TB-2s, which triggered a Twitter backlash from Baykar CEO Haluk Bayraktar. Secondly, Presidents Vladimir Putin and Recep Tayyip Erdogan had agreed to supply gas through the TurkStream pipeline beneath the Black Sea, making Turkey a "gas hub."
Baykar's Chief Technology Officer (CTO) Selcuk Bayraktar is Erdogan's son-in-law, which, along with the gas proposal, is concluded to have played a role in putting the brakes on Baykar's Ukraine drone factory plans.
This is not the first time Russia has used its eco-political leverage on Turkey, whenever it went against its interests in Syria and Libya or wielded how the US often courts Ankara against Moscow.
It previously restricted the flow of Russian tourists to the famous Antalya region, reduced fruit imports from Turkey, and wielded the possible impact on Rosatom's construction of the Akkuyu civil nuclear power plant.
The West has traditionally cultivated Turkey as a frontline 'swing state' to challenge Russia, with Ankara often playing both sides to achieve its geopolitical aims.