China's indigenously built TP500 freighter, the country's first large crewless transport plane, completed its maiden flight on June 18.
The flight lasted for around 27 minutes and took place in Jingmen City in central China's Hubei Province, marking a significant milestone in China's development program for large-scale unmanned air transport.
Solely developed and manufactured by the First Aircraft Institute of the Aviation Industry Corporation of China (AVIC), the TP500 is China's first large unmanned freighter produced under the Chinese Civil Aviation Regulation (CCAR) requirements.
The new unmanned freighter drone can fly the standard 500-kilogram load to as far as 500 kilometers, as per the claims by AVIC, which notes that the plane is a general-purpose unmanned transport platform with a large load and a maximum range of 1,800 kilometers.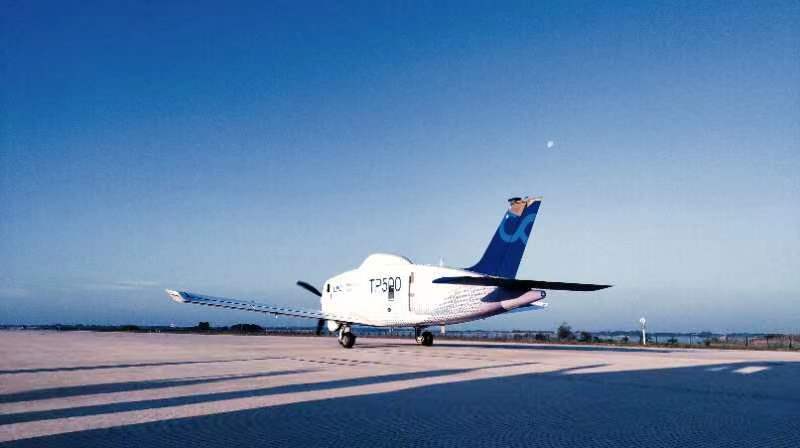 The UAV is reportedly equipped with a specific tail that folds to enable easy access to the cargo compartment to accelerate the freight loading process.
The engine is reportedly fitted in the front with a three-bladed propeller featuring a large spinner in the center. A wheeled tricycle arrangement manages the ground running.
Primo volo dell'#aereo #cargo cinese senza pilota #TP500 della #Avic First Aircraft Institute #drone #cargodrone pic.twitter.com/TqNwvNKSLZ

— Maurizio (@mauriziog) June 18, 2022
The TP500 is mainly designed and manufactured using composite materials and is assembled and connected by an advanced integrated process, which reduces the structural weight while maintaining the desired strength. Its Maximum Take-Off Weight (MTOW) is said to be 1.4 tons.
In addition to freight-handling roles, the AVIC envisions a broad set of missions for the TP500, including Search & Rescue (SAR), airborne communications relay, and remote sensing mapping.
Unmanned Cargo Aircraft To Replace Traditional Logistics Supply Chain
Unmanned Cargo Aircraft (UCA) is emerging as one of the alternatives to the traditional logistics supply chain involving manned marine/air transport, which according to aviation professionals, is facing significant and diverse pressures, ranging from climate change, human resource shortages, and infrastructure congestion.
Health crises like the COVID-19 pandemic can also be added to this list of disrupters of the typical supply chain, as was witnessed in the recent trends in international trade, a bulk of which comprises physical goods.
According to the United Nations Conference on Trade and Development (UNCTAD), world trade in goods has increased dramatically over the last decade, rising from about $10 trillion in 2005 to US$18.8 trillion in 2019. Still, it fell to about US$17 trillion in 2020 due to the COVID-19 economic downturn.
Therefore, aviation professionals suggest that all modes of transportation be automated in the coming decade, which would also involve UCA integration into the supply chain.
The UCA can be cheaper and more efficient than manned cargo aircraft because of the fewer personnel required, as one controller on the ground can operate several UCA on long flights.
In addition, it costs less to build a UCA than a manned aircraft for various reasons. For example, there is no need for life support systems onboard a UCA. Also, the fuel consumption of a UCA can be reduced by bringing down the cruise speed.
Therefore, various cargo drones capable of transporting hundreds of thousands of kilograms of payloads are in-flight tests and are expected to become operational in the coming decade.
For instance, a US-based company, Natilus, Inc., is offering a family of UCA with greater efficiency and cost savings with its innovative design of freight transport aircraft that provides 60% increased cargo volume, which would reduce the cost of freight operations by 60% and halve cut carbon emissions.
US-based Natilus Family Of Unmanned Cargo Aircraft
The Natilus family of cargo aircraft includes N(Natilus)3.8T, an 8-ton payload short-haul Unmanned Aerial Vehicle (UAV); N60T, a 60-ton payload medium/long-range UAV; N100T, a 100-ton payload long-range UAV; N130T, a 130-ton payload long-range UAV.
The design of the N3.8T is complete and has undergone initial wind tunnel testing. Natilus is developing vertical tails of the N3.8T aircraft, and the flights are scheduled to start in 2023.
The N3.8T is a twin-engine turboprop with a maximum take-off weight of 8,618 kilograms and a maximum range of 1,667 kilometers. It is expected to carry a load of LD3 containers to a maximum weight of 3,855 kilograms.
In February, Natilus announced advanced purchase commitments of more than $6 billion for delivery of more than 440 aircraft in pre-orders from top airlines and integrators, such as Volatus Aerospace, Astral Aviation, Aurora International, Dymond, and Flexport.
The market for autonomous cargo aircraft is greater than $280 billion, says Natilus, based on its market research, but the company believes that by lowering the cost of air cargo transport, it can introduce a new category of freight and expand the total addressable market of air freight to $470B once operations begin.