On November 21, the USS Carl Vinson aircraft carrier arrived at a naval base in the southern city of Busan, marking the third visit by a US aircraft carrier to South Korea this year.
The deployment is perceived as a demonstration of extended deterrence aimed at countering North Korea's nuclear and missile programs. The nuclear-powered vessel of Carrier Strike Group 1 sailed into the naval base in Busan, situated 320 kilometers southeast of Seoul. 
This display of US military strength comes at a time of increased tensions over North Korea's scheduled rocket launch between November 22 and December 1.
Pyongyang's intended rocket launch, scheduled as the third attempt this year following unsuccessful efforts in May and August to place a military spy satellite into orbit, proceeds despite South Korea's warning on November 20 to halt preparations.  
Rear Adm. Kim Ji-hoon, Director of the Maritime Operations Center at the Republic of Korea (ROK) Fleet, said that the visit of the US Carrier Strike Group 1 underscores the robust joint defense stance of the South Korea-US alliance and its steadfast determination to counter evolving North Korean nuclear and missile threats. 
The USS Carl Vinson arrived in the southern city of Busan approximately a month following the port call of another formidable asset, the USS Ronald Reagan, in the same port. 
Likewise, in March, the nuclear-powered aircraft carrier USS Nimitz berthed in Busan to participate in a substantial joint exercise conducted by US and South Korean naval forces. 
These aircraft carrier deployments result from an agreement made in April between South Korea and the US to augment the presence of the American military, a measure intended to deter North Korean aggression.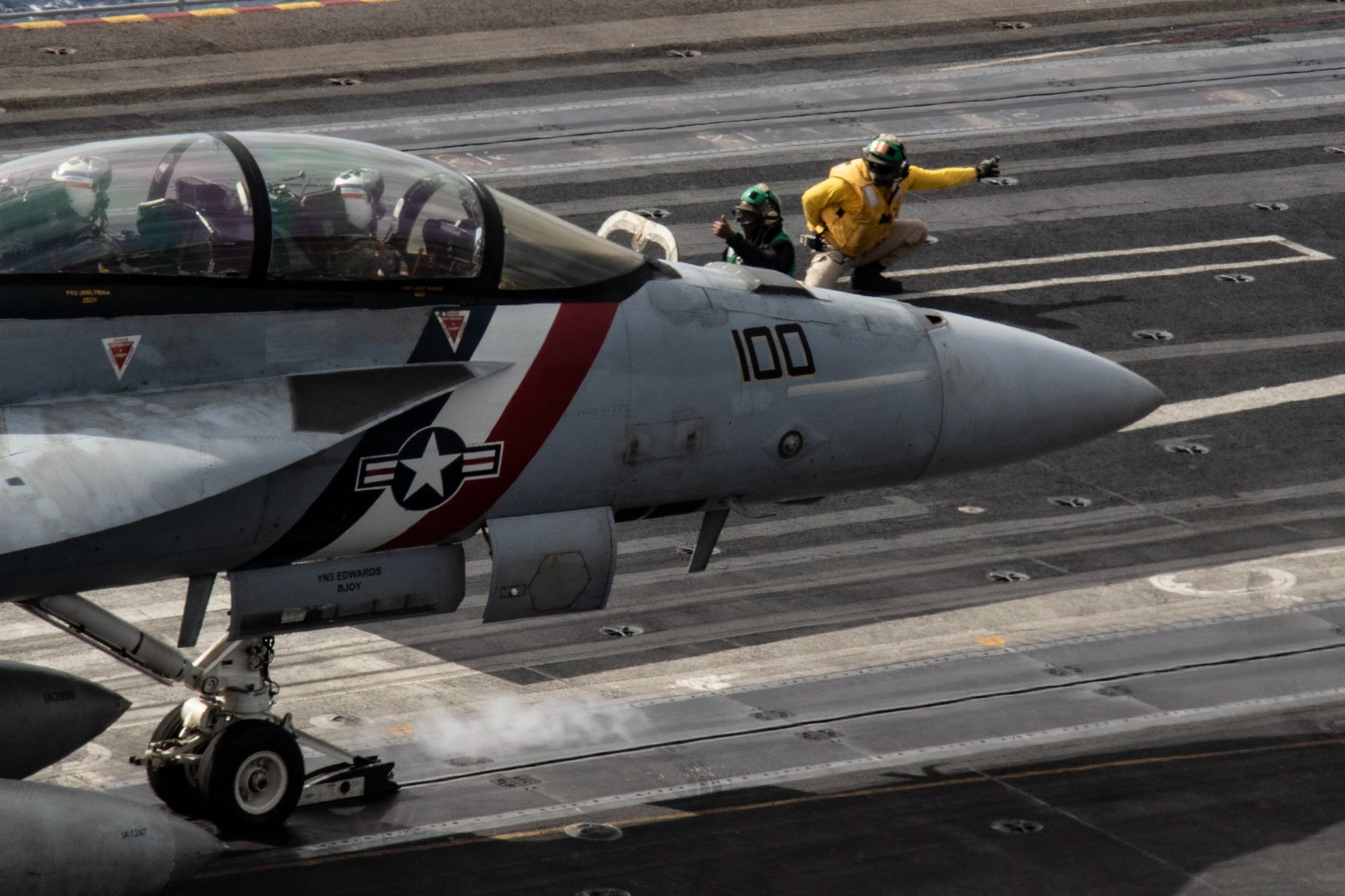 Meanwhile, on the morning of November 21, North Korea officially notified the Japanese government of its intentions to conduct another satellite launch scheduled to take place between November 22 and December 1. 
In response to this notification, Japanese Prime Minister Fumio Kishida instructed government officials to collect information on the potential launch and ensure communication with the public. 
Prime Minister Fumio Kishida said, "The use of ballistic missile technology, even to launch a satellite, is a violation of UN Security Council resolutions and a matter of great concern for the safety of the Japanese people."
He further noted that the government had taken proactive measures by deploying Aegis ships of the Self-Defense Forces and PAC-3 missile defense units in Okinawa, prepared for unforeseen circumstances. 
Nimitz-Class Aircraft Carrier USS Carl Vinson 
The Carl Vinson, commissioned in 1982 and designated CVN 70, is the third Nimitz-class supercarrier. It can accommodate over 5,000 crew members and carry more than 60 aircraft, stretching approximately the length of three football fields. 
With a service history of over 40 years within the United States Pacific Fleet, it has witnessed some of the most notable events. 
In January 2022, the USS Carl Vinson aircraft carrier gained widespread attention due to a headline-making incident: an F-35C Lightning II fighter jet crashed onto the ship's flight deck. Despite the severity of the crash, there were no fatalities, though six sailors, including the pilot, sustained injuries. 
Named after the late Georgia congressman, the USS Carl Vinson has a rich maritime history. In January 1982, during testing off the Virginia coast, Moscow deployed Tu-95D reconnaissance planes to investigate this US aircraft carrier. 
Its 1984 deployment in the Indian Ocean saw over 100 days at sea, marked by interceptions from Soviet and Iranian aircraft.
During the Cold War's waning years, the supercarrier faced Soviet monitoring in 1987 during Bering Sea exercises and dispatched Tomcats to intercept Soviet MiG-23 floggers in its final deployment of the '80s.
The USS Carl Vinson has also participated in crucial operations such as Operation Desert Strike, Operation Iraqi Freedom, Operation Southern Watch, and Operation Enduring Freedom.
Notably, in 2011, the body of Osama bin Laden was laid to rest at sea from the deck of the Carl Vinson.
Seoul and Washington did not explicitly link the aircraft carrier's arrival to the potential North Korean satellite launch. However, experts suggest that demonstrations of military strength can serve as a deterrent against North Korean aggression, particularly in light of Pyongyang's ongoing development of more potent weapons. 
During a recent visit to Seoul as part of a broader Asia tour, US Secretary of Defense Lloyd Austin assured that Washington is dedicated to ongoing deployments of formidable military assets to South Korea.  
In response to questions about the sustainability of such commitments amidst escalating global security threats, Austin confidently stated that the US, possessing the world's most potent military, can manage multiple priorities concurrently. 
He said the US can effectively navigate and address diverse challenges, affirming, "We can walk and chew gum at the same time."